HSA: Name, city/town where you live?
LM: My name is Lerato Monyatsi, a passionate "Skirtgirl" hiker by weekend, and a Group Skills Development Manager for Absa Group by day – which is where I spend most of my time focussed on my other passion in Skills Development. I'm a single parent and wear a cape for a little 10-year-old, Aobakwe. I hail from the West of Johannesburg, a place called Kagiso in the Krugersdorp area.
HSA: Where and when did you start hiking?
LM: My passion for the outdoors and hiking started at a young age accompanying my dad on his fishing adventures, where I curiously explored the surrounding wilderness on foot with my sister. Growing up as a girl-guide, the wilderness and the great outdoors has always been familiar to me, and a big part of my life.
HSA: Your favourite hike/hiking area(s)?
LM: Wow let's see. I've just summited Mount Kenya, Lenana Peak at 4985 with two of my friends. That was my most technical yet amazing hike with amazing views. Back here at home some of my best hikes would certainly include Mafadi and Arangieskop. Although, I must say I've loved The Drakensberg, Lesotho and exploring the Western Cape Mountains for their dramatic and picturesque scenery; Mpumalanga for her ever-flowing waterfalls that quench one's thirst; and then Magoebaskloof in the Limpopo Province of South Africa for her gorgeous misty forests. Magoebaskloof earned its way to my heart in February of 2018 when I was meant to be meeting a group of hikers for the first time that weekend for a multi-day hike in Woodbush. However, due to unforeseen circumstances, I found myself sleeping alone in the bush in the rain. Nature has amazing curveballs it throws our way to give us an epic experience. I learned a lot about myself that night and remembered the words of Franklin Roosevelt "The only thing we have to fear is fear itself". It is with this reason I've never let fear hold me back and have continued exploring South Africa – not only as a hiker but as a tourist passionate about my country – and have made amazing friends along the way.
HSA: What does hiking mean to you?
LM: In my late teen years, I became an active member of the youth in my church, through which we would often go on youth camps that involved a lot of outdoor activities; including early morning walks up to the "not-so-hectic mountain" at sunrise for daily devotions. That's where I fell in love with what I had come to know as hiking. Don't be fooled into thinking that feeling of waking up early morning was the best! I was a teen – it was a damn struggle (and still is), but on those early mornings there was a connection that lingered long after we had left camp. I didn't realise what it meant back then but I knew it was something I wanted to spend the rest of my life experiencing.
You'll have to agree that there's something magical about being on a mountain top, that speaks to the soul: getting you in tune with your thoughts, a feeling of having a direct line to a higher power. It clears all thoughts of the hustle and bustle of the city, and I'm ever guaranteed to come back a renewed person every single time, seeing the world and its people in different light.
HSA: Tell us more about the SkirtGirlHiker and poetry inspiration
LM: Hiking in a skirt has been the most liberating part of my hiking adventures to date; and is a continuation of my journey of modesty that I started some years back. I grew up as a tom-boy and peaked into femininity rather late; growing into a "swan" (I did not just say that haha). To me, it means being able to hike and explore the outdoors, comfortably doing me. I have gotten some pretty funny looks from people who've seen me going about my life in a skirt, let alone tackle some technical climbs on mountains: it fascinates some, while others are left baffled and confused at the preference, but to be quite honest, I enjoy it and have received so much love and warmth for remaining true to myself. I love that I have a way of so boldly proclaiming my beliefs and values. I look back at history, and how pants weren't a thing for females back then and it was never considered a strange thing at all.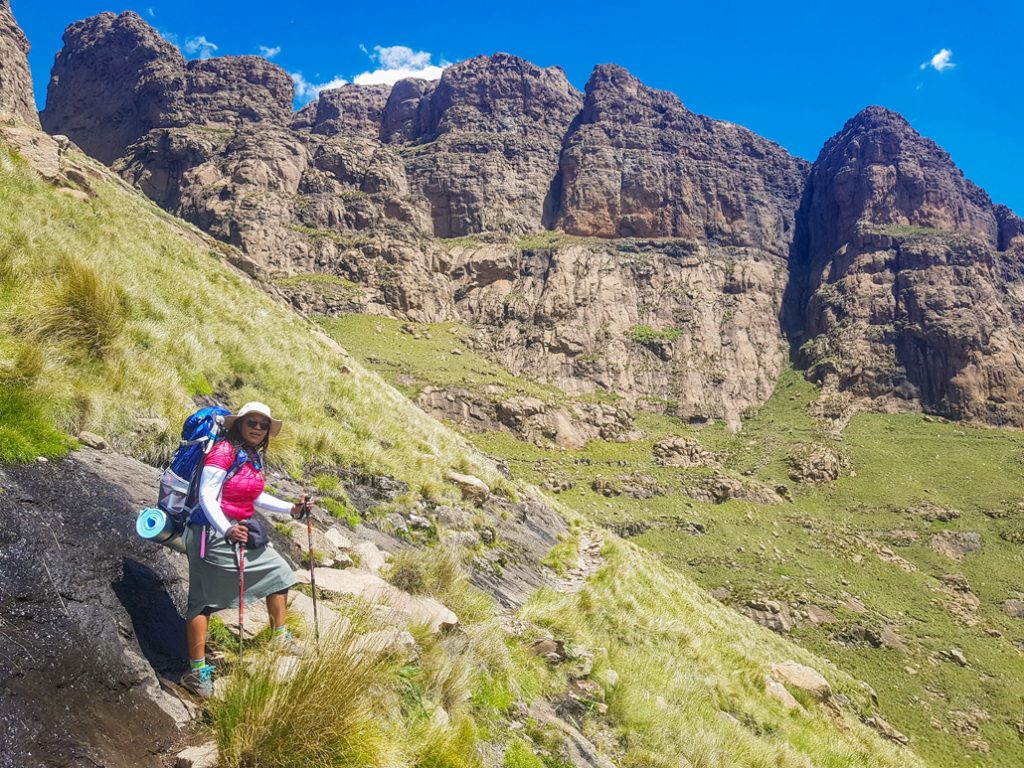 In terms of my poetry, what can I say: I love the arts, creatives and visuals and am such a sucker for words. So, hiking has allowed me to connect with me, my feelings and emotions and words come gushing in – flowing through my mind like a mighty waterfall and if I don't have a pen and paper, you'll find me voice recording my thoughts as I look at sunrises, landscapes or when I am standing on peaks. I'm not the greatest photographer, but I love photography, so often on hikes after snapping (a thousand or so) photos while exploring, I feel inspired to let the memory and the feeling linger on by connecting words with pictures, encapsulating that mood that the mountain always leaves me with. These pictures and poems have helped me on my low days to revisit scenes and feelings I had when life was not as tough.
HSA: Who is your favourite hiking buddy and why?
LM: Now and then I prove myself to be sane by not running off on my own, and then I call on my travel pal Nthabiseng – that is if she doesn't get to me first! I met Nthabiseng at one of my spontaneous "Drive-off-to-an-unknown-place-to-meet-unknown-people-who-saw-me-on-Instagram-and-extended-an-invite-to-go-hiking" escapades. I was drawn to her instantly because of her subtle, yet passionate, love of hiking; but above this I felt we connected as passionate explorers with itchy feet to travel. We grew closer and closer and will live to tell our stories of adventures in the years to come.
HSA: Describe how you balance being a mom with all your trips and adventures?
LM: Outside of hiking, one of my best adventures has to be the cape I wear for someone who continues to steal and melt my heart, a little 10-year-old mountain biker (who was recently featured on the 947 Cycle Challenge Website). He is in Grade 4 and is a Cub in the Scouts SA fraternity. Between myself and this little busy bee, we work on a very tight schedule that's planned (usually) a year in advance, with some changes here and there so our adventurers and activities don't collide and we both have turns in trying to live our best lives. Juggling his schedule and mine with full time work is not an easy task, but it is a necessary one. As a single parent, I have made it a point to raise him in the best possible way that I can – including finding the balance between outdoor and school life – but I have also made certain to keep my life as a priority, and not forget about my journey in the process. My family have been most amazing in supporting my hobby and had it not been for them, I don't think I'd be as much of an avid hiker and outdoors-woman as I am. Aobakwe started cycling at age 3 years with Like2Bike, at the time it was just his energy I was trying to manage but it helped me so much, he has cycled 947CycleChallenge 6 years year on year, going for his 7th year and even recently attempting a 25km MTB trail. It motivates me to see him look forward to getting outside as a reward for his school work and good behaviour. He struggled to read for the longest of time so I bought him Maths practice and reading books. In the morning on our way to his cycle races I'd have him read about 2 pages or else we are not cycling, or he'd cycle so hard and give his all, then during his excitement of how well he raced, I'd ask him "I wonder what would excite me like that?" – he'd quickly grab his maths book and complete two or so pages on our way home. Some say I'm tough on him, but we have so little time together in the week with my hectic work schedule that we need find time to continuously fill each other's cups whenever opportunity presents itself. It's not always easy, I do let him pass out now and then, he's a kid after all.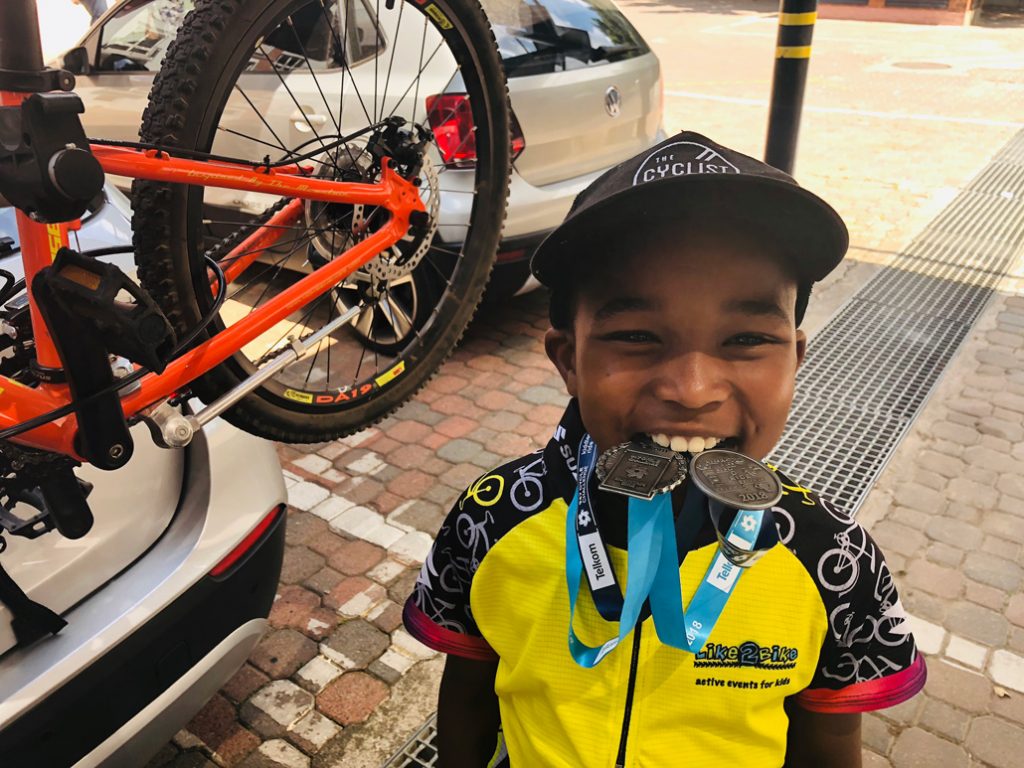 HSA: Describe your best hiking achievement / most memorable hike
LM: Wow, can I go back to Mount Kenya, Lenana Peak at 4985?! I've just bagged this baby with two of my friends and between Mafadi and Point Lenana I can't seem to conclude which was more tough. Both of these trails are my most technical yet incredible hikes, with the most amazing spectacular views, sunrises and sunsets. Personally I truly enjoy the more technical trails with fabulous views, which really get me to think "how the hell am I going to tackle this, or even why on earth am I doing this". I believe it challenges the mind, and inspires most of the manoeuvring and strategic thinking I've found myself using in the office. I could have the most hectic day or toughest challenge in the office that I end up feeling overwhelmed and disheartened… this quickly changes when my mind goes to my toughest trails and what I have overcome on the mountain.
One of my most favourable hiking achievements would be facing my fear of water and learning how to swim. I have a huge love for waterfalls and I always admired people who could swim. But before I learned to swim, I was that person who would sit with my toes in the river and that was that. Then I chatted to a couple of people about swimming, and in Jan 2019 I signed up for swimming lessons so as to push myself to finally learning. And I've never looked back since. I can't say I'm confident, but I'm getting there. Now, to be on hiking trails with waterfalls, rivers, lakes and dams, where you can swim, is like having the best of both worlds.
HSA: Your favourite piece of hiking clothing?
LM: Definitely my skirts and my signature K-Way Hat that I fell in love with the moment I placed it on my head. I'm learning to love checked shirts now too. I see my Instagram acquaintances over in Wyoming looking very stunning on trail with those and I'm loving it. 
What's the worst/best thing you've seen on a trail?
What irks me on trails has to be littering. I can't even excuse new hikers on this one! Littering is just not an option, whether you are at home, in the streets or in nature! I'm baffled at litter bugs, but I guess an opportunity always presents itself to explain why we don't litter and not just yell "HEYYYYYY PICK THAT UP – DON'T LITTER !!!!!!". I love story telling, it touches the heart and emotions of another, so if I tell someone not to litter, I explain why you'd never see a dustbin at a National Park for instance, then wait for the penny to drop!
I love seeing snakes and I've seen lots of snakes on trails – probably because I'm always looking out for them. I literally look deep in these rocky areas, or shaded forests for a little slither here or there. It fascinates me seeing them and how they actually go on about their business away from humans, and are such misunderstood creatures. I've only ever prayed to never see one close to me while I'm tackling the edge of a high mountain or holding on for dear life, like on the Drakensberg chain-ladders with no harness, haha. 
HSA: Your favourite hiking / inspirational quote?
LM: I have two favourites: "It's not the mountains we conquer but ourselves" and "Somewhere between the bottom of the climb and the summit is the answer to the mystery of why we climb".
Let's be honest for a moment, everyone wants to answer their WHY, everyone wants to find their purpose in this life. I keep returning to mountains because each trail, however easy or challenging gives me a different perspective and carves out more of my character, refining it and getting me closer to answering my WHY. We may never reach human perfection but this is a journey, and I continue to grow in the search to finding my WHY, especially when I am outside and in nature. I love meeting ME out there on every journey to the mountain top. I won't lie, some mountains have stripped me of my confidence and brought me to tears. Like, hiking 18 hours on foot from 2am (to summit) and arriving at the next camp at 20:15, 24km later, at high altitude, and pole-pole on a rainy day. I keep conquering myself and come back better and stronger than the girl I was the day before. And these two quotes speak to me directly because of what I have overcome. 
HSA: What is the best tip you can give to newbie hikers?
LM: I've hiked with so many people from all walks of life and have learned so much from the trail and campfire discussions, and I'll tell you this: there are amazing men and women out there that I've met and have become friends and family with, who have made a massive difference in my life. Mountain folk are the best folk. The best tip I can give you is to be open to meeting like-minded humans and just get out there: even if it means stepping out of your comfort zone and meeting strangers for a hike! Don't get out there to judge others and level them up based on where you are in your journey. The city is too fast at times, chasing this and that. Out there I've learnt to adopt the pace of nature, her secret indeed is patience. Everyone is on their own journey, respect where they are in life and see how that strengthen bonds in nature. A family away from family!
Secondly, remember, just like with life hiking is not a race! Your journey, your pace! You will have the "VVvvrrrrrphaaaa's" as we call them (the fast guys), then the "normal" pace keepers so to speak, and then, then there's the likes of us! I'm slow and I waste time by taking LOTS of pictures. But trust me, we all make it to camp. So choose a pace you are comfortable with.
Best of ALL – Get out and live your best life and take your loved ones on the journey too, in there lies your most wonderful support structure.
Lerato Monyatsi – Skirtgirl Hiker