The Fire Maple Fire-FLEET stove (FMS-118) is a trimmed down version of the FMS-105. At 91g lighter (37% weight reduction), it is a great option for those who love the stability of a fuel line-fed stove, but don't want to carry the extra weight.
Quick Specs
Price (at time of writing): R700
Size: Ø 145×75mm (Folded: Ø 75×89mm)
Weight: 155g (Advertised: 146g)
Time to boil 1L of tap water at sea level: 6min 30sec (An MSR Pocket Rocket was used as a baseline, which took 6min 25sec to boil under the exact same conditions).
Features
The main drawcard of a fuel line-fed stove is the low centre of gravity and resulting stability. The Fire-FLEET stove allows a pot to sit a mere 75mm off the ground. This, combined with the wide feet and pot arms, makes for a very stable outdoor cooking experience.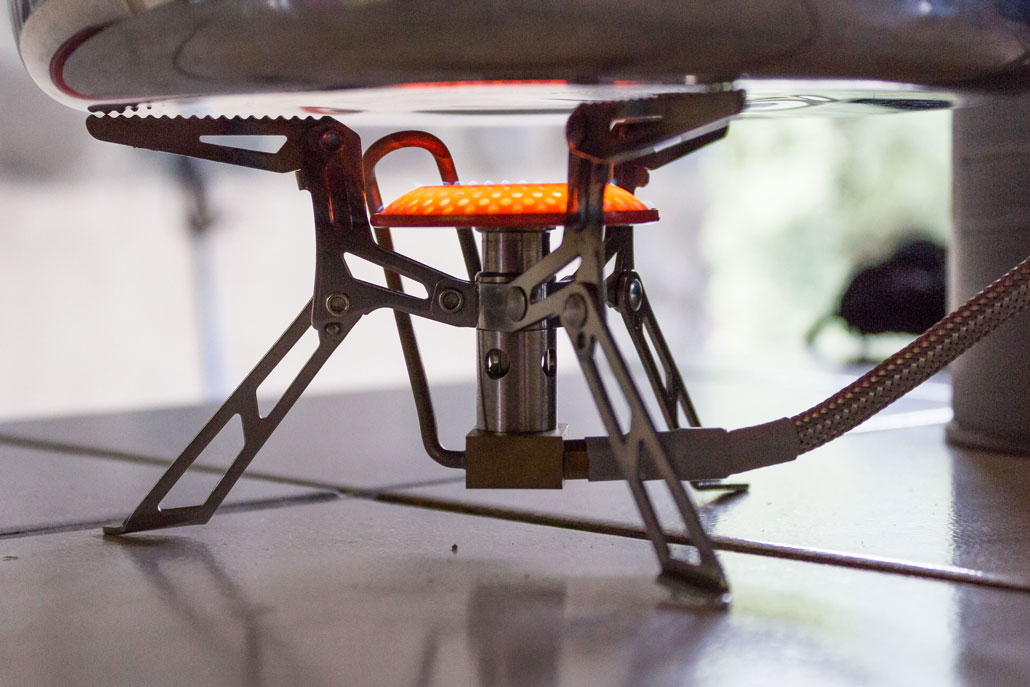 The other benefit of being so low is that you get to make full use of a windshield which would usually be too short for a stove that sits on top of your gas canister.
The stove also has a unique pre-heat generator tube, which, as the name implies, pre-heats the gas for more efficient burning. This, combined with the fact that the canister can be turned upside down, which effectively turns the unit into a "liquid fed" stove, allows the stove to perform better at lower temperatures than standard designs.
It comes with a mesh storage pouch, which is surprisingly tough. The fact that the pouch conforms to the stove makes it quite space efficient when storing it inside your cooking pot.
Ease of Use
The stove simmers well, with great heat control and the wide burner evenly distributes heat, especially on bigger pots.
The fact that the gas canister sits beside the stove, as opposed to underneath it, means that if you run out of gas while cooking, you can change gas canisters without having to touch the hot stove or pot.
As far as niggles go, the pot arms are quite loosely attached, so they tend to flop around when setting up the stove. The fuel line is quite stiff and only swivels on the gas canister side, which can make setup a bit fiddly. Also, I found that the stove doesn't fit 100% on Cadac or Providus gas canisters – it's as if the canister valve is too deep to depress completely. Eiger gas canisters worked perfectly.
Conclusion
Lightweight, low centre of gravity and good heat control – A great little stove that makes for convenient cooking.
This stove is available online through Mountain Mail Order or Drifters and can rented from Scuttle.