Gauteng outdoor enthusiasts have always enjoyed being centrally located to outdoor escapes such as the Drakensberg, Magaliesberg and our favourite sport climbing destination – Waterval Boven. Enter lockdown and we find ourselves restricted close to home and unable to leave our province unless we can wrangle a golden permit.
The great outdoors has been described as the safest place to be during this pandemic, so even if you weren't the nature lover pre-lockdown, you might find yourself longing for an escape. Gauteng has some great gems that in "normal" times may have been overlooked for the more appealing destinations just outside of Gauteng, so read on.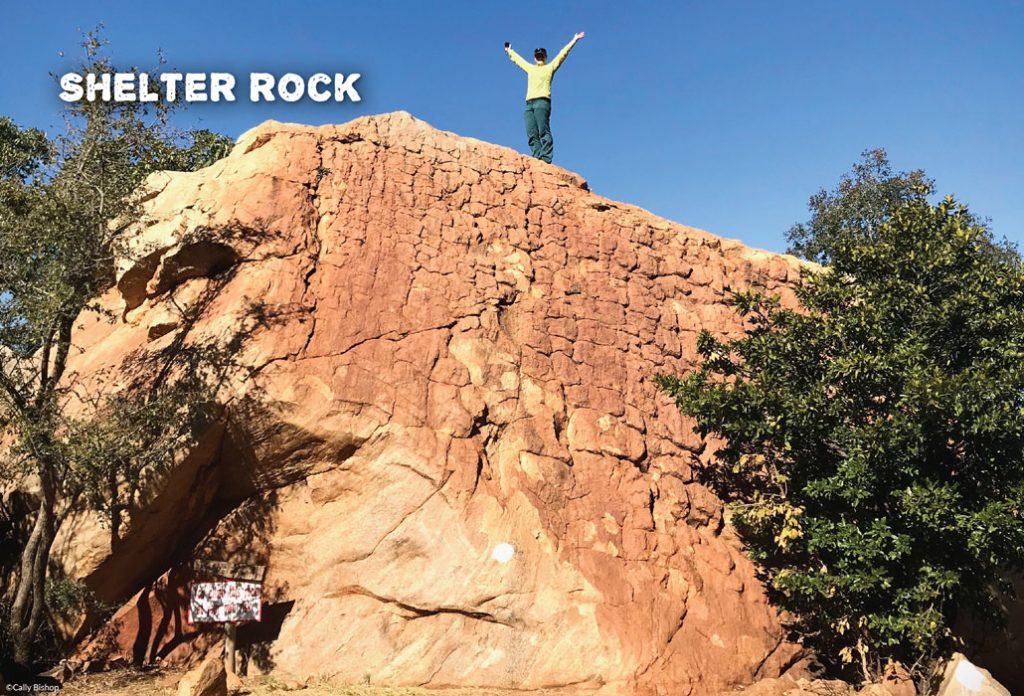 If you are looking for an easy and less crowded hiking trail, Shelter Rock in Hekport has it all! The well-maintained trail takes you through a scenic forestry ravine and gradually meanders up the hill side to The Shelter Rock. If you're still feeling strong you can continue up the hill side to the top of the mountain for scenic views and explore two Boer War Forts. The full trail is 8km but can be cut short by just visiting The Shelter Rock at 5km. If you are feeling extra adventurous, there is also a Via Ferrata to the summit. For bookings and info: http://www.shelterrock.co.za/Index.html
Rustig is a well-established family farm and offers more variety for hikers. The farm has five hiking trails: 3km, 5km, 9km, 13km and 18km. The 9km, 13km and 18km all take you the summit and require moderate to good fitness levels and includes the wooden bridge along the cliff face making for some great exposure. For bookings and info: https://www.rustig.co.za/
Both these hikes require bookings and assist with social distancing by keeping numbers low but there are many others hikes in our lovely province waiting for you. Sunday Times put a great list together of nine great hikes in Gauteng you can check out. We found some were a tad crowded for COVID times but all are scenic and worth the trip: https://www.timeslive.co.za/sunday-times/lifestyle/travel/2020-06-28-nine-great-day-hikes-you-can-do-in-gauteng-during-lockdown-level-3/
So, what gear might you need for a day out hiking? A good comfy pair of walking shoes; loose fitting clothing, small backpack with water and snacks; hat and sunblock (even in winter) will get you going. If you have some cash to spend and want to do it right (we know you will as the hiking bug bites hard) we recommend the following essentials:
Footwear: for short hikes a good pair of approach shoes will give you comfort, good traction and versatility as they can double up as a good street shoe. The Black Diamond Mission Approach and the LaSportiva TX2's offer good support, look cool and have a great tactile sole for extra grip on rocky scrambles. Both come in men's and ladies' versions.
For longer, more strenuous hikes you want a classic hiking boot with good durability and ankle support. The Mammut Mercury III (men's) and Mammut Nova III (ladies') tick this box and are good quality boots that will be sure to last.
The right shoes for the right activity are important so read more in our What shoes are right for the great South African outdoors post.
Backpacks: For a light day out or if you prefer to only take essentials, the Osprey Dyna trail running pack is enough for a light snack, water and have quick easy access front pockets so you can get that Insta pick with ease.
For an all-round great day pack that won't break the bank, the Vaude Brenta 25L gives you comfort, space and easy access for everything you need on a day hike.
Water carriers: even though its winter, water is essential on any outing to avoid dehydration. You can grab any single use water or cold drink at the garage on your way, but if you are more eco minded, the Osprey 500ml soft flask is compact, lightweight, top shelf dishwasher safe and pretty trendy. Most Osprey packs come standard with a hydration pack too.
Let's face it, Joburg winters are nasty and what better way to enjoy a break on the trail than with a hot home brew of tea or coffee. Stanley's Go Ceramivac bottle keeps your hot beverages hot for up to 6 hours and longer.
Clothing: You can comfortably hike in anything you would normally wear to gym but if you are serious about your trail time, Prana Zion (men's) and Halle (ladies') pants are the best hiking pants I have owned. They are stretchy for those uphill climbs, cool on hot days and look pretty stylish.
Layers in winter are essential to keeping warm in the morning chill and allow you to quickly shed the extra warmth as you hit the first hill. You can read more about this in our Layers for Winter post.
The last and most important essential for any day on the trails is snacks or a tasty lunch. I have found in all my years of hiking that everything I have tried and tested tastes better on a trail when you have earned it and have a great view to enjoy it with. So pack what makes you happy, you deserve it!
The climbing type? If you are itching to get on some real rock, there are a few crags in Gauteng that offer a good variety of sport climbing grades.
Strubens in Roodepoort has over 100 short sport routes and the odd trad line. Security has been a problem here in the past so keep your wits about you, we live in gangster paradise after all. http://www.climbing.co.za/wiki/Strubens_Valley
Kingskloof in Krugersdorp has over 20 sport routes ranging in length from 5 – 30 metres and in grade from 12 to the high 20s. This perfect winter crag is tucked away on church grounds and is a great city escape. https://www.climbing.co.za/wiki/King%27s_Kloof
Booking is required: https://www.climbing.co.za/2020/05/kings-kloof-open-for-climbing/
Bronkies is a single, long crag above the Bronkhorstspruit River. It offers more than 60 bolted sport routes in the easy to moderate range with very scenic views.
Booking is required: contact the Mountain Club of South Africa (MCSA) for details.
http://www.climbing.co.za/wiki/Bronkies
For your outdoor climbing gear needs, we have too many gear options to mention in one blogpost so we suggest you visit the gear wizards in our Gear Shop to talk you through everything you will need to climb safely, and the same goes for hiking. Don't forget the crag snacks are the most important 😉