On 2 November 2017, Google Street View launched Google Trek – a collection of 360-degree imagery of 170 new trails in some of South Africa's most pristine wild areas, captured by more than 200 South African volunteers from across the country.
These new trails extend the already existing 'street' view Google imagery of the country, to include 19 national parks, 17 nature reserves and many significant sites across the nine provinces of South Africa.
ReWild TV was contracted by Discover Africa Group to join a core team of 6 on the #TrekSouthAfrica project.  Hiking South Africa caught up with the duo from ReWild TV, Alistair Daynes and Samuel Chevallier, who were at the forefront of capturing South Africa's wild regions for Google Trek. Alistair's role was the Lead Google Trekker, whilst Sam's role was to present short films which captured the diversity of South Africa.
Please tell us a little bit about ReWild TV and explain your involvement with Google Trek?
Alistair: My primary tasks involved ensuring 'Gary', the 15-eyed Google Trekker Camera and backpack, recorded every trail. I also was responsible for briefing and helping volunteer trekkers, organizing hikes and discussing the mapping. My secondary role was as videographer and photographer, capturing the diversity of South Africa, usually with Sam presenting.
Sam: My core role was to assist lead trekker, Alistair, on the hikes around South Africa. Having come from a background in conservation and guiding, I assisted in being a back-up trails guide and helped facilitate conversations regarding conservation efforts. Having also been a presenter on SafariLive, I acted as a wildlife presenter on some of the unique biological diversity found on the trails.
How did you first become involved with Google Trek?
Whilst hiking on Table Mountain, Sam and I joined our good friends Liam and Justin – who at the time, were introducing 'Gary' to Cape Town's iconic hiking trails, and creating a film around the project. After summiting Devils Peak together on a still day, we all knew that this could be our lives for the next 6 months or more.
How long did Google Trek take?
8 months, involving two bakkies traveling to every corner of South Africa – including Crooks Corner, the Richtersveld, iSimangaliso Wetlands and Cape Agulhas.
How did you find people to partake in Google Trek and to carry the (22kg!) camera?
Carte Blanche covered the beginning of the story, which attracted many curious hikers, all who wished to showcase their local hiking trails and landscapes to the world.
What was one of the most difficult things you faced while hiking through South Africa's national parks?
As we were often trekking through South African National Park areas (SANParks), one of the challenges was to decide whether to show Rhinos on Google, as we came across both Black and White Rhino on occasion. We decided not to release any footage of these critically endangered species. Though rhinos would not typically remain in the same place 8 months later (when the trails are released), we felt the risk was too great, and we should not give poachers a chance to know their whereabouts.
What was one of the highlights of the Trek?
Finishing an 8-month adventure around the country, finally pulling up and parking the bakkie at Liam's place (one of our oldest friends and who initially invited us to carry Gary), and walking down his driveway together as a team, smiling at what we'd accomplished. That was a significant moment for us.
What is the vision of Google Trek (for e.g., how do you think it will work to promote conservation and environmental issues in South Africa? Will it be expanded to other countries? Etc)
The Google Trekker offers the opportunity for people (from within South Africa AND across the world) to become more aware of the diverse and rich landscapes of South Africa. It is inherent within conservation that local people living alongside wildlife need to find economic support. Through well-thought out eco-tourism initiatives, these areas may be conserved and maintained. The 360 microsite and online access through Google Trek affords these tourism places exposure in the market, therefore increasing occupancy that will inevitably feed back into the pockets of local people. Conservation is a difficult task, but if we are to maintain these landscapes, we need to maintain and support the community that work to uphold these special areas, and to develop regenerative strategies that helps conserve and increase biological matter.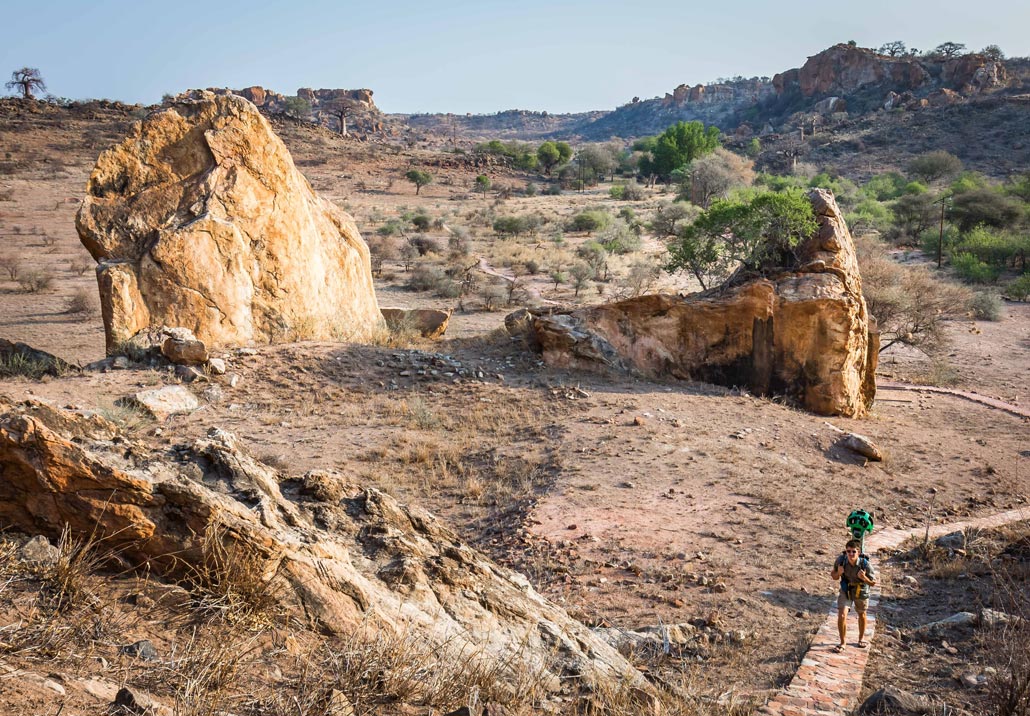 Where to from here for ReWild TV?
ReWild TV continues on expeditions and projects such as this one, understanding that the first step to growing conservation in South Africa is to know it exists, to show how important it is, and to tell stories.
ReWild's deepest intention is to help facilitate a future that lives in symbiosis with the natural world: How might we help change the current narrative of extreme biodiversity loss? We believe that through effective communication strategies we may be able to expose stories that show regenerative efforts for ecosystems, whilst also providing a healthy economy for local people.
Quick facts:
170 new trails
900km trekked on foot
50,000km travelled over the 12-month project duration
232 points of interest recorded
206 South African volunteers
9 Provinces of South Africa
All 19 National Parks, 17 nature reserves and many other tourist attractions
Lion, cheetah, elephant and other wildlife encountered on foot (guided by rangers)
6 UNESCO World Heritage Sites
First time Google has partnered with a third-party in South Africa via the Street View Camera Loan Program
Find our more about ReWild TV at www.rewildtv.com