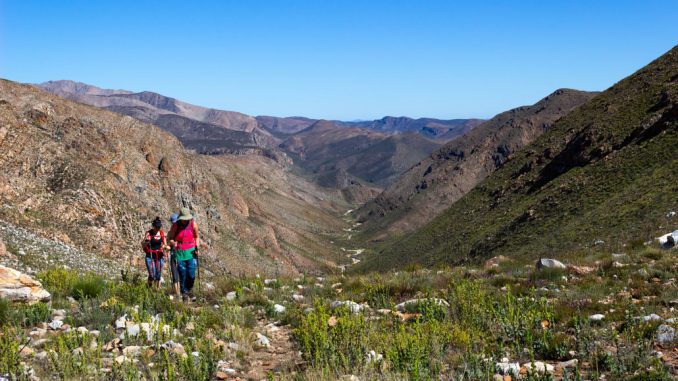 The Leopard Trail is a 4-day, circular hike in the Baviaanskloof area of the Eastern Cape. The pristine nature and diversity of this landscape and its flora, especially during springtime, is an absolute treat. The Leopard Trail should by high on every fit hiker's bucket list.
Beauty: 5/5
Difficulty (fitness): 7-8/10 (Some long days and a couple of big hills)
Technical rating of trail: Standard trail walking interspersed with rocky or loose terrain and multiple shallow river crossings.
Distance: Roughly 60km over 4 days
The hike is offered as a slack-pack (your tent, food and clothes get transported for you from campsite to campsite), but don't be fooled, this is not an easy hike. With healthy ascents and descents and a longest day of 20km over rocky, loose terrain at times, hikers are required to be fit, strong and sure-footed. Also, the temperature can fluctuate drastically between seasons, from dangerously hot in summer to freezing cold in winter.
We had the privilege of hiking the trail a few weeks into spring and the combination of mild weather and flowering fynbos made for a wonderful experience.
Day 1
9.7km, 3-5 hours
Upon arrival, we were greeted by the friendly and soft-spoken Willem, who manages, amongst other things, the daily transfer of luggage between campsites. We packed our things into the provided boxes, Willem pointed us in the right direction and we were off.
The first day's hiking starts off with "Kick Start Hill" – quite a rough bit of jeep track that gets you into the mountains. Within the first 200m, we saw a clear leopard paw print in the wet soil. Eyes lit up and imaginations were captured at the thought of sharing a space with this beautiful and illusive creature.
There was a strong, icy wind blowing which, combined with a bit of rain, even produced some hail while we walked. It got pretty chilly, but the rain in the afternoon light made for some wonderful scenes.
There is an optional detour to Gabriel's Pools, but the cold and wet weather made the thought of swimming in a mountain pool slightly less attractive, so we aimed straight for the campsite.
All the campsites are beautifully laid out, with stones lining the paths and designated tent sites. The convenience of a communal "kitchen tent" and an outhouse with a flush-toilet is a real treat in such an otherwise pristine and wild setting.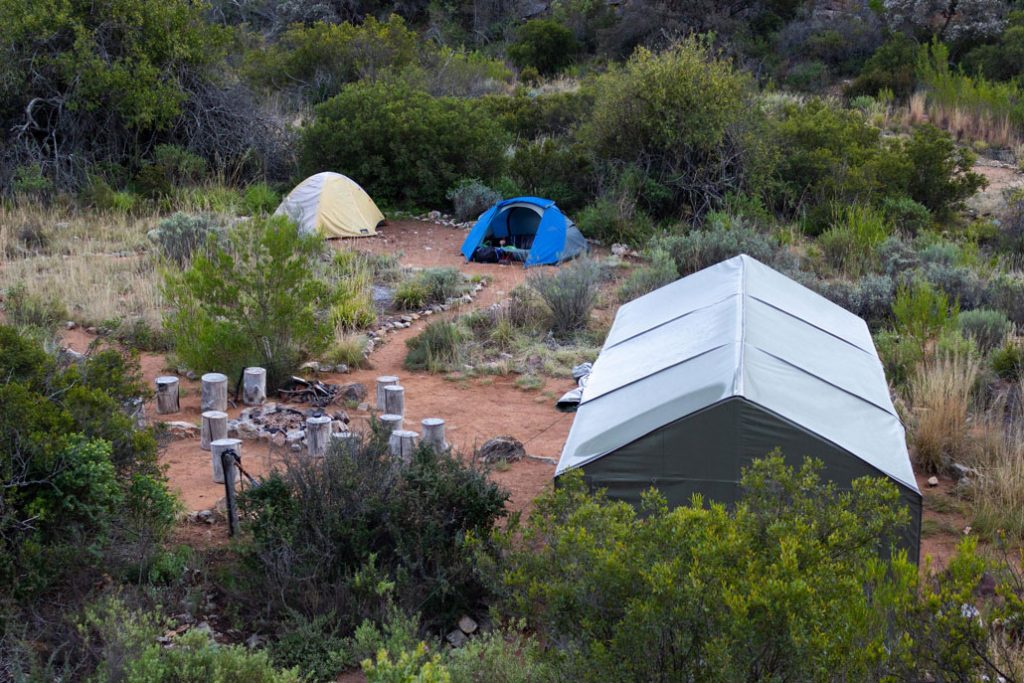 Day 2
16km, 5-8 hours
Day 2 starts by backtracking a short distance of the previous day's trail until one reaches a marked turn off to the rest of the days walking and the start of the Rhebok Valley – a flat-bottom valley that winds its way through the hills with an abundance of fynbos.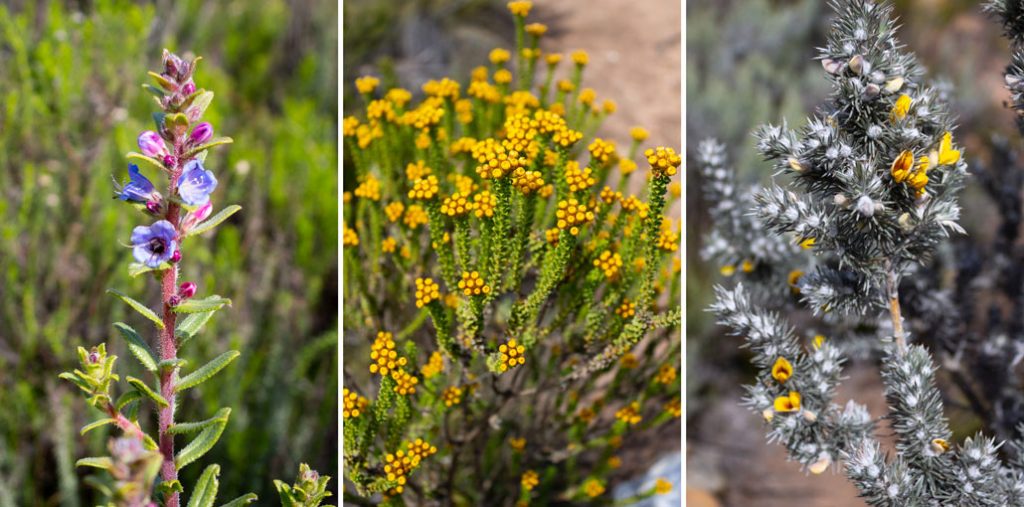 The gentle strolling comes to an abrupt end at 5.5km as one starts to ascend out of the valley. At the bottom of the hill there is another optional detour (314 metres each way) that makes for a nice snack break in a beautiful, steep-walled kloof.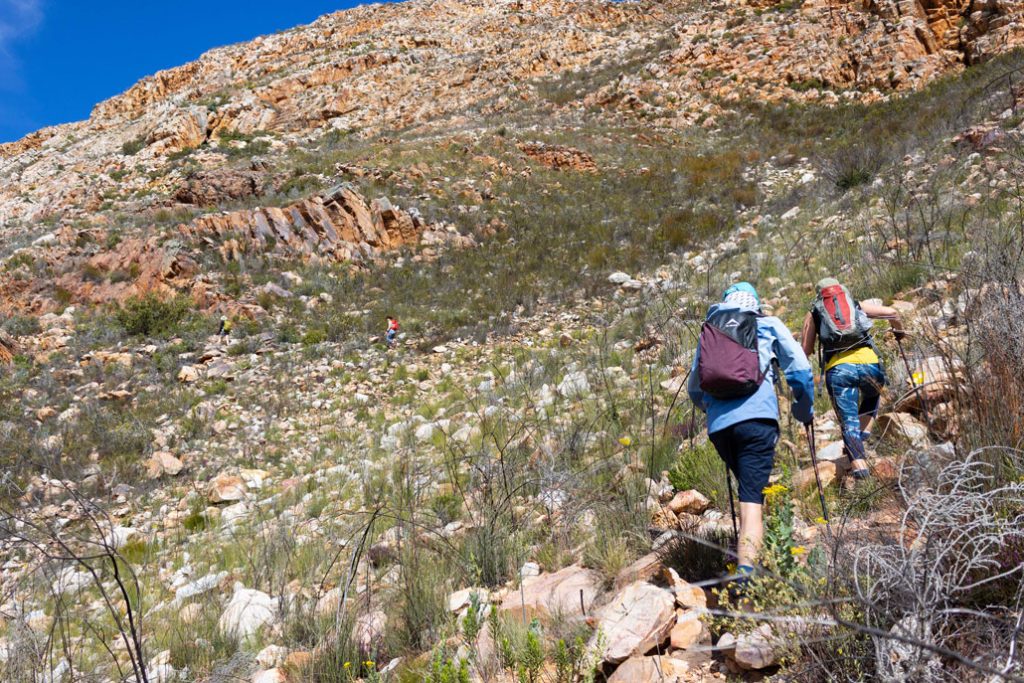 At the top of the hill you are greeted with breath-taking views of the surrounding area and for the first time you get a real sense of where you are and the remoteness of the area.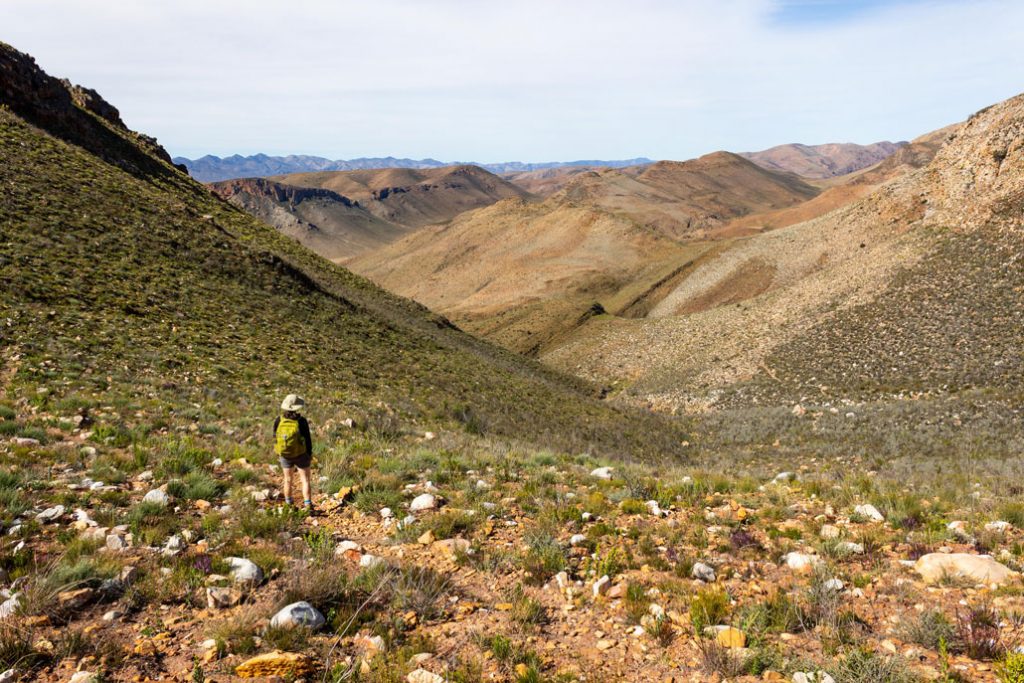 As you descend the other side of the saddle, you pass some dramatic rock formations and aloe-strewn hillsides before you reach Reflection Pools – another peaceful, beautiful spot for a break and a swim on a hot day.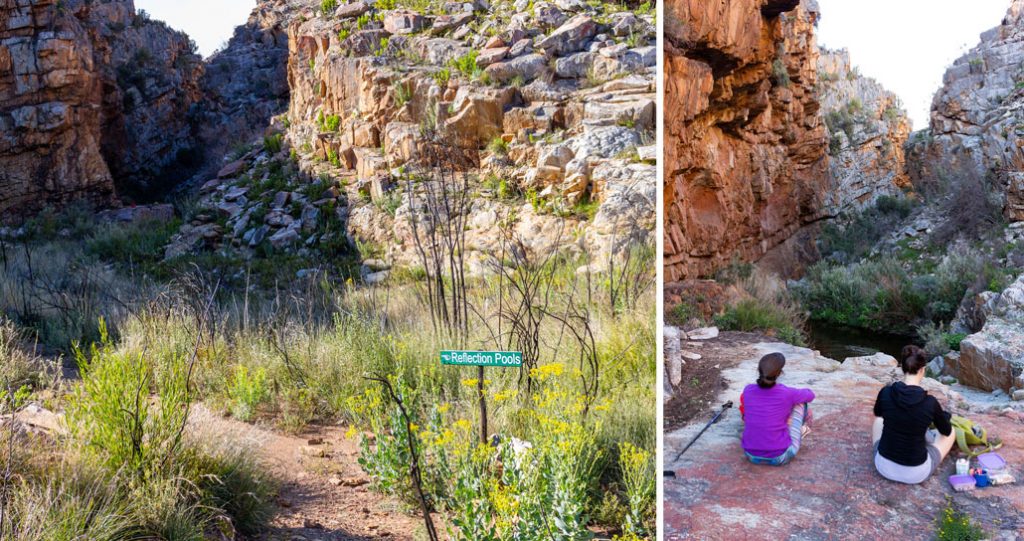 The rest of the day winds its way along a valley, over two saddles and into, arguably, the prettiest campsite of the trail – set in the bend of a valley below a stunning cliff face that catches the afternoon sun.
Day 3
20km, 6-9 hours
Day 3 is beautifully split in two distinctly different halves – the first of which is hilly, rocky, dry and quite rough in parts with a total ascent of about 600m over three hills.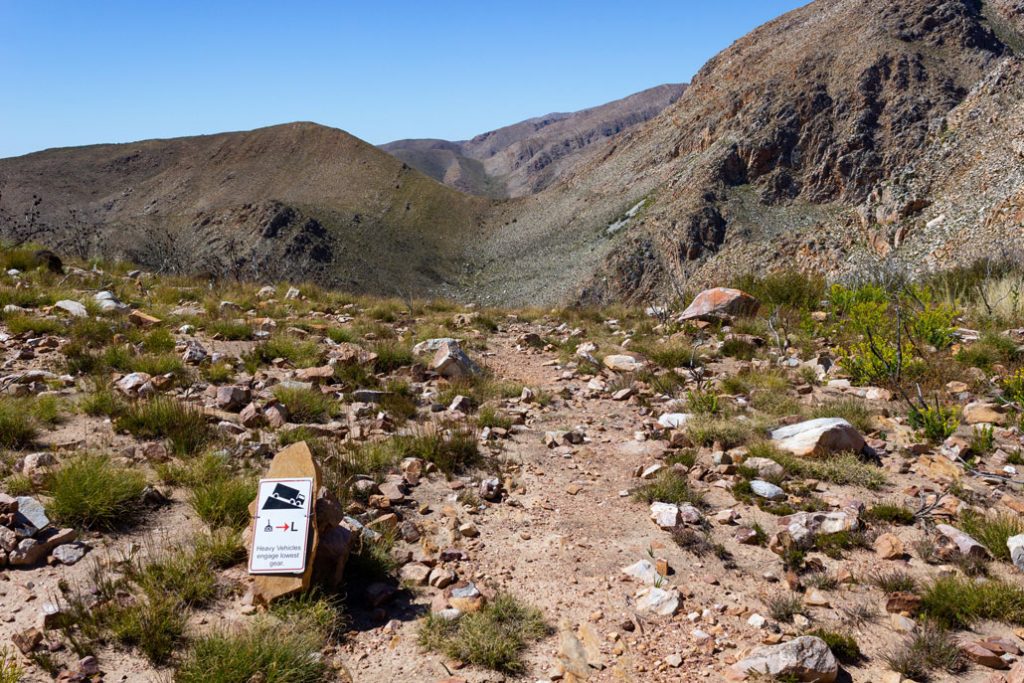 The second half of the day winds its way through the beautiful Kasey Kloof, replete with shady lunch spots next to a river and little meadows below dramatic rock walls.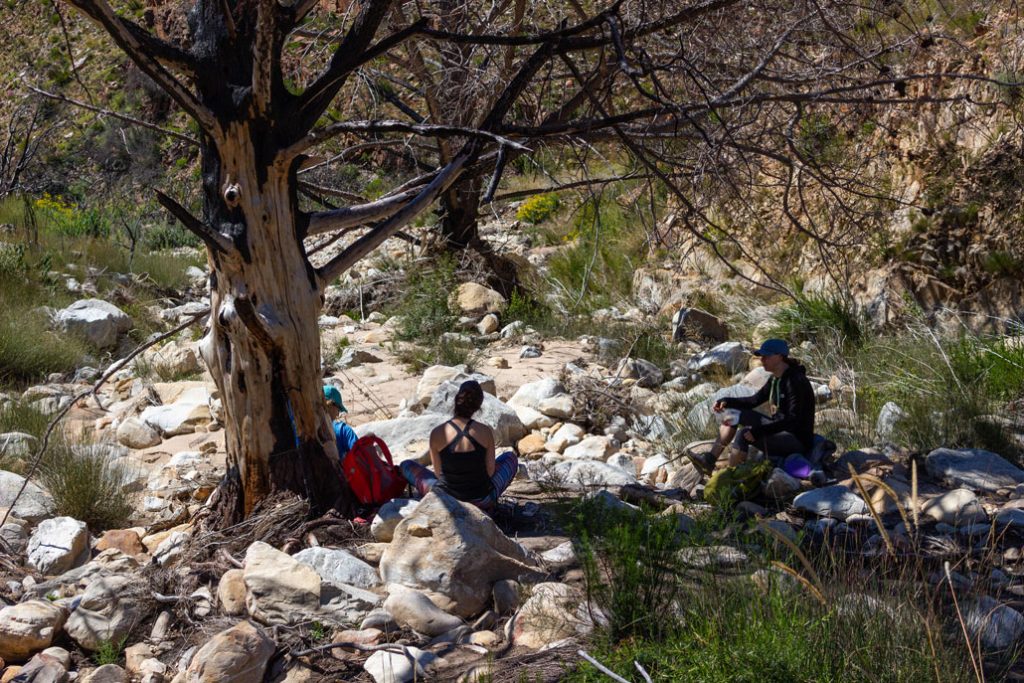 The campsite, once again, was a pleasant surprise, with a beautifully located shower, a frame to hang up packs and trekking poles and even a little damn for cooling off after a long, hot day.
Day 4
12km (feels like 16km), 4-6 hours
The first 4km of the day follows Birdsong Valley which lives up to its name. As you wind your way along an ever-narrowing river valley, the air is filled with the chirps and chitters of a host of feathered friends.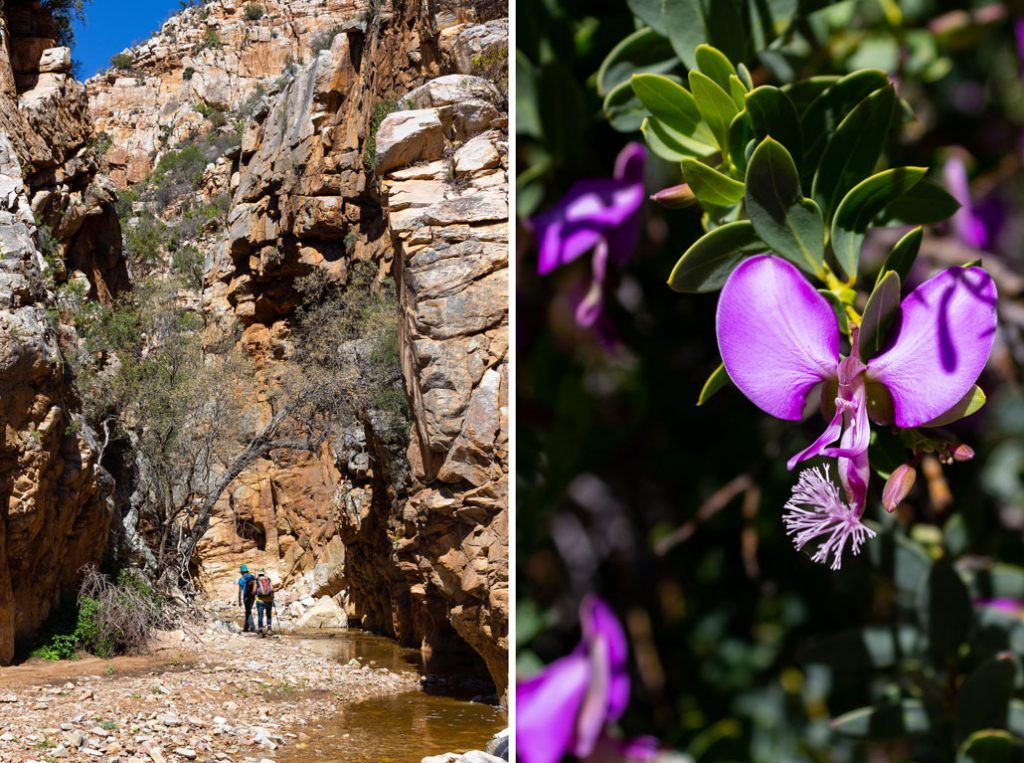 After the 4km mark, one reaches Fond Farewell, a stiff little hill that definitely gets the heart rate up. Be sure to fill up your water bottles before starting up the hill, as the next 8km has little to no water.
The trail makes its way down and through another valley, up to an old stone wall on a saddle between the valleys –  a nice spot for a break and a snack.
The final descent into the Cedar Falls valley is rough and steep, but once again, the views are a pleasant distraction.
The last bit of flat terrain makes for a gentle stroll in the afternoon light and a perfect ending to a wonderful trail.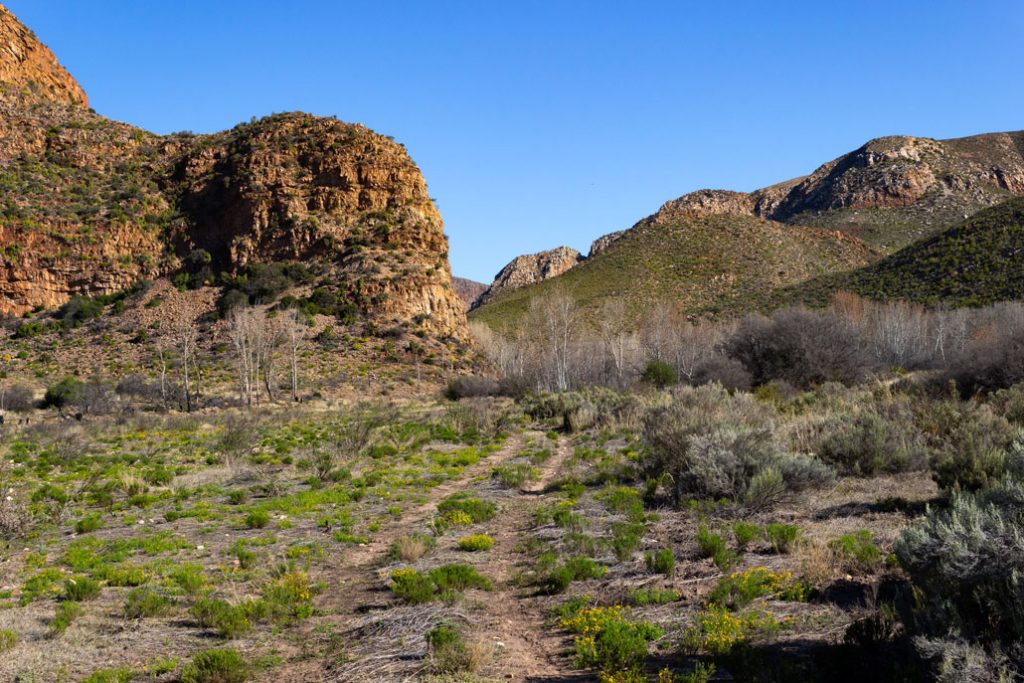 Cedar Falls Day Hike
Roughly 8km, 4-6 hours
I've included the Cedar Falls Day Hike in this trail review as it makes for a lovely fifth/bonus day. It's not strenuous and gets you deep into a beautiful river valley with rarely seen healthy, tall Cedar trees and magical swim spots.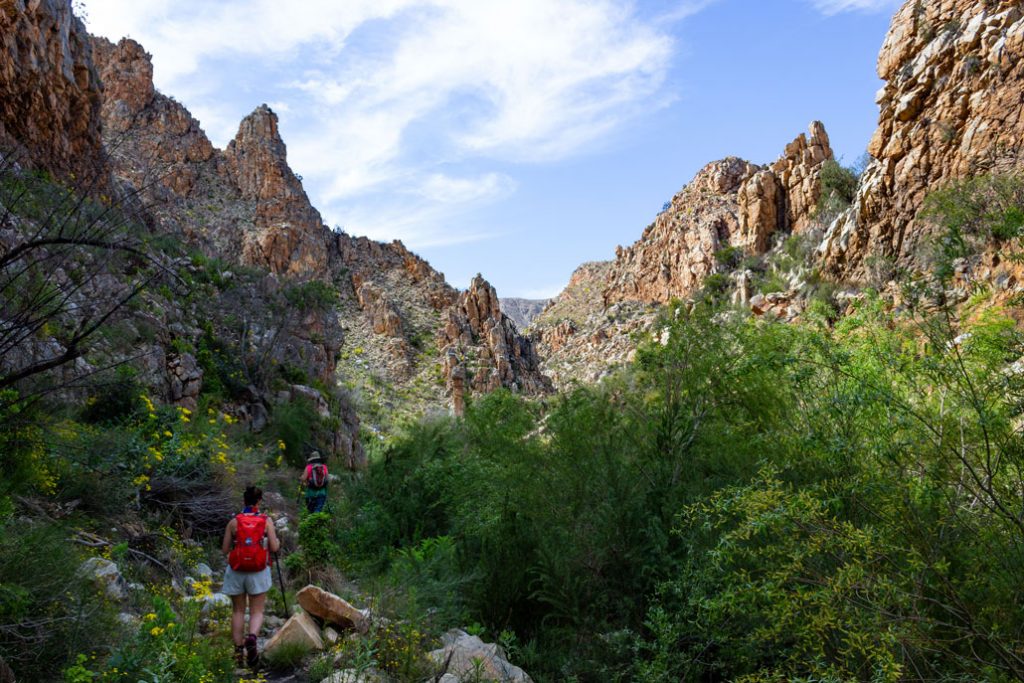 The path and the river do merge from time to time, so be prepared to get your shoes wet. Also, there are two mandatory swims to get to Cedar Falls – the water can be absolutely freezing, but it's well worth the effort and discomfort.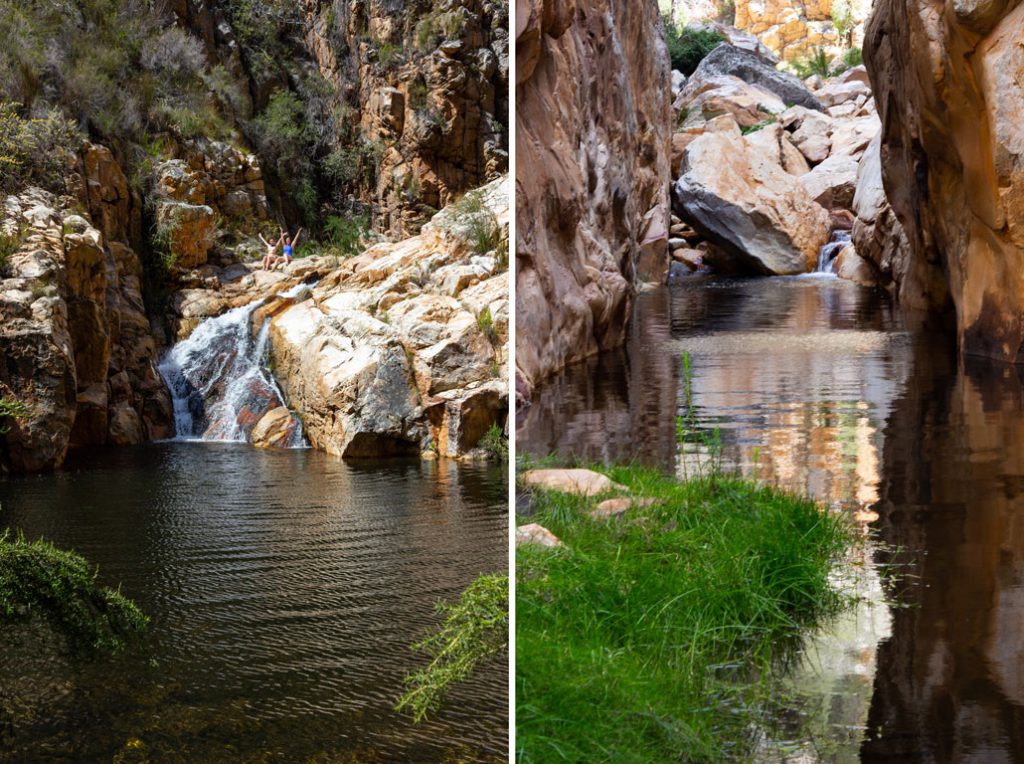 The last bit of kloof to get to Cedar Falls does get a bit technical requiring balance and sure-footedness as you clamber over and along boulders to get right up to the waterfall.
Accommodation
We spent two nights on the farm after the Leopard Trail (highly recommended) which allowed us to enjoy the Cedar Falls Day Hike without rushing and take our time driving back to Cape Town.
We spent the first night in the Red Cliffs Farmhouse which was a real treat after camping for four days. It has a very nice open-plan kitchen, a big dining room table and a comfortable lounge area with indoor fire place. Well worth the few extra Rands. The second night was spent in the Hikers House which is classic hiking accommodation with a lovely porch for hanging out.
Conclusion
A beautifully diverse and well laid out trail that winds its way through a unique and ancient landscape. The Baviaanskloof is a special place and the Leopard Trail takes one through some of its gems. This trail is a must-do for any fit hiker and I will certainly be doing it again.
Info
For bookings and more information on the trail, go to www.gobaviaans.co.za
Alternatively, email reservations@gobaviaans.co.za or phone 074 939 4395.