The English language assigns an identity to a perpetrator if the hideousness of their act, or crime, is sufficient. For instance, if you commit "murder" you will henceforth be known as a "murderer". For misdemeanours of a more benign nature we assign more temporary "tags". For instance, those who jump queues are referred to as "assholes", or some other colloquial expression.
I see the need to add to the English language, a word that does justice to the act of littering. We should definitely consider degrees of littering – without trying to justify any of it – because in the squalor of a squatter camp, or central Jozi where rubbish-bins overflow, one has some understanding of the act. However, it takes a special kind of callousness to venture into nature and drop your rubbish in a pristine environment. I consider the guilty to be "litter-shits" and those who drop cigarette buds get the special designation of "ash-holes".
The most recent "crime scene" I visited was Boulder Camp, right next to Crystal Pools in the Cederberg. It takes a full day to hike there and the trail takes you through some of the most stunning terrain the Cederberg has to offer. The site is nestled between two rocky outcrops on a level grassy patch, sprinkled with some large, shapely boulders and flanked by a bubbling stream with clear pools. Truly a bit of paradise. What made the discovery annoying was the knowledge that the culprits were all on an overnight hike – surely they should know better?
We were a group of 6 friends doing a 5-day hike. This was our first overnight site and also the most remote of all the spots we stayed at. It was quite shocking to discover the amount of litter. There were numerous places where toilet paper and turds were left on camping spots, probably the result of carelessness or the inconvenience of rain. At a particular spot a large amount of rubbish (plastic, packaging etc.) was dumped and we also found some random items like an old pair of undies. Clearly this was not the work of one culprit, but of many hikers over an extended time.
We could not in good conscience leave the place the way we found it, so we did a bit of a clean-up on the morning of our departure. To be honest, I did not think much of what we did – to me it seemed obvious that one couldn't leave the mess. The only stretch was to collect other people's loo paper, but some sharp sticks eased the gross-factor.
Some pointers on littering, paper and plastic 
In a group, lead by example: make it part of the trail-briefing to give instructions on how to deal with rubbish and pick up any litter found in nature. Do not be scared to confront people who litter; do it courteously and try to win their cooperation instead of just having an argument. If they don't comply, clean up after them – it's the right thing to do! Litter is like graffiti: one piece is often the cause of proliferation. Cleaning up may keep others from dropping their rubbish at the same spot.
Toilet paper is by far the biggest culprit and is often found in completely inappropriate places: right next to crags, trails, water sources and campsites. The rule is to do your business at least 30m from any of the aforementioned areas; add 20m if it's a #2. Toilet paper should preferably be carried out with you in resealable packets (Ziploc), or alternatively, bury the toilet paper by digging a hole, 15 to 20 centimetres deep; cover and disguise the hole when finished.
Plastics, tins & other packaging should always be carried out. Plastic "spring water" bottles are the biggest plastic pollutant in the world and the industry should not be supported. I prefer stainless steel water bottles – they're classy, indestructible, naturally BPA-free and your water tastes better.
Lastly, do not wash in water sources that rely on seepage or slow running water. Rather fill containers and wash well-away from the source; it is not only to keep drinking water pure, but also to protect the sensitive eco-system. In fast flowing water, use only bio-degradable soap, and the minimum amount.
On fire 
Wild fires are mostly man-made and can be devastating in areas with dense vegetation or strong winds. The numerous burnt skeletons of the slow-growing, endangered Cedar trees are testimony to this scourge in the Cederberg. I often happen on the remains of campfires in wilderness areas where it is strictly prohibited. Fires can also start through discarded glass or rock fall (a massive wildfire near Ceres was started from a spark generated by an axe hitting a rock when clearing brushes).
In December 2016, a young member of the Scouts started a devastating fire at the very same spot we cleaned up (Crystal Pools) when trying to burn his toilet paper in very dry and windy conditions. More than 16 000 hectares were razed and the famous Sanddrif campsite damaged. Inexperienced hikers should always be briefed on what is to be done with rubbish and that burning in those conditions is completely unacceptable.
There is some controversy as to whether rubbish should be burned, ever. After a devastating 2016 fire season in the Cape, my stance changed and I think that the risk is simply too high. Even if some people can burn rubbish responsibly, the practice should not be advocated.
Cleaning up is not a chore 
There will unfortunately always be those who litter. It may feel unfair to have to clean up after them, but consider it an act of service to nature. Littering is violence and cleaning up is taking care of the victim – it is something very positive and a privilege!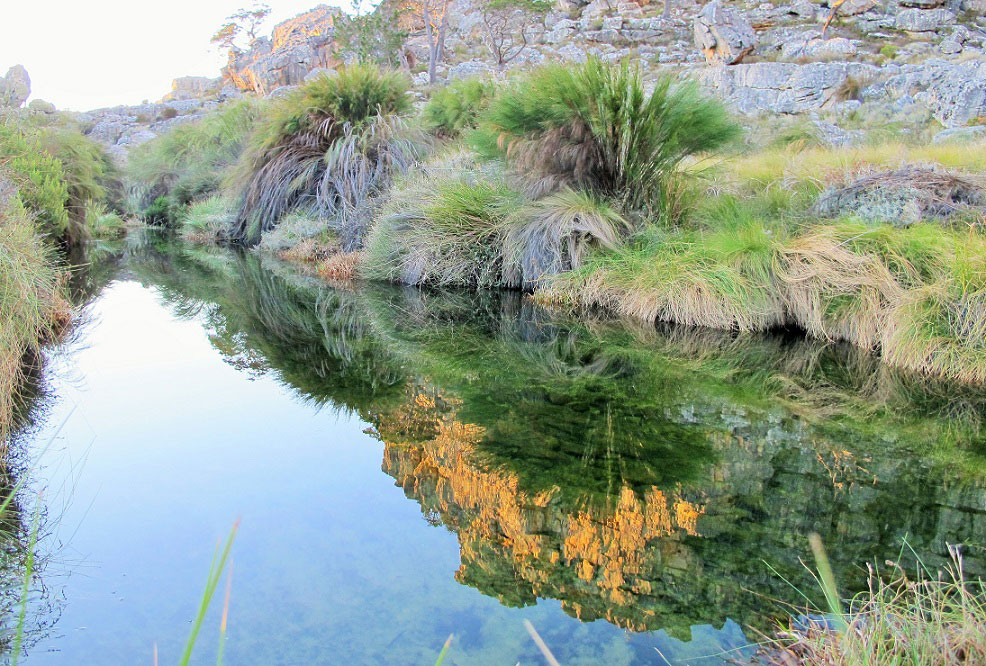 For more info on how to have minimal impact on nature, the Leave No Trace Principles are an excellent guide for sustainable outdoor ethics.