When packing my backpack for a multi-day hike, space has always been more of an issue for me than weight. Lots of fairly lightweight items that take up quite a bit space, like a sleeping bag and a mattress. I used to strap my old foam mattress (gaper pad) to the outside of my pack, but I've been a bit more precious with my self-inflatable Therm-A-Rest. Though smaller than the old gaper pad, it still takes up a lot of space… That's where the First Ascent Aero 5.5 mattress comes in. Rolled up, it's about the size of a 500ml Coke bottle and weighing in at 426g (advertised as 410g) it's one of the lightest full-length, full-width (i.e. your arms don't fall off the sides when lying on your back) inflatable mattresses on the market.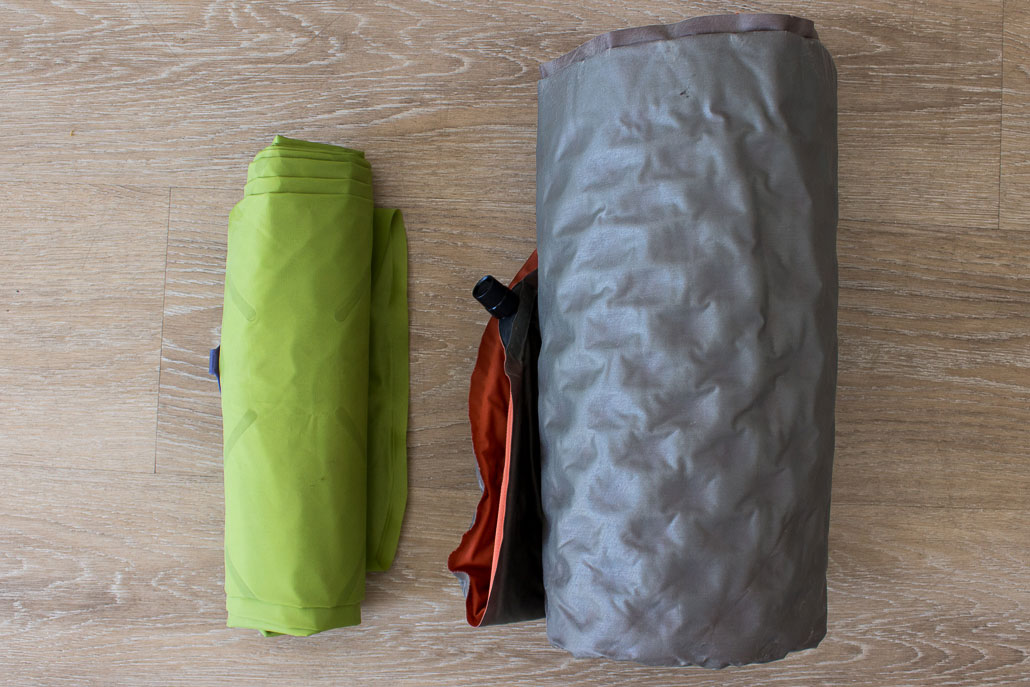 I recently hiked the Giant's Cup Trail and the second night's hut doesn't have any mattresses. The rest of the huts are fully equipped with mattresses and it felt a bit silly having to carry a mattress along for just one night. The guys from Scuttle kindly supplied me with the Aero 5.5 for review and when I saw how light it was and how small it rolled up, it was a no-brainer taking it along for a comfortable night's sleep.
Comfort
There are a few elements that add to the comfort of this mattress. As mentioned earlier, the fact that you can lie on your back without your arms falling off the sides makes a big difference. I recently spent a night on a Therm-A-Rest NeoAir Trekker (Size: Regular) and I was constantly aware of the fact that I was sleeping on a very narrow mattress and when I would lie on my back, my arms would end up on the ground, having nothing to rest on. The Aero 5.5's advertised dimensions are 189 x 54 x 5.5cm.
Besides the comfortable length and width, the fact that it has an egg crate design, as opposed to parallel channels, gives the contours of one's body (hips and shoulders) something to "hold on to", reducing that slip-n-slide feeling often experienced on horizontally channeled mattresses.
The one criticism I have of the mattress is that it doesn't hold it's shape when you push up on your elbows or knees. The air gets displaced and you end up pressing straight through onto the ground.
Inflation
The valve has a super low profile valve and is located on the "floor-side" of the mattress, keeping it completely out of your way when sleeping.
Being a non-self-inflatable mattress, I was surprised at how little air was required to fully inflate the mattress – it only took 8 breaths to fully inflate the mattress. The Seal Tec valve allows for easy air flow and does a great job at sealing, to stop any air from escaping during inflation.
Insulation
The mattress only has an R-value of 1.3 (insulation quality), so, on its own, it's not suited for extremely cold conditions, but coupled with a gaper pad, it will give you a warm, comfortable night's rest and the gaper pad protects the mattress from any potential punctures as well.
Weight
The Aero 5.5 weighs 426g. My gaper pad weighs 176g. The combined weight of 602g is still 242g less than my Ther-A-Rest Prolite Plus at 844g (the newer models are advertised at 620g) and at almost half the price (currently retailing at R1099), it really starts making a lot of sense.
Conclusion
I always carry a gaper pad along anyway for backup (which serves as a comfy seat when sitting around camp as well) and the low pack-size of the Aero 5.5 combined with the insulation of the gaper pad might just become my new go-to combo.
This mattress is available directly from First Ascent and most outdoor retailers.