The First Ascent Amplify Down 900 is the ideal bag for hikers who plan on heading into South Africa's mountainous wilderness areas during winter, such as the Cederberg, Drakensberg and Wolkberg ranges.
Key Information
Price (at time of writing): R4299
Weight: 1825g (with stuff-sack)
Temperature rating: Comfort: -3°C
Filling: Goose down (RDS Certified) – 650 fill power
Specialising in warmth
When you think of down sleeping bags in South Africa, the First Ascent Ice Breaker will most likely be one of the first bags you think of. It has made a name for itself as a sufficiently warm sleeping bag in almost all South African conditions, while being versatile enough for both hiking and "car camping" alike.
With the Amplify Down 900, First Ascent has foregone the "jack of all trades" approach of the Ice Breaker and focussed on maximum heat retention.
Design
The Amplify Down 900 has a mummy shape, which tapers quite aggressively down along the legs and footbox. This might seem uncomfortable to people who like to have some space to move, but it ensures minimum air volume inside the bag and thus, less air to warm up.
Unlike the Ice Breaker, it does not have a full-length zip, but a ¾-length zip and shaped footbox – once again, all in an attempt to maximise heat retention, because wherever there is a zip, there is a chance of heat loss.
The Amplify range gets its name from the elastic stitching method that allows the sleeping bag to expand width-wise, so it stretches and conforms to one's body as you move in the night, reducing any restrictive feeling.
Features
First Ascent have ticked all the boxes with this sleeping bag for a comfortable night's sleep in cold conditions:
Generous zip- and chest baffles to stop any cold air from creeping through the zip or in the gaps around one's neck and chest as you move around.
Elasticated drawstrings in the chest baffle and cowl, to cinch the bag down around one's face, to minimize exposed skin and keep one's head warm.
Internal storage pouch for a cellphone, powerbank or camera batteries – once temperatures go below freezing, batteries tend to lose charge at a rapid rate.
Anti-snag fabric along the inside of the zip to reduce snagging on the thinner Microtex lining. It doesn't eliminate snagging completely, but does a decent job of keeping the Microtex lining out of the zipper.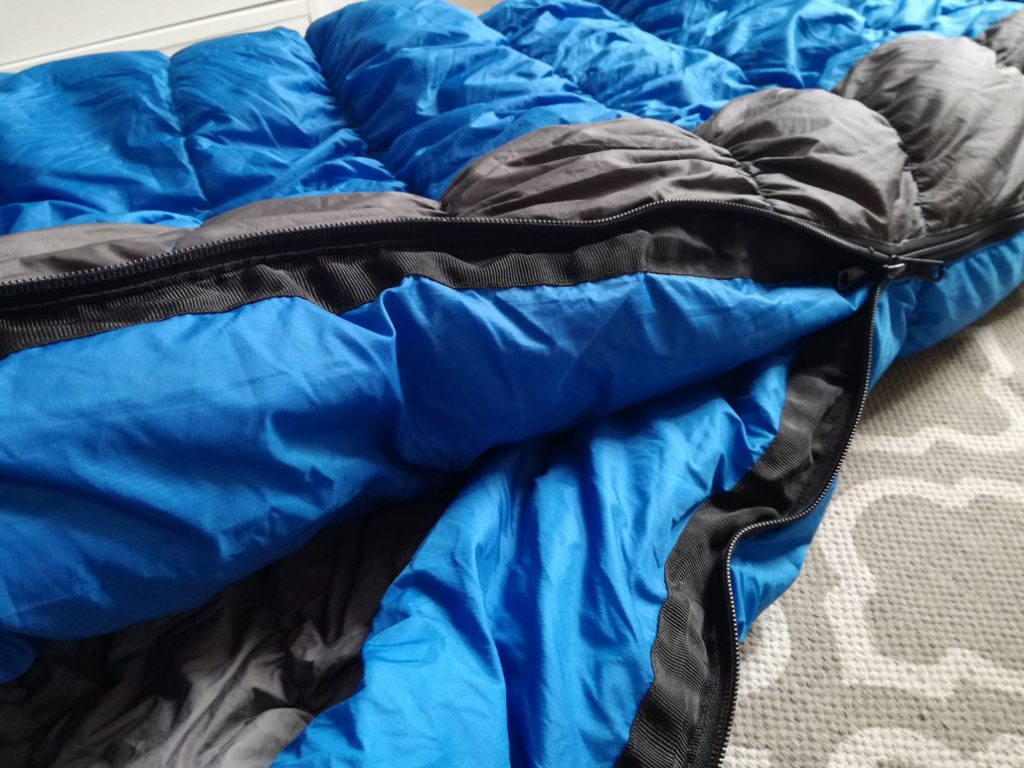 A stuff sack with compression straps is included with the sleeping, which helps to reign in all that lofty down and take up as little space in your backpack as possible. It also comes with a big, mesh storage bag.
Temperature rating
I've spent a few nights in this sleeping bag at temperatures between -2 and -4, comfortably warm while wearing trousers, socks, t-shirt, fleece and beany. One night I crawled into my sleeping while still wearing my down jacket and eventually woke up sweating – the thermometer read -2°C. So, there is definitely some margin, if the temperature drops below the bags indicated comfort rating of -3.
That being said, First Ascent claims a "Transition" rating of -15 and an "Extreme" rating of -20… I was not able to test the sleeping bag under those conditions, but they are extreme and the margin for error starts to get very thin with a high probability of hypothermia and frost bite if anything goes wrong, so beware.
Cons
My main gripe with this sleeping bag is the shallow cowl (hood). For a sleeping bag that is well designed for maximum warmth, the cowl is a little out of character. It's nothing major, but a slightly deeper and more contoured cowl would have resulted in an even better comfort rating without adding much weight.
The other element that is a bit odd is the over-engineered velcro tab at the top of the zip. Their purpose is to stop the zip from accidentally opening during the night, but their overlapping design makes them so secure that had to fiddle with them every morning to get them open. They're also located on the inside of the sleeping bag, which has the risk of being scratchy.
These are both minor elements but seemed out of character with an otherwise excellent sleeping bag.
Conclusion
The First Ascent Amplify Down 900 is great option for winter hikes in South Africa and abroad. The -3°C "Comfort" rating is spot-on and there is a good margin for colder conditions. I'll happily recommend this bag.
This sleeping bag was provided by First Ascent for review purposes and can be purchases from their online store: https://www.firstascent.co.za/amplify-down-900-sleeping-bag
To find out more about sleeping bags, check out this article: https://www.hikingsouthafrica.co.za/sleeping-bags-101/