Key Information
Capacity: 3-Person
Weight: 4034g (excluding the stuff sack)
Waterproof Rating: Flysheet: 2000mm; Tent floor: 3000mm
Structure: 4 poles with 5 intersections; freestanding
Price: R2699 (at time of writing)
The All-Rounder
I purchased a First Ascent Eclipse in 2013 (then a 2.7kg 3-person tent), for a winter hike in the Cederberg, and was amazed by the tent's performance. Since then, the Eclipse went through a thorough redesign, and whereas previously it was a decidedly lightweight, classic 3-season design, the new Eclipse is stronger, warmer, roomier and heavier.
The tent has a robust construction and many 4-season features, but without the 4-season designation, yet it will handle just about anything the weather in South Africa's high mountains will throw at you. Like its smaller cousin, the Lunar, it is in reality a hybrid 3/4-season tent. If you want to buy only one hiking tent for all South African conditions, this tent is it.
Design
The tent is a classic double-wall design and comes in at a very affordable price. First Ascent hit the nail on the head with the Eclipse's pole and inner configuration: a 3/4-season design for the tent inner with only about a 50% mesh covering. The pole design with 5 crossings provide exceptional strength and can be categorised as 4-season.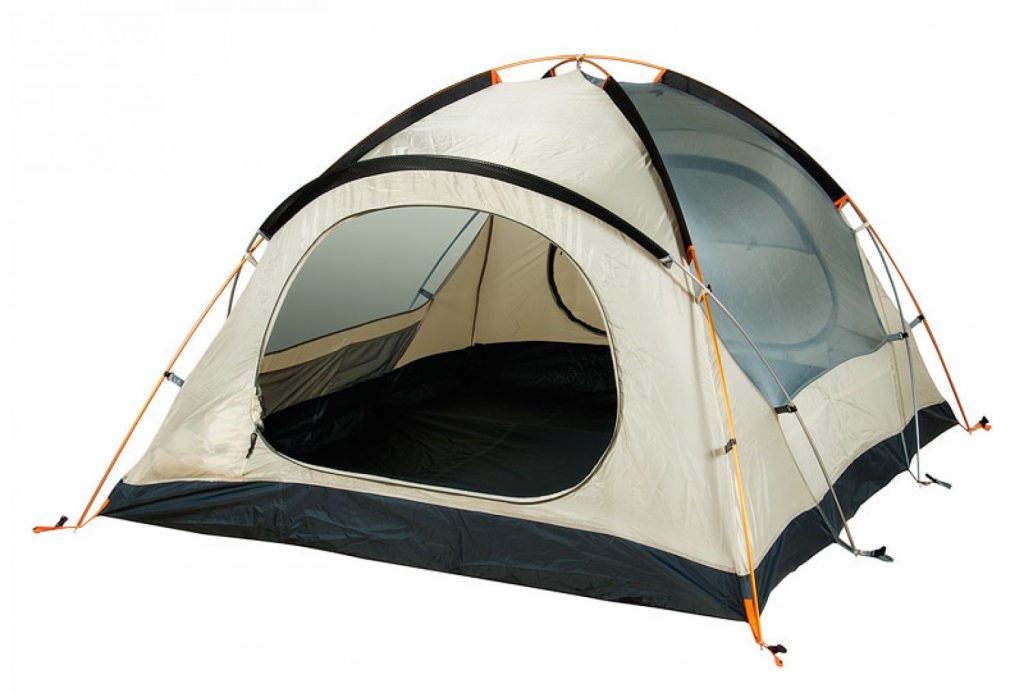 Front and rear entrances, both with roomy vestibules, side pockets and a gear attic complete a sturdy, simple yet functional design.
Size
Floor Dimensions: 184cm x 208cm (measured)
Unlike the norm for lightweight tents, this 3-person designation is exceptionally roomy and will earn a 4-person designation from many manufacturers. I'm 190cm tall, weigh over a 100kg and have gotten used to subtract a person from the tent's spec for my use (as it is normally based on "medium-sized" people) – this is the first 3-person tent I've seen in a good while where there's sufficient space for 3 larger persons. The tent's width of 184cm allows for turning the sleeping configuration sideways (for people shorter than 180cm), giving a snug 4-person tent.
Height: 120cm
The tent height is on the tall-side for hiking tents and gives ample space to sit upright and get dressed.
Weight: 4034g
Weighing in at 4034g, it is at the upper end of the scale for a 3-person tent, but because of its true 3-person sizing, when split between three hikers, the "carrying weight" ends up being a fairly standard 1344g per person.
Inner
The canopy fabric is 210T breathable polyester fabric with fine see-through mesh on the side panels and doors to give decent ventilation while keeping bugs outside. The doors have a nifty half-height, zip-up mesh window, which is easier to use than the usual full-size mesh door and reduces weight by saving on unnecessary fabric and zips.
With the door mesh panels closed, the ventilation is still totally sufficient to avoid condensation whilst still retaining body heat inside the tent in freezing conditions.
Floor
The floor fabric is 150D polyurethane coated Oxford polyester (3000mm waterhead). This is exceptional strength and durability, and punches above most 4-season designs. It is heavier than the norm, but this robust material will stand up to many years of use on South Africa's coarse sandstone.
Flysheet and seams
The flysheet is made of 210T (70D) polyurethane coated polyester and has a waterhead of 2000mm – again more in line with typical 4-season specs. There are ventilation ports on the sides and the flysheet has stitched-in tags to which guy-lines can be attached.
The blue colour provides a calming blue-tinged light when waiting out severe weather and would score around the middle-mark for visibility.
Vestibule and entrances
The Eclipse has front and rear entrances with two medium sized vestibules which gives ample space to stash backpacks. The vestibules also have a bi-directional zip which can be opened from the top or bottom, allowing hikers to have a quick peak at the weather, as well as cook under the vestibule (with care) while letting out any excess, harmful gas that would otherwise be trapped in the tent.
Poles
The Eclipse's pole system places it squarely in the 4-season strength category. It has a 4-pole design with 5 crossings, with the poles running through colour-coded sleeves attached to the tent inner. The sleeves give a continuous connection to the inner, stretching it out to provide maximum room and stability. The downside with the sleeve-system is that it takes longer to set-up (in my experience) than clip-in poles, which will result in more water accumulating in the inner when pitching the tent in heavy rain. Not a definitive drawback – it is simply a matter of preference – and again the tent's 4-season fundamentals are supported by this system.
Pegs and guy-lines
The Eclipse has a bomb-proof 14 ground contact points in addition to 6 guy-lines, solidly anchoring the tent to withstand some serious wind. The guy lines come neatly packed in a small bag along with a patch kit.
Field tested performance
We pitched the tent a few times in the Cederberg (in June) – once in decent berg winds and one night in a full-force, winter cold front with gale-force winds and buckets of rain. The tent did not budge in the wind and stayed completely dry, providing reliable shelter in total comfort.
 Verdict
The Eclipse offers very good value for money and is a go-anywhere, do-anything hiking tent. The tent is on the heavy side of the 3-season tent scale due to its robust materials and 4-season specs, but when shared between 3-people the weight is manageable and will give years of reliable service.
This tent was provided by First Ascent for review purposes and can be purchased from their online store.