Key information
Price (at time of writing): R2799
Weight: 345g per shoe (Size 9). 690g per pair.
Women's version: Yes
Intro
The question often gets asked by beginner hikers, "Which is better: trail shoes or hiking boots?", and the correct answer would be, "depends on the hike". That being said, if you could pick a shoe with almost all of the benefits of both, wouldn't it make that decision so much easier?
The Inov8 Roclite G 345 GTX might just be that answer. It's a lightweight, water-resistant, high-ankle, trail shoe, fitted with Inov8's latest Graphene sole, which, amazingly, increases both grip and durability.
Construction
The shoes' upper is the usual mix of hardwearing synthetics, with a lighter mesh over the forefoot.
The laces and lace-loops are extremely hardwearing, yet lightweight, paracord. All these little design tweaks add up to a tough, yet light, hiking shoe.
Water-resistance
It has a GORE-TEX lining which does a great job of keeping heavy moisture out, while still allowing one's feet to breath. I went on a couple of very sweaty hikes and I never felt like me feet were unusually hot because of the water-resistant lining.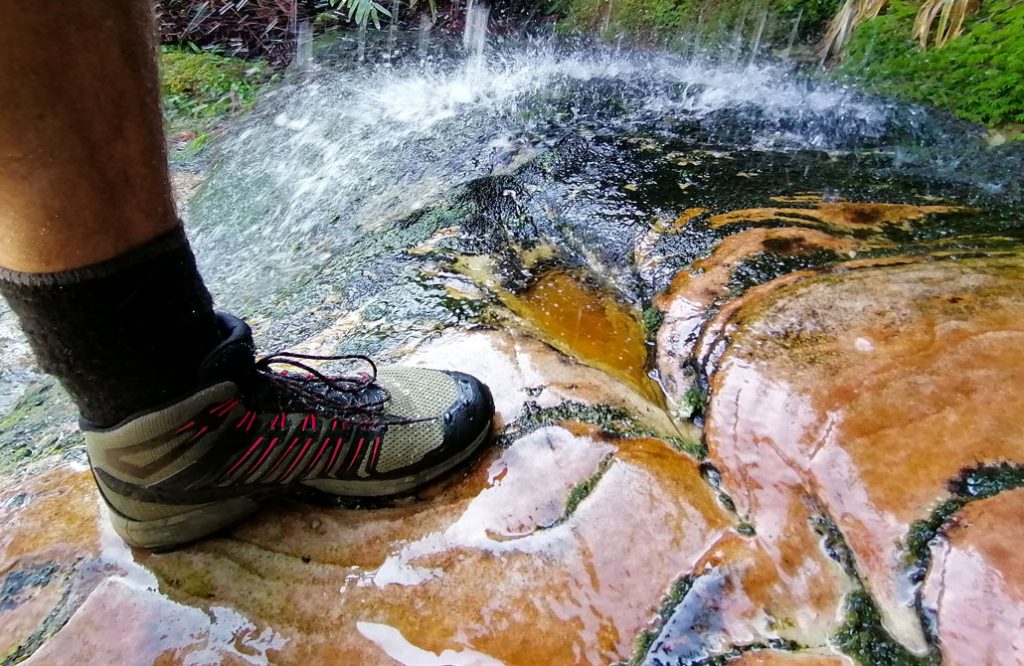 Fit & Comfort
The Roclite G 345's come with brilliant out-of-the-box comfort. I went on multiple 16km+ hikes, on varied terrain, without any "break in" period and I had no issues with blisters, or any other kind of discomfort.
The shoe will be perfect for medium or low-volume feet, however, even with my wide feet, I could go one size up and was still perfectly comfortable, so a pretty good all-rounder in the fit department.
Support
Usually, one has to forego the support of a heavy boot, if you prefer the lightweight freedom of a trail shoe. Not so with the G 345's. The raised ankle collar does a fantastic job of protecting one's ankles from dangerous amounts of flex on uneven terrain, as well as a buffer against sharp rocks and sticks.
The midsole is made of Inov8's POWERFLOW material which offers fantastic cushioning and great energy return.
In addition to a comfortably cushioned midsole, the G 345's also have a lightweight shank, or META-PLATE, as Inov8 calls it, which protects one's foot from sharp rocks without sacrificing too much sensitivity, so you still have a pretty good idea of what's happening under your feet, which is essential on technical terrain.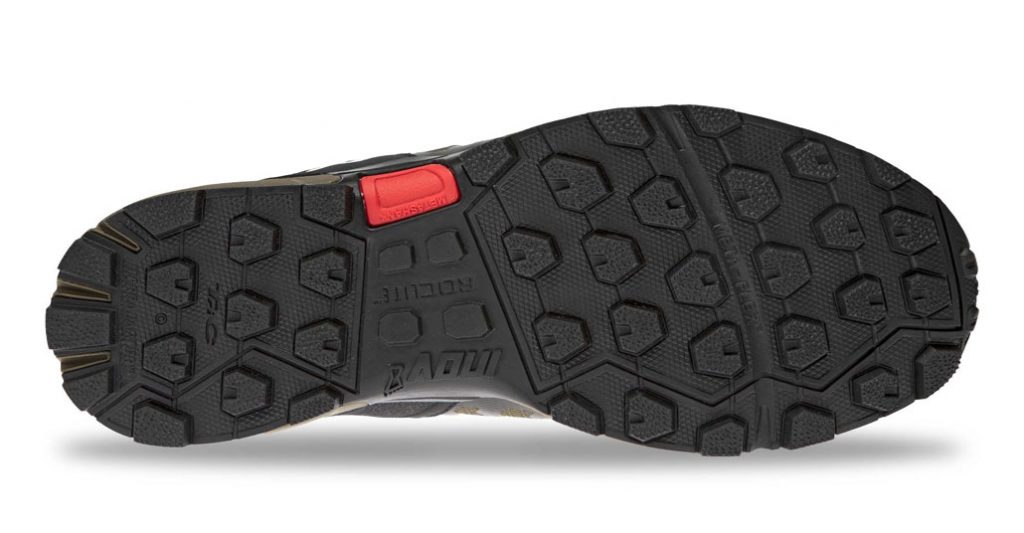 Grip
Finally, the pièce de résistance: Graphene! The single element that sets Inov8's G-range apart from all other shoes. They are the first shoe brand to blend Graphene and rubber to produce a sole that is both sticky and durable, at the same time.
In a nutshell, Graphene is the thinnest material known to man and more than 100-times stronger than steel (read more about it here). The net result of mixing it with shoe rubber is that it adds a phenomenal amount of abrasion resistance. However, because it's so thin, it doesn't inhibit grip, thus allowing Inov8 to make stickier-than-usual rubber, which would usually wear down quite quickly, like a rock climbing shoe, while having the abrasion resistance (and "lifespan") of a much harder, less grippy rubber.
The sceptic in me perceived this as being some good old marketing spiel, until I started walking in these shoes and noticed that the little nibs on the lugs weren't even wearing off! I did some more reading and found a review of a guy who walked 1200 miles (1920km) in his pair of G 345's and they still had a decent amount of tread left! That's unheard of!
The grip is confidence-inspiring in pretty much any situation and the deep lugs keep you moving uphill even in the muddiest conditions.
This is, by far, the most exciting development in technical footwear in a very long time and Inov8 have racked up some serious awards because of it.
Cons
The only thing I have against this shoe is the colour… The old-school brown seems at odds with the technically advanced nature of the rest of the shoe. Fortunately it does come in a few other colours, but I don't think they're currently available in South Africa (Inov8 South Africa, you know what to do 😉 )
Conclusion
The Inov8 Roclite G 345 GTX is a comfortable, lightweight, water-resistant trail shoe with ankle support, a lightweight shank for foot-protection, an energy efficient midsole and a sole that is exceptionally grippy and yet lasts "forever". All of that for the highly competitive price tag of R2799… I don't know how else to say it, but that is bloody amazing!!
This shoe was provided by Inov8 for review purposes and can be purchased online at https://www.driftersshop.co.za/ .