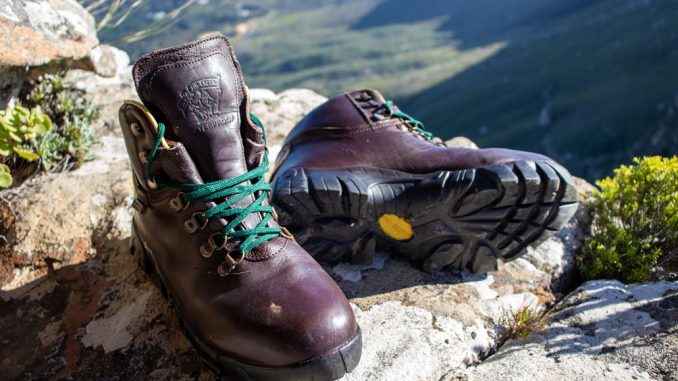 South African footwear manufacturer, Jim Green, makers of the rugged, no-nonsense Razorbacks, have a second hiking boot in their line-up: The Monster Waterproof Boot. I got my hands on a pair to see how they matched up…
Construction
The boot's upper is made from 2.2mm leather with a Cool Max water-resistant lining. In addition to the leather's natural water-resistant properties, the lining ensures dry feet in excessively wet conditions.
Overall, the boots are well put together. Instead of the Razorback's stitched-on midsole and flat outsole, the Monsters have a glue-on sole with a natural rocker – the soles roll naturally under one's foot making for a comfortable walking experience.
Fit
The Monsters have a fairly narrow toe-box, which is in stark contrast to the roomy toe-box of the Razorbacks. Hikers with a narrow forefoot should find these boots to be a good fit.
Like the Razorbacks, the back of the heel is very flat, so if, like me, you have a prominent heel bone, you might have issues with friction blisters on the heel.
Comfort
The boots were comfortable straight out of the box. There was some natural stiffness to the leather uppers when crouching, but other than that there was no uncomfortable rigidity that I was aware of.
The boot is very well padded, which ends up being a bit of a gift and a curse. The generous padding in the tongue completely removes all lace pressure, but, combined with the short gussets, it takes a bit of convincing to get the tongue to stay in the boot when lacing up. The leather and padding eventually starts to yield, but this is definitely an area that could be improved.
As mentioned earlier, the rounded glue-on sole with its natural rocker makes for a more comfortable experience underfoot when compared to the Razorbacks.
Grip & Support
Jim Green have used a softer compound rubber for the Monsters which allows for more feedback on what's happening under your feet. The soles felt grippy, even on steep, rocky terrain and I never felt unstable.
Water Resistance
The Monsters are specifically marketed as Jim Green's waterproof boot, so this is a feature that they paid particular attention to. I'm not familiar with the Cool Max brand of water-resistant lining, but they do the job. Combined with the leather's natural water-resistant qualities, my feet remained dry even after walking in the rain and through wet vegetation for a few hours.
Durability
Jim Green boots are specifically known for their durability and the excellent aftermarket support that Jim Green provides. As per their website, these boots can be resoled.
The boots do not have a toe cap, so the toe will get scuffed pretty quickly, but the 2.2mm leather will stand up to years of abuse.
Weight
The Monsters unfortunately do their name justice in the weight category – they are heavy. At 900g for a size 10 boot (1800g per pair), the weight is noticeable. If you're already used to the general weight of full leather boots, the weight might stand out less, but coming from anything synthetic to the Monsters will take some getting used too.
There are definitely a few obvious areas where weight can be saved, like the unnecessarily long tongue, excessive padding and very thick soles, so hopefully we'll see a Monster 2.0 in the not too distant future.
Best Applications
The Monsters are well suited to pretty much any terrain and will be comfortable under medium to heavy loads.
Value
At R1665 (at time of writing), the Monsters offer reasonable value for money. If they could shave off a few grams and refine the shape, these boots would be a serious contender.
Conclusion
A proudly South African, all-round, waterproof boot with good grip and a supplier that offers amazing aftermarket support, the Jim Green Monsters have a lot going for them, but they are heavy, and the lacing can be a bit fiddly. That being said, if they fit your feet and you don't mind the weight, it's a decent pair of boots at a good price.
These boots were provided by Jim Green Footwear for review purposes and can be purchased online or at one of their stockists.