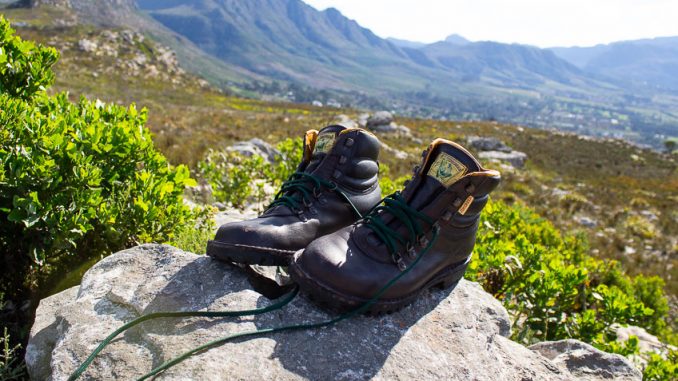 I can't resist a leather boot. Sure, modern synthetic or hybrid boots are lighter and more breathable, but a beautifully-made leather boot is unbeatable when it comes to aesthetics and durability. The classic full-grain leather boot with stitched-on midsoles is, to me, synonymous with old-school adventure and exploration.
First impressions
These boots are beautiful! That new leather smell, the green laces on the dark brown exterior, the yellow calf-leather lining and the old-school, tried and tested, Vibram-style lug pattern, all make for a visually appealing boot that just screams adventure.
Having worn hybrid boots (part leather, part synthetic) for the last couple of years, putting on a full-grain leather boot feels quite "abrupt". It feels stiff and the steel shank makes for a clunky walk at first. However, after just a few hours of wearing it around the office, the leather started conforming to my feet and I found myself grinning for no reason – the magic of a leather boot.
Construction
The Razorbacks have a double-layer upper – 2.2mm full-grain leather, lined with 1.6mm calf leather.  The insole board is secured to the upper with a double-stitched 2.2mm braided nylon cord. The rubber sole is supported with a steal shank, making for a very stable "ride".
Fit
The boot accommodates a wider foot with its roomy toe box. I have quite a wide forefoot and a high arch (higher volume foot) and I found the boot comfortable without significant lace pressure. Any remaining lace pressure is further reduced by a generously padded tongue.
The heel-cup is quite shallow, so if you have a fairly prominent heelbone, you might get blisters on your heels in this boot.
Comfort
Being a leather boot, it does not have the out-of-the-box comfort of a synthetic boot. The leather upper and the stitched-on midsole, does require some breaking in. Take your time – taking this boot on a multi-day hike without having walked in it for a week or two could have you nursing blisters unnecessarily.
For added comfort on long hikes, a cushioned insole would help a lot to soften the ride.
Support & stability
The boot provides excellent ankle support. The minimal padding around the ankle collar allows the leather to conform to one's ankle and protect against dangerous amounts of flex.
The stiffness created by the shank goes a long way in adding stability and support. One's feet feel planted and pressure is distributed evenly throughout the foot bed. Walking on rocky terrain, undulating single track and jeep track is a joy in these boots.
Waterproofing/resistance
The 2.2mm full-grain leather is naturally water-resistant, so for the odd puddle or quick river crossing, the Razorbacks will definitely keep the water out, but hours of walking in the rain, or through wet grass, will eventually force moisture through. As a test, we stood ankle-deep in flowing water for 30 seconds without any water coming through. The leather definitely absorbs some water, which increases weight, but if the leather is well maintained, it should keep your feet reasonably dry for years to come.
The high, gusseted tongue assists in keeping water out, as well as debris.
As always, the waterproofing or water-resistance of a boot is worthless unless you're wearing waterproof pants. Without waterproof pants, your pants and socks will get soaked and drain into your shoes.
Traction
This boot excels in loose ground, mud and gravel. The lug pattern makes for effective breaking and the stiff sole digs into loose terrain with ease.
The lacking sensitivity and slightly harder rubber compound of the sole, gives the boot a disadvantage over wet rock.
Durability
Arguably the boot's strongest feature – the Razorbacks are built to last. Given the durability and quality of the Jim Green upper, most people find they wear the sole away numerous times before the upper eventually gives way. Due to this, Crouch Footwear (the manufacturers of Jim Green Footwear) have set up a technical repair department, to give the best possible aftermarket support.
Weight
A size 11 weighs 948g per boot (1896g per pair). In comparison, a size 11 Salomon Quest 4D 3 GTX weighs 748g per boot (1496 per pair). This is not a light boot, but to paraphrase a line by "Boris The Blade" from the movie Snatch, the reliability is in the weight.
Best applications
This boot shines on jeep track, loose, rocky terrain and undulating single track while carrying a heavy pack. The shank soaks up a lot of the effort required when carrying heavy loads.
Value
At R1350 (at time of writing), the Razorbacks offer amazing value for money. A full leather boot that promises years of use and can easily be resoled – that's a lot of boot for your buck.
Conclusion
A solidly built, proudly South African, beautiful full-grain leather boot, made to tackle the roughest terrain. Amazing value for money from a local manufacturer offering great aftermarket support. If, like me, you just love the look of a leather boot and don't mind the extra weight that comes with it, then you should definitely check out the Jim Green Razorback.
These boots were provided by Jim Green Footwear for review and can be purchased directly from their website.