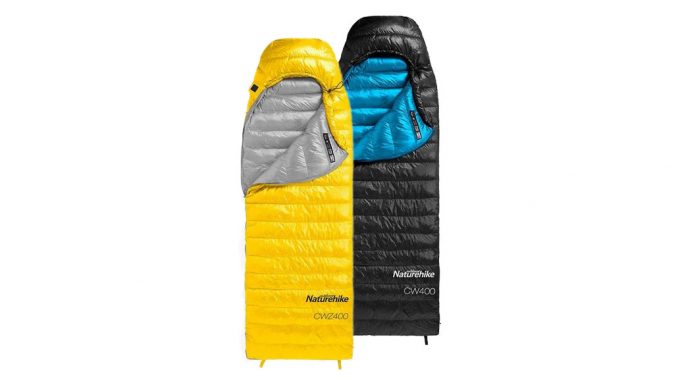 The Naturehike CW400 is a versatile, lightweight, down sleeping bag with a square cut and full-length zip, allowing it to be used as a blanket on warmer nights.
Key Information
Price (at time of writing): R3299
Weight: 915g (measured)
Temperature rating: Comfort: 5-10°C; Transition: 0°C
Filling: 400g 750FP Goose Down
Design
Designed as a lightweight, medium temp, sleeping bag, the CW400 foregoes a few additional features, such as an internal pocket and chest- and zipper-baffle. For the temperature range it's designed for, these features aren't really missed, and if the temperature does dip, the square cut allows for a few temperature sensitive items, such as phones and batteries, to kept inside the sleeping bag during the night.
The square cut reduces its heat retention slightly, but definitely adds to its versatility – being able to open the sleeping entirely, widens its temperature range to even warmer conditions, which would usually be uncomfortable in warmer, mummy-shape sleeping bags.
The cowl is wide, deep, and comfortable, both when synched down or open. When synched down, it adds a surprising amount of warmth, which is great when the temperature dips a little lower than expected.
The lightweight 20D 400T nylon has a lovely, comfortable feel and allows for excellent compression.
Sizing
The CW400 comes in a medium and a large. I am 1.86m tall, medium build, and I found the large to be a good fit, however, if you have broader shoulders, this bag might start feeling a bit tight.
Temperature rating
It has a temperature range patch stitched on, which indicates a comfort rating of 15°C, however, on the website the comfort rating is 5°C, which is closer to what I experienced.
I spent a few nights out at 5°C in total comfort, while wearing trousers and two layers. When sleeping out in the open, you do feel some air movement, but this is easily negated by putting on an extra layer. In the aim to reduce weight, there is no zipper-baffle or chest-baffle, which makes sense for the intended temperature rating. I only became aware of cold spots along the zipper around 0°C.
Inside a tent, I was reasonably comfortable down to 0°, but had to eventually put on an extra layer. This is pretty impressive for such a lightweight sleeping bag, allowing it to be used almost year-round.
Cons
There are no real cons to mention, but if I had to nit-pick, the only con I would highlight is that the lightweight nylon has a tendency to get snagged in the zipper from time to time, but this is easily avoided with a little bit of care.
Conclusion
I've used the CW400 on a few overnight hikes and recently took it along while guiding on the wild and beautiful Rim of Africa, where shaving weight off your pack makes a massive difference. I was impressed with the wide comfort range, even down to -1°C on our coldest night. It has now become my go-to sleeping bag for all but the coldest conditions.
A very versatile sleeping bag offering good value for money.
This bag was provided by Naturehike for review purposes and can be purchase from their online store.
For more information on sleeping bags check our Sleeping Bags 101 article