The Sea to Summit Alpha Set 2.1 is a perfect 2-person cook set, complete with nesting bowls, mugs and extremely useful strainer holes.
Key Information
Price (at time of writing): R1199
Weight: 521g
Material: Hard anodized aluminium
The Whole Shebang
The Alpha Set 2.1 consists of a 1.9L Alpha Pot, two nested bowls and two mugs, each with their own insulation sleeve and sipping lid.
The mugs and bowls all fit neatly inside the pot, however, the mugs need some disassembly before being packed away. This isn't a major issue, but it could get old if you plan on using them multiple times a day.
To remedy this, I replaced the mugs with another Sea to Summit product, the X-MUG, which collapses down to about 15mm thick.
By doing this, I am now able to store the bowls, my stove, cutlery, salt and pepper, X-MUG and dishcloth inside the pot for a worry-free, one-stop-cooking-shop.
Cooking performance
Hard anodized aluminium is a wonderful material. It is not as durable as steel, but what it lacks in durability, it makes up for in pretty much every other department. It has "natural" non-stick qualities, to the point where frying scrambled eggs in small camping stove is not a problem – the same exercise in a steel pot will have you scraping the bottom for a while.
Another reason for the better cooking experience is that hard anodized aluminium has better heat distribution than steel. Usually, with a thin-base, steel pot, the heat transfers directly through from where the stove flame makes contact. Hard anodized aluminium, at the same thickness, spreads the heat better, reducing the chance of burnt food.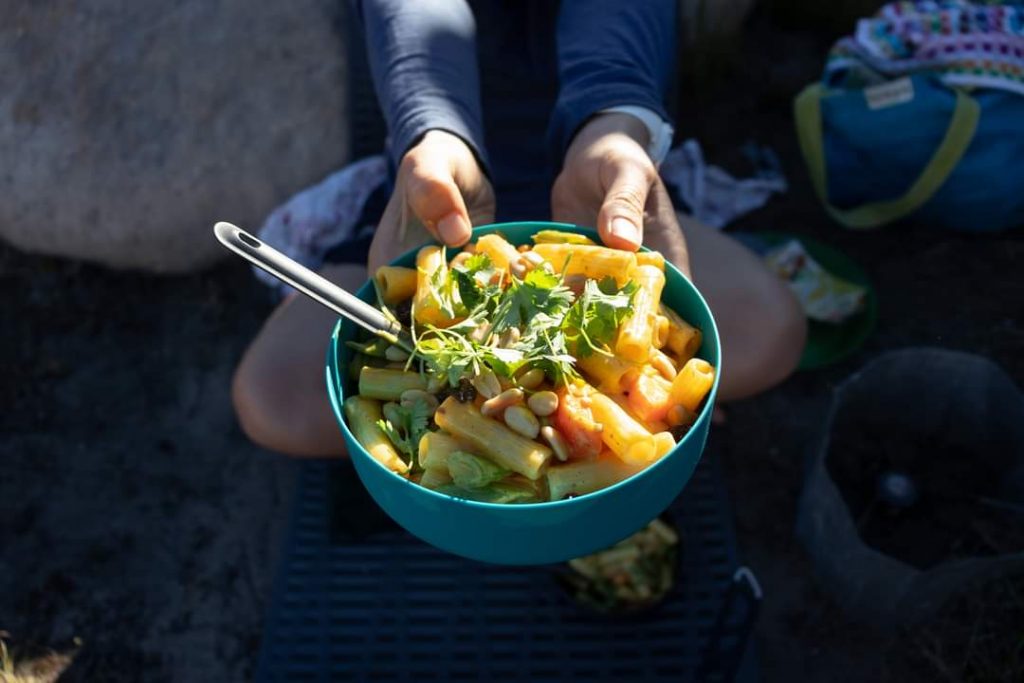 Features
The Alpha Pot's handle design might seem a bit over-engineered at first, but it works well. It clips in securely while in use, with a comfortable silicone-covered handle, and locks the lid neatly in place when packed away.
The nested bowls are also a great space saver, making packing things away after use super simple and ready for the next meal, without having to fish a bowl out of the depths of your pack.
The main drawcard of this pot, for me, are the strainer holes in the lid. Anyone who's ever tried to strain off the water from their pasta or rice will know the delicate balance between draining water and keeping your food from falling on the floor. The strainer holes make this a no brainer. It might seem like I'm overselling this feature, but I literally smile every time I use it.
The lid has a "hands-free" hook, allowing you hang the lid off the side of the pot, so you don't have to leave the lid on the ground when you need both hands and the pot has volumetric measurements marked out on the inside.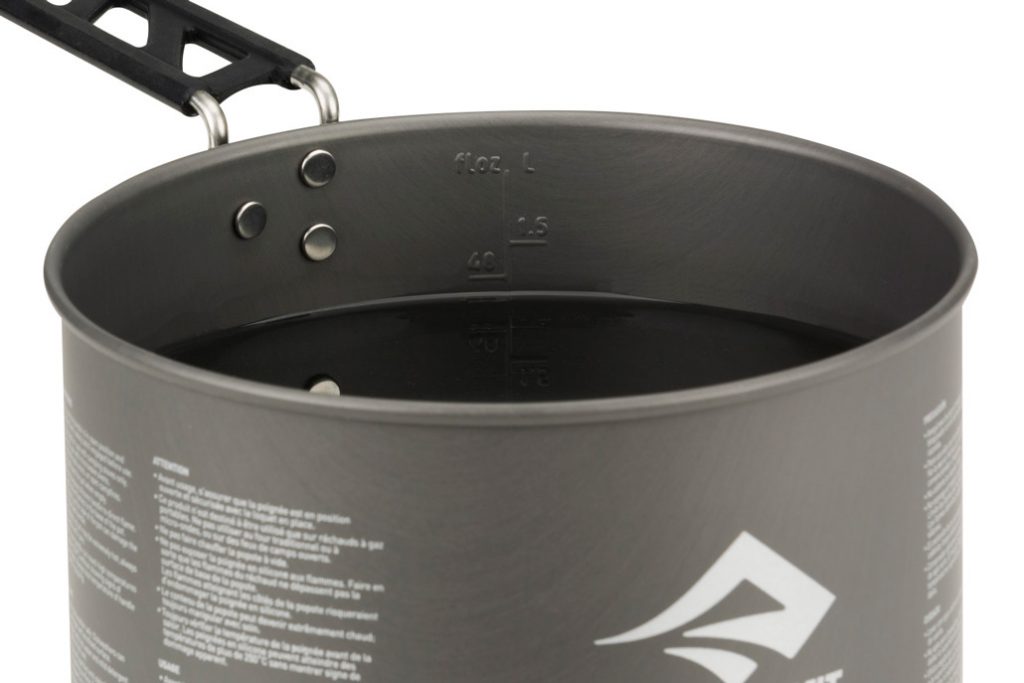 Durability
Although not as durable as steel, the Alpha Pot isn't showing any signs of wear after more than 6 months of regular use. Unlike non-stick pots, the hard-anodized aluminium doesn't delaminate, so it's kind of a "best of both worlds" situation.
Conclusion
A perfect 2-person cook set, with reasonable non-stick qualities, good heat distribution and extremely useful strainer holes for no-fuss pasta or rice cooking. The only thing I would change about this set are the mugs, but as mentioned, the X-MUG is a brilliant solution to that problem.
The Alpha Set 2.1 was provided for review purposes by Adventure Inc and is available from most specialised outdoor stores.