I love hiking in all its forms – day hikes, multi-day hikes, easy, challenging – but the type of hiking that truly captures my imagination is unsupported hiking in wilderness areas. Complete disconnect from everyday life and an unparalleled closeness to nature.
However, wilderness hiking comes with a certain level of commitment – long distances from civilisation, often on difficult terrain and with little or no cell phone coverage. If something goes wrong that requires medical attention, help could be many, many hours away, especially if you first need to hike up a mountain to potentially find signal, or get to the nearest town. The guys from No Speed Limit found themselves in just such a scenario in the Fish River Canyon – read all about it here.
Enter the SPOT Gen3 Satellite Messenger: A pocket-sized GPS device that enables you, amongst other things, to send out emergency S.O.S. messages from anywhere, without the need for cell phone coverage.
Quick Specs
Weight: 114g with Lithium batteries (136g with its strap and carabiner)
Size: 8.72cm tall, 6.5cm wide and 2.54cm thick
Price: Approximately R3000 (at time of writing)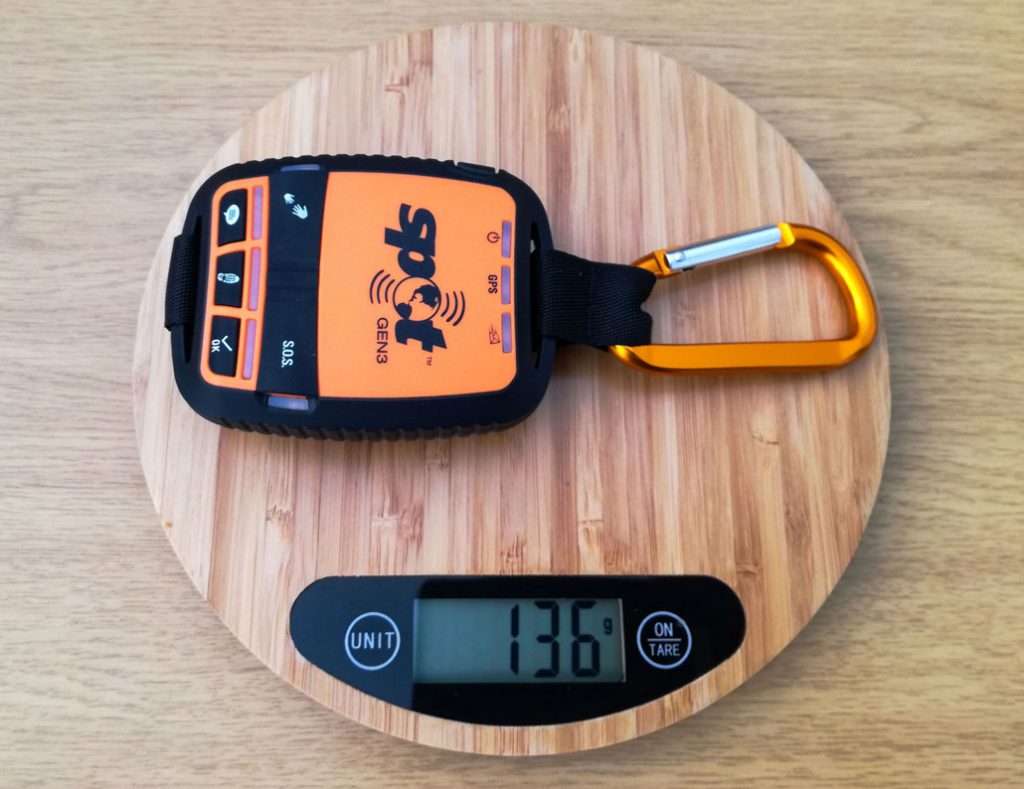 Features
All of these features are reliant on an active Service Plan.
Tracking: The SPOT Gen3 has a "set it and forget it" tracking button that tracks your GPS location every 5, 10, 30 or 60 minutes on the Basic service plan, depending on your needs. The tracking increments can be dropped to 2.5 minutes on the Extreme Tracking service plan – this is useful for mountain bikers or trail runners because of their faster speeds, but isn't necessary for hiking.
You can create a shared page where friends and family can view your movement on a map in almost real time. You also have the option of saving your trips on your SPOT Adventures page, which can be shared on social media or via email. Your tracking points can also be downloaded as GPX, CSV or KML files.
Check In: The Check In button allows you to send a pre-programmed message (text or email) to your contacts to let them know you are okay. Other than your message, the text, or email, also contains your GPS coordinates. This gives a lot of peace of mind to those at home when you're on a multi-day hike with no cellular reception. During our recent trip to the Cederberg, my wife was delighted to receive a daily check-in message, which completely removed all concerns about our safety.
Custom Message: Similar to the Check In button, it allows you to pre-program a secondary message that can be sent to your contacts. Different contacts can be selected for the Check In and Custom Messages buttons.
Help/SPOT S.O.V (Save Our Vehicle): Alert your personal contacts that you need help in non-life-threatening situations, like vehicle trouble.
S.O.S.: The most powerful feature of the SPOT Gen3 – this function alone makes the device a must-have. With the push of a button, GEOS International Emergency Response Coordination Centre provides your GPS coordinates and information to local response teams that will come to your aid, wherever you are. The S.O.S. button is for emergencies only.
Build
The SPOT Gen3 is well built with a tough exterior and an ergonomic, tactile design. It is vibration and humidity rated, dustproof and waterproof up to 1m for 30 minutes. The waterproof capabilities were not tested to their extreme, but we did hike in light rain for 3 hours with the SPOT fully exposed and it worked perfectly.
Its operating temperature range is -30°C to 60°C and its operating altitude range is -100m to +6500m above sea level.
It's 8.72cm tall, 6.5cm wide, 2.54cm thick and weighs 114g with Lithium batteries (136g with strap and carabiner).
Ease of use
After the initial setup and online registration, the SPOT Gen3 is super simple to use. Switch it on, make sure you've got decent GPS signal and press the correct button, based on the message you want to send. Simple, functional and reliable – exactly what you want from an emergency safety device.
The device is supplied with a velcro strap and carabiner that allows you to clip it to the outside of your backpack for best GPS signal. At times I had my rain cover over my backpack, so I clipped the SPOT to the side of camera pouch and it worked just fine.
It runs of 4 AAA batteries, but also has a micro-USB port which allows it to be run off a power bank, if necessary.
Because there's no two-way communication or delivery notification, I found that sending the message 2-3 times guaranteed delivery, as sometimes, depending on the GPS signal, the message sending would time out and not get delivered.
Value for money
At R3000 (at time of writing), it's cheaper to purchase than any other satellite messaging device and the tracking and messaging service subscription fees are also cheaper than any other service. You have the option of paying the equivalent of $19.99 (R261.37) per month on a month-to-month subscription, or $199.99 (R2614.86) per year for an annual subscription.
A satellite phone has the option of voice calls and allows for two-way communication, but it will cost you more than twice the price to purchase.
For those who enjoy wilderness adventures a few times a year, the SPOT Gen3 is unbeatable in value for money as an emergency safety/rescue device with the added bonus of tracking functionality.
Conclusion
Ease of use, peace of mind for friends and family, affordable and the very real benefit of potentially saving your life in a disaster, the SPOT Gen3 should be very high on the list of necessary items for any hiker that plans to head into the wilderness, or anywhere out of cell phone range.
Check out SPOT Africa's webpage for a list of local retailers: https://africa.findmespot.com/en/locatearetailer/index.php
This SPOT Gen3 unit was supplied for review by SPOT Africa.