Key Information
Price (at time of writing): R2999
Capacity: 45L
Weight: 1.6kg
Dimensions: 70cm x 36cm x 30cm
Access Points: Top & side
Rain cover: Yes
Material: 420D Dobby Poly, 330D Ripstop Polyester
Intro
The Thule AllTrail 45 is a mid-sized backpack with hard wearing external fabrics, low-volume padding and an extremely practical, full-length side access zip, ideal for 2-3 day hikes or big day missions where extra food and layers are necessary.
Thule is best known for brilliantly engineered vehicle accessories, like roof racks and bike racks, as well as beautifully designed laptop bags. So, when I heard about their range of hiking backpacks, I was a little sceptical. After my first hike with the AllTrail 45, my scepticism turned to praise…
Design
The AllTrail 45 is beautifully designed and expertly constructed, as one would expect from any Thule product. It sports low-volume padding on the shoulder straps, waist belt and back system. This results in a snug, close-to-body fit, which made me feel like I could be more agile over technical terrain, while still providing sufficient padding with no pressure points or chaffing.
The back system allows for 10cm of height adjustment, enabling a perfect fit for most builds.
There are two entry points: The standard top-loading entry under the lid, as well as an extremely practical full-length, c-shaped side zip. Accidentally buried your stove in the middle of your pack? No problem. Just open the side and pull it out. No need to dump out everything on top.
Then there are smaller details that I kept finding myself smiling at. The lid zip is a little more toward the middle of the lid. This sounds minor, but what it does is enable you to more easily dig through items in the lid without having to crouch down to look inside. The extra "lip" on the short side of the lid also reduces the chance of items falling out while the zip is open.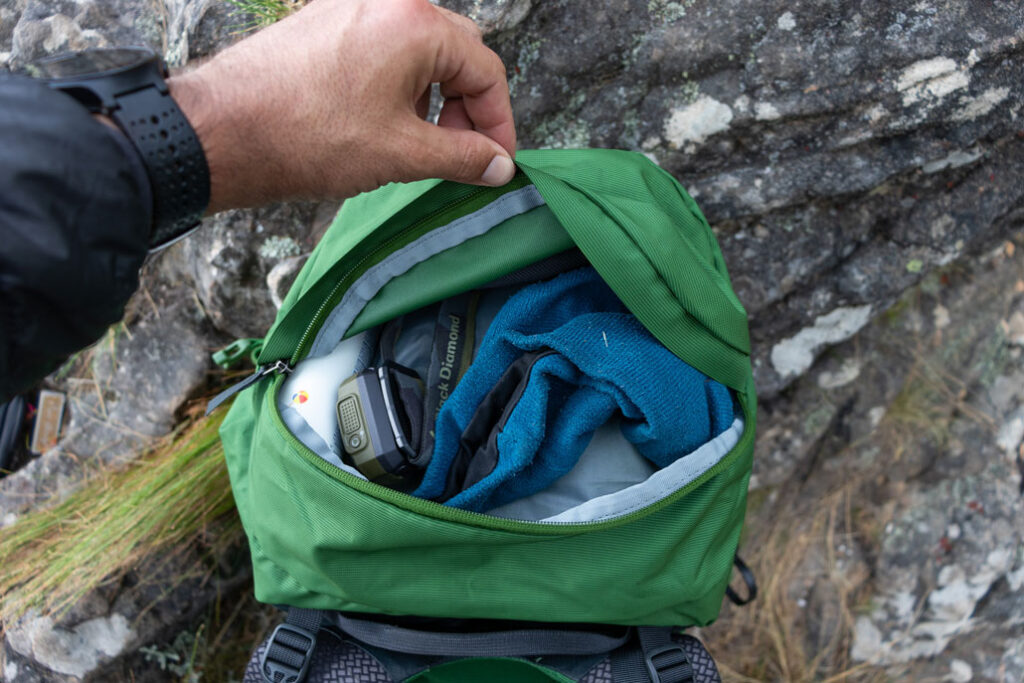 Features
The AllTrail 45 has all the usual bells and whistles, like built in rain cover, key fob, hydration reservoir compatibility and dual-compartment lid storage, but it also has a couple of other unique features.
There is a hip belt pocket on the right side, but on the left they've opted for the Thule VersaClick system, which allows for interchangeable carrying units to be attached to the left hipbelt. The pack comes with a trekking pole storage strap, but it can be swapped out for a waterproof rolltop pouch, or a camera pouch. I had my doubts about the trekking pole storage, and though it's not quite as good as Osprey's Stow-on-the-Go system, it works perfectly fine and doesn't get in the way.
There are also more permanent trekking pole straps on the front of the pack, for longer, more technical sections.
As with most modern packs, there is an external "stuff pouch" on the front of the pack, however, with the AllTrail 45, it isn't stretchy. Instead it is sized slightly larger, allowing for additional items, even with a full pack. It also has a full-length zip, allowing for easy access to items at the bottom of the pouch.
The pack doesn't have the traditional strapping at the bottom that one would usually use for a sleeping pad or tent, but it does have lightweight "daisy chain" loops along the length of the front of the pack, which, with some thin rope or strapping, is perfect for carrying a sleeping pad.
Compression straps are essential for ensuring a compact pack, as well as strapping additional items on to the outside when necessary, but I've always found it irritating when the bottom compression strap runs over the outside of the water bottle stretch pocket, essentially rendering the compression useless if you've got a water bottle in there. The AllTrail overcomes this by allowing the bottom compression strap to run through and under the water bottle pouch, enabling pack compression, without locking the bottle in place.
Weight & Carrying Capacity
Weighing 1.6kg for a 45L pack, the AllTrail 45 is not an ultralight pack, but it is extremely versatile in terms of volume and carrying capacity.
I have found it to be ideal for long day hikes, when more food and extra clothing is necessary, as well as 2-3 day hikes. I've even used it on a mid-winter hike in the Du Toitskloof mountains, carrying a winter sleeping bag, inflatable sleeping pad and tent, inside the pack.
The pack remains comfortable and stable up to 16-18kg, but I have used it with 19.5kg, with only slight pressure on the shoulder straps.
For those who also enjoy rock climbing, this pack comfortably holds a trad rack and two half ropes, however, it sits a bit low on the hips to be used while climbing.
Conclusion
The Thule AllTrail 45 is a great pack for anyone who regularly does overnight trips on weekends or for those who require a bit more space for big day missions. It has allowed me to clear out my gear closet of some smaller and even some bigger, less featured packs.
At R2999 for a 45L pack, it is definitely on the pricey side for the size, but when considering the versatility in use, hard wearing materials, beautiful design and long list of well thought out features, purchasing this pack will be money well spent.
This pack was supplied by Thule South Africa for review purposes and can be purchased from their online store or most Thule stockists.