Key information
Price (at time of writing): R4899
Weight: 785g per boot. 1570g per pair (size 11).
Uppers: Perwanger® leather
Women's version: Yes
Intro
At first glance, one is immediately aware of the attention to detail that went into the design and production of this boot. From the eye-catching little Italian flag to the absolute precision of the stitching and glue-work – handmade, Italian craftsmanship.
Construction
The majority of the upper is made from a single piece of 2mm thick Hydrobloc® treated Perwanger® leather. Incorporating synthetic materials only where it adds to the boot's performance and comfort, the Rolle strikes a perfect balance between tried and tested leather boot construction for strength and durability, and modern technology for comfort and performance.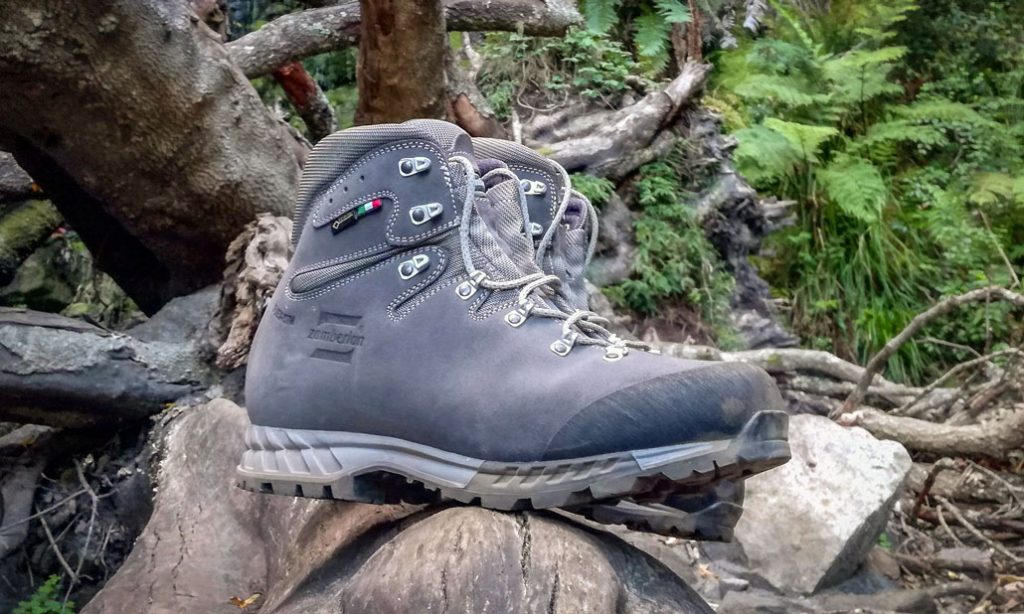 Fit
The Rolle comes in a men's and women's fit. It accommodates a medium-width, high volume foot, but should also fit narrower feet well. It has an accentuated heel cup, which allows your heel to "float", reducing the chance of friction blisters.
Comfort
I found this boot comfortable straight out of the box, which is unusual for a leather boot, with comfort increasing over a period of about two weeks of fairly regular use.
Zamberlan has nailed it with the Rolle's polyurethane midsole. It is stiff enough to distribute weight evenly when carrying a heavy pack, but flexible enough to avoid hot spots on the high-pressure areas under one's foot.
The ankle collar is cut lower in the back to reduce pressure on the achilles when walking downhill. The Rolle also has Zamberlan's FLEX-SYSTEM®, which is essentially a cut-out over the ankle area, allowing easier ankle flexion.
Support & stability
Another positive result of the Rolle's midsole and overall construction is its excellent support and stability. Often, with stiffer leather boots, there is a feeling of seesawing over uneven terrain, as if you're walking on planks. Not so with the Rolle. There is enough stiffness and support underfoot to remove pressure from sharp objects, but enough flex to give you good feedback of the terrain and provide a reassuring "planted" feeling.
Water resistance
In addition to the tried and tested GORE-TEX Performance Comfort lining, the Perwanger® leather is treated with Hydrobloc®, which further reduces the chance of any water being absorbed, ensuring dry feet in even the worst downpours. The Hydrobloc® treatment will eventually wear off but it can be reapplied.
Traction
For the Rolle, Zamberlan has gone with the Vibram® Curcuma soles, made with Vibram's MONT compound, which is tested at high altitudes to assure that the rubber maintains performance at extremely low temperatures – bring on winter hikes in the Drakensberg! The MONT compound is firmer for maximum support and durability, without sacrificing grip – I was pleasantly surprised at just how grippy these soles are over rocky terrain.
Durability
With the combination of high quality Perwanger® leather, the perfectly welded toe-cap, Vibram® Curcuma soles and brilliant Italian craftsmanship, the Rolle's promise to deliver many years and many kilometres of hiking. I've done a fair amount of hiking in my pair, which included about 45km of rough, technical terrain, and there are only a few light scuff marks on the leather and a medium amount of wear on the front and rear edges of the soles where pressure is highest on ascents and descents.
*Long term update*
Since originally reviewing these boots, I have walked over 500kms in them, which included a full traverse of the Cederberg range and three years of off-trail guiding on the epic Rim of Africa mountain traverse. I can say without a doubt that these are super durable and remain comfortable. Well worth the money!
The midsole is made from polyurethane which provides the necessary cushioning without flattening over time, like EVA does.
Weight
At 785g per boot (Size: UK 11), these boots aren't the lightest, but they are very well balanced, avoiding that pendulum feeling one gets from boots with disproportionately heavy soles.
Best applications
It's hard to specify a best application for these boots, because they are such good all-rounders. From a quick walk up your local hill, to big days out in the mountains with no trail, to multi-day hikes in spring, summer, autumn and winter, the Rolle's are well suited for almost all South African environments and conditions.
Some people might find the boots too warm in hot summer conditions, but that is the case with any boot with a water-resistant lining.
Value
At R4899, these boots are not cheap. Handmade Italian leather boots from a brand with an amazing reputation does come at a premium, but when you consider that they can be resoled, which should give you at least twice as much use out of them, the price becomes quite reasonable.
Conclusion
The Zamberlan Rolle EVO GTX boots are stylish, well made, reliable, comfortable and will provide many years of use. They come with a hefty price tag, but deliver on every Rand spent – well worth the money for any serious hiker.
These boots were provided by Traverse Outdoor Gear and can be purchased from Drifters.