South Africa is blessed with a rich variety of landscapes and some of the best hiking trails in the world, most of which can be done any time of the year. These are my "bucket list" multi-day hikes, segmented between hikes that most hikers can do (Part 1), and hikes that are the domain of the fit and experienced (Part 2).

Otter Trail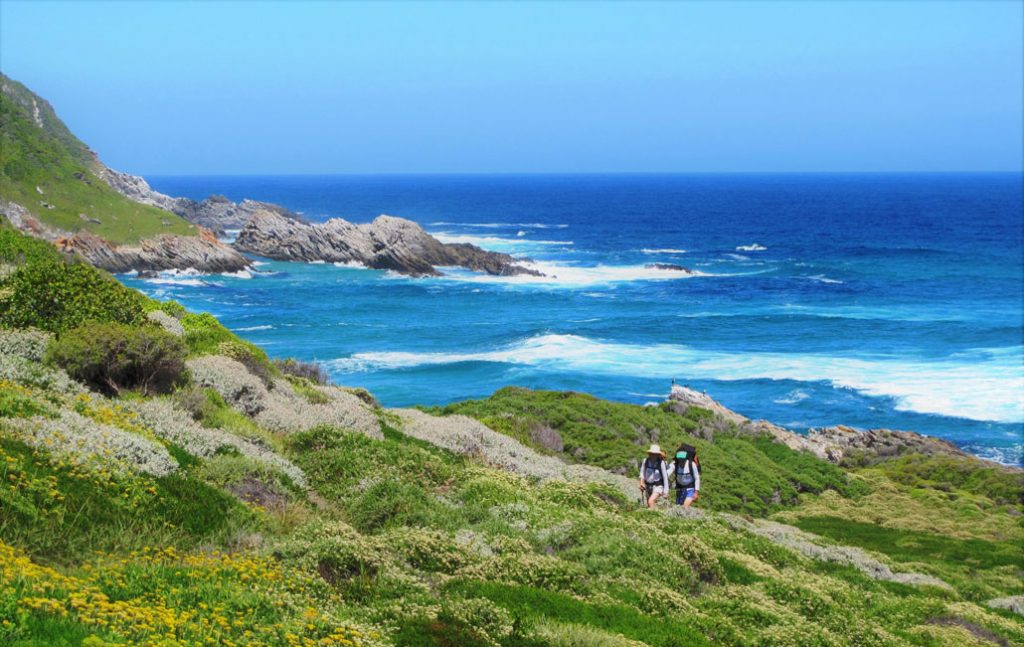 Often called the fairest trail in South Africa, this iconic route draws hikers from across the globe. Traversing the rugged and spectacular coastline between Storms River mouth and Nature's Valley, your adventure will include swimming in rivers and streams, walking through dense coastal forest, relaxing on beautiful beaches, gawking at huge waves crashing into the shoreline, enjoying the rich floral, insect and bird life, exploring the underwater world in tidal pools, and gazing at dolphins playing in the waves.
Some Tripadvisor reviewers called the Otter the hardest thing they have ever done, but the trail is actually on the shorter-side of 5-day hikes, albeit with a healthy dose of steep ascents and descents, some technical sections and potentially tricky river crossings. This trail falls well within the realm of possibility for most hikers, and the most difficult part is to get a booking.
For more information on the Otter Trail read our trail description here. 
Giant's Cup Trail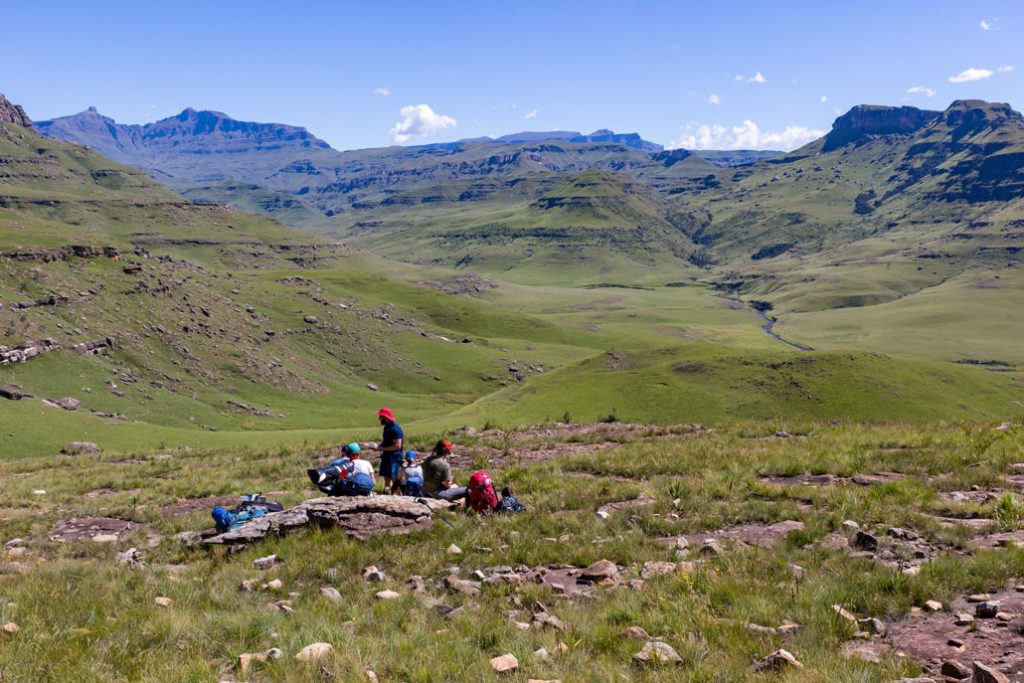 Experience some of the best the Drakensberg has to offer, without the extreme physical exertion required to conquer the big passes, the need to search for campsites or having to navigate off-trail. Instead you spend 5 blissful days enjoying glorious panoramic views, grassy plains, picturesque valleys with clear streams and pools, weathered rock formations and varied terrain on a well laid-out, well-marked trail.
The Giant's Cup Trail is a relatively unknown gem, and within reach of both Johannesburg and Durban's hiking communities. This trail claims the number 2 spot on our bucket-list and should definitely be on yours as well.
For more information on the Giant's Cup Trail read our trail description here.
Fish River Canyon
Africa's largest canyon is magnificent to behold and even better to hike. Although this unique trail is in neighbouring Namibia, it is a staple winter's hike for South Africans (open between May and September). The expanse and environment that one walks through is immense and creates a feeling of surrendered independence – it is just you and your backpack, surrounded by ancient rocks, sand and water. It is, however, a harsh landscape, and one needs to be entirely self-sufficient.
The route is long (approximately 90km, or 75km with shortcuts) and the terrain varies between hard-pack soil, soft sand, boulder hopping and some minor stream crossings. Although there is far less climbing than mountainous hikes of a similar length, the terrain – especially soft sand – adds a layer of difficulty that makes it an appropriate and immensely satisfying challenge.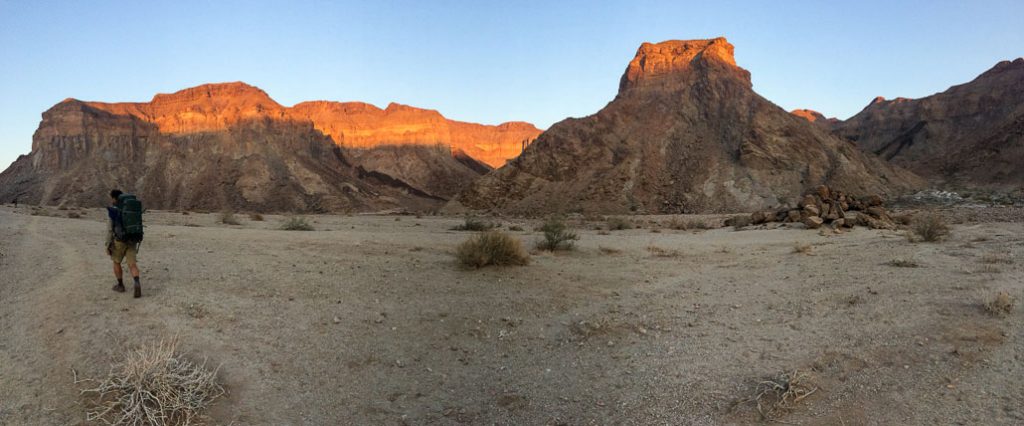 For more information on the Fish River Canyon hike, read our trail description here.
Whale Trail
Situated in the De Hoop Nature reserve (a World Heritage site), this is another superb coastal hike – the shoreline perhaps less dramatic than the Otter's, but no less enchanting. The Whale Trail is of moderate difficulty for a 5-day hike and offers the additional benefit of a slack-packing option, which makes this magical hike a good option for beginners and older hikers.
The trail traverses through varied terrain, from pristine fynbos mountain areas, to striking orange cliffs that offer superb views across the Indian ocean, to long stretches along blinding-white beaches with incredible calcrete formations and rockpools full of marine life. A definite highlight is some of the world's best shore-based whale watching during the Southern Right whales' calf-season (August to Oct).
Oh, and did we mention that there are some award-winning huts with seaside bomas? As if you need more reasons…
For more information on the Whale Trail, read our trail description here. 
Outeniqua Trail
I grew up hearing stories of the near mythical Outeniqua-forests: it's tumultuous past with exploitative harvesting of the great trees and the near extinction of the Knysna elephants. It was with some trepidation that I embarked on a 5-day section of this trail – concerned that what's left of this once great forest will be disappointing. Within the first few kilometres we found fresh elephant dung and the tone was set for a truly memorable hike, exploring valleys and mountain slopes where the grandeur of the primordial forests still held sway.
Although much of the hike goes through indigenous forest, there are also sections of plantations, as well as fynbos-covered hills, providing some nice variety. On some of the fynbos-clad hills one has great views of the sprawling forests and the great peaks behind. The forest also teems with life: ancient Kalanders (Outeniqua Yellowwood trees), colourful fungi, insects and lizards (and chameleons!), porcupine and bushpigs, and the crimson-winged Knysna Loerie with its guttural calls.
The entire trail takes 7-days to complete, but the most scenic part is between Platbos and Harkerville, making for a moderately-difficult 5-day hike. One can also couple the full 7-day trail with the Harkerville Coastal hike for a mammoth 9-day excursion.
For more information on the Outeniqua Trail, read our trail description here. 
Wild Coast
It seems that far more people talk about hiking the Wild Coast than those who go out and do it. Getting there from most major centres certainly is a mission. There isn't a laid-out trail, you hike through a mix of wilderness and rural areas, one has to get a large enough group together to allay safety concerns, there are large river crossings and some sections are very remote, but these are exactly the reasons you should do it. Fortunately, there are a host of guided options available, with guiding operators putting groups together and the hike can be tailored according to your ability.
Along these wild shores, rocky terrain predominate, be it smooth wave-cut platforms with jagged and uneven surfaces or precipitous cliffs that plunge into the sea, but there are also plentiful estuaries, bays and headlands. You will see huge breakers splash against the rocks, stroll over gloriously green hills and along sandy beaches, see one of only a handful waterfalls in the world that fall directly into the ocean, do a couple of pool-jumps (if it is your thing), enjoy the rural Xhosa hospitality and see some dolphins and whales frolicking in the vast blue ocean. Standard routes cover segments of the Wild Coast between the Wild Coast Sun and Coffee Bay.
For some guided hiking options, simply google-search. You can also check out the Hiking the Wild Coast Facebook page here. To get a better idea of what you can expect, read James Hickenbotham's account of their hike here.
Special mention
I can't put everything on a bucket list, but here are some other worthy trails that will not disappoint: Fanie Botha Trail, Magoebaskloof Trails and the Leopard Trail.
Part 2 coming soon…