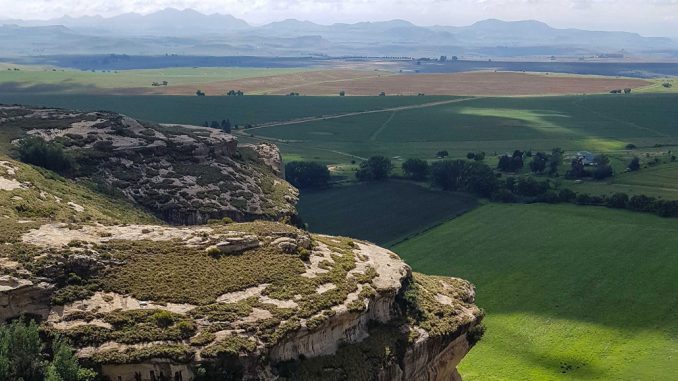 Beauty: 4/5
Difficulty: 6/10 (Many ascents and descents)
Technical Rating: The trail runs near edges over heights. There are many unprotected bridges and ladders. One is required to use chains to hold on in some places.
Sporekrans is approximately 45km's from Bethlehem, a 3.5-hour trip from Johannesburg. The trail is situated in the Bergdeel Private Nature reserve in the heart of the Witteberg Mountains. Apparently you can see up to 17 game species and numerous bird species.
We arrived in the late afternoon, the day before we would start hiking, at an awe-inspiring venue (it's highly recommended to arrive the night before, in order to get an early start). A very friendly Abram greeted us on arrival and showed us around.
ACCOMODATION
The base camp has electricity and offers a sleepover for up to 26 hikers. Facilities include a communal kitchen with fridge, hot plate, pots, pan, microwave oven and electric kettle. There's a lapa with braai facilities, and dorms with hot showers, bath and flush toilets.
The first and second night can be spent in the base camp or, for the adventurous, you can spend the second night in the cave. It has rustic log beds with mattresses, water is supplied and there is a braai facility. The "long drop" offers a spectacular view over the plains of the reserve.
Day 1
After a hearty breakfast, we set out on our hike around 8am. The trail and views are spectacular from the word go. We climbed a gorge and crossed sandstone mountaintop flats – aptly named "Angel Heights". The view from "Gods View", overlooking "Gods Finger", is breathtaking to say the least. We saw the "bushmen baths" filled to the brim from the previous night's rain. We then descended and ascended so many times we lost count. The views – there are no words to describe the beauty and diversity we encountered from all sides.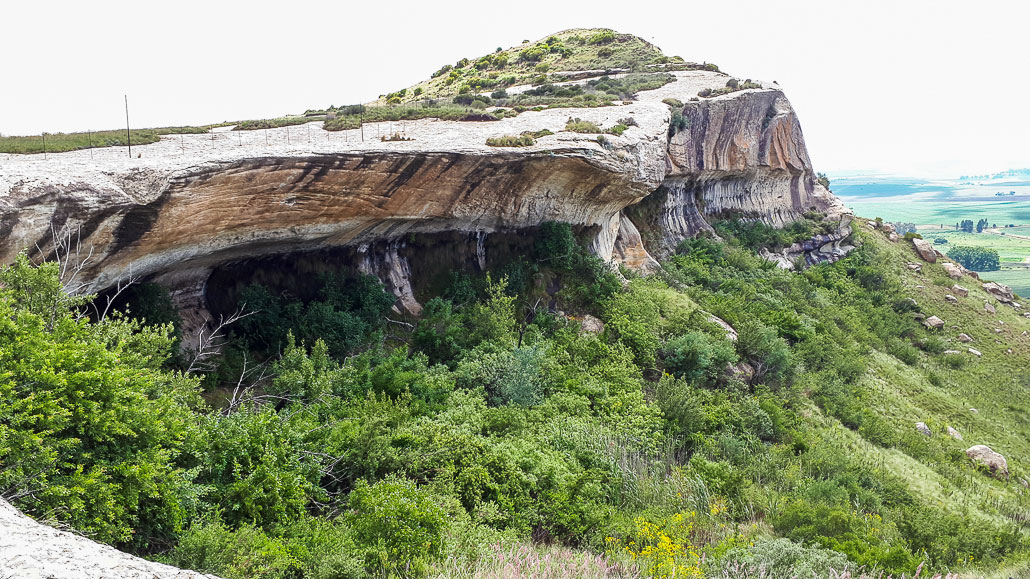 Around 12pm we stopped to rest at the tranquil and cool "berg water" point, totally exhausted, but a short rest and a bite to eat soon revived us and we were rearing to go again.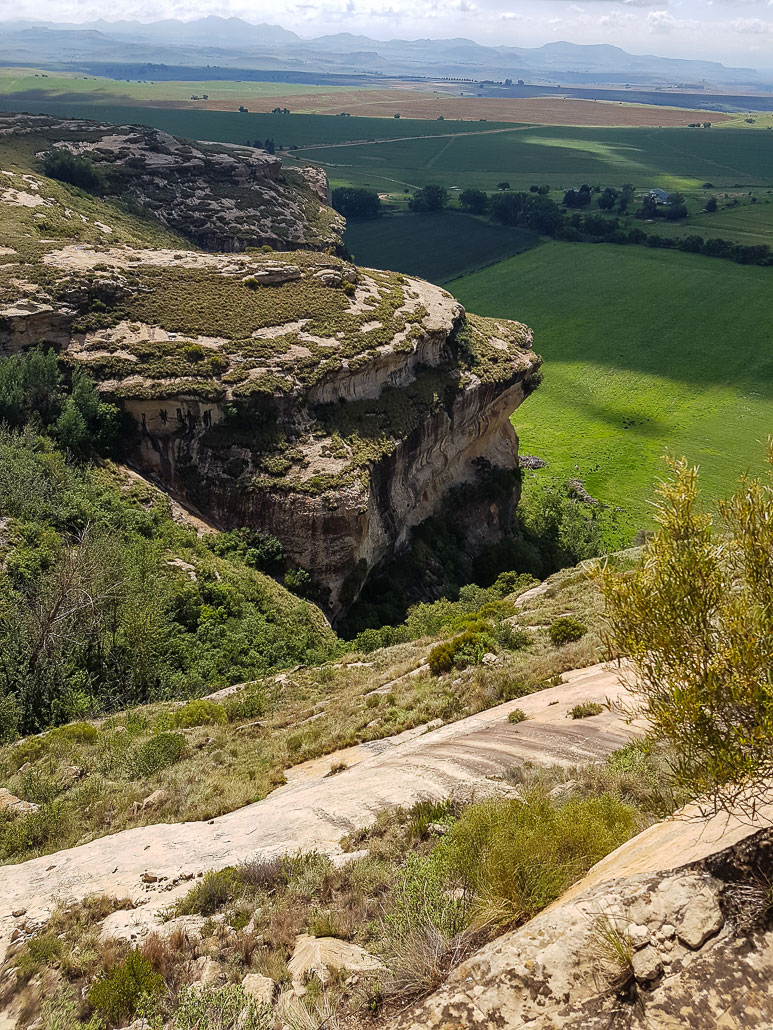 Around the 7km point, we encountered our first real ladder at Bamboeskloof – OH.MY.WORD. We estimated it to be around 9mt long, extremely scary going down, but… we are fearless and strong like bulls, and with a short prayer we started our first descent… the adrenalin flowing freely. Many bridges and ladders followed, again losing count, as we descended into this amazingly beautiful gorge.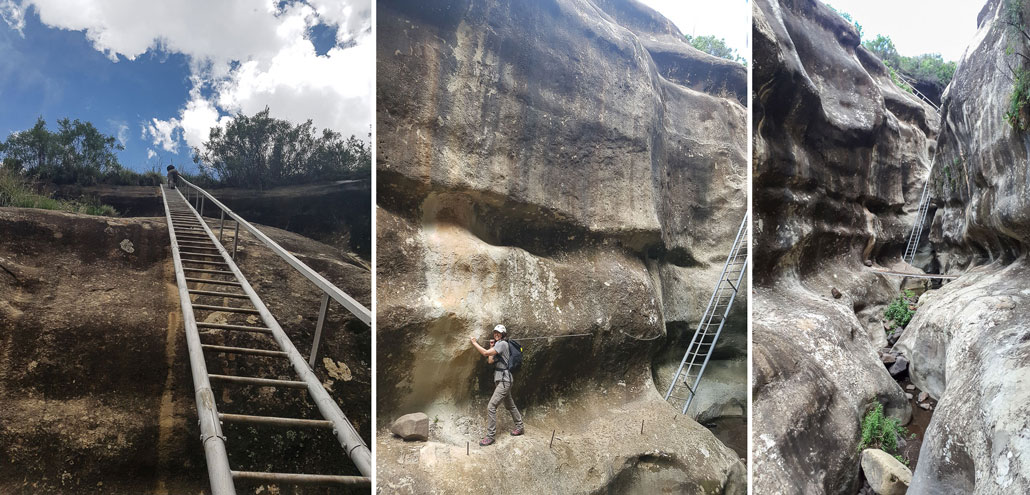 Our hike continued to delight. We encountered a bit of hail, but luckily it didn't take long to move along. Up until that point the trail markers were excellent, but from there markers were confusing and few and far between. We lost our way here and there, but luckily found the mermaid pools – unfortunately no dip that day as the skies kept threatening.
Our final stretch before the cave was across sandstone flats, which was pretty easy – fortunately this gave us some rest before we hit the final 200m to the cave. Boy oh boy, nothing prepared us for this final ascent. Almost straight up – at least that's what it felt like! Chains afforded us grips to pull ourselves up the steep sandstone cliff.
Totally exhausted but extremely elated, we reached our destination in the overnight, Bushmen's cave, around 4pm after a pretty gruelling 12km, 8-hour hike. The cave is a giant overhang carved out of the sandstone by millions of years of erosion. After a bit of a rest, we sorted our campfire and overindulged in a delicious braai and salad dinner. Sleeping in the open cave was quite an experience – I never realised how noisy mother nature could be at night.
Day 2
A stunning sunrise woke us just after 5am. We had a quick breakfast and at 6am we were on our way again. Fortunately Abram took our extra overnight bags, sleeping bags and cooler box up to, and back from the cave for us. I have no idea how we would be managed without him – well worth the extra expense.
According to the maps, the trail should be around 4-6 km, but yet again we lost the markers and decided to make our own way back to base camp. Our hike took us across a stream and sandstone flats again, which was very pretty and fresh in the early morning.
Our route ended up being around 2km, but neither of us moaned too much after the hard slog the previous day. Base camp was a welcome sight and lovely hot baths were enjoyed to the max.
A trip well worth the wait. The hike exceeded all our expectations and the photos really don't do the scenery much justice at all!
A word of warning
I would not recommend this trail for young children at all, as there are many dangerous obstacles to overcome.
Also, if you suffer from any form of acrophobia, this trail is not for you. I am not scared of heights at all, but this trail had me praying and taking deep breaths in many places.
Contact Details
Bookings can be made through Fagala Voet:
Email: bookings@fagalavoet.co.za
Website: https://www.fagalavoet.co.za/
Tel: Nadia van Straaten: 082 776 5540 / Wayne van Straaten: 081 894 9802
Alternatively, contact Tshele Vincent Montsitsi (Manager) at 078 365 0662