The Cederberg is a vast wilderness and one of the few untouched places in the world. It is a hiker's paradise where one can wander at will on a network of trails that connect rocky mazes, grassy plains, craggy peaks, secretive wooded valleys, crystal-clear streams and groves of endangered cedar trees. It is an arid landscape, with little rain and soaring temperatures in summer, while winter brings cool, clear days and the occasional cold front that replenishes the streams and sometimes turns the mountains into a snowy wonderland. Night time also offers something special with jaw-dropping stargazing in the high desert skies.
I count it, along with the Drakensberg, as a South African bucket-list hiking destination: unique and truly magnificent. The Cederberg offers a multitude of hiking options – from day-hikes to challenging multi-day treks of a week or longer.
Location and geology
The exact boundaries of what constitutes the Cederberg are not clear, but judging by geological features, it is the mountainous area between Pakhuis Pass (near Clanwilliam) in the north, Dorp-op-die-Berg (Skurweberge and Koue Bokkeveld) in the south and flanked by Wupperthal and Citrusdal in the east and west respectively. This constitutes a vast area consisting of farms, private land, conservancies and the Cederberg Wilderness park. The main hiking trails lie within the 71 000ha Cederberg Wilderness park (managed by Cape Nature) and the 182 000ha Cederberg Conservancy, which consolidates 22 properties in the central Cederberg.
The 12 800ha Matjiesriver Nature Reserve, proclaimed as a World Heritage Site in 2014, is situated on the drier eastern boundary of the Cederberg Mountains. This area is not known for multi-day hiking, but one can spend hours exploring the geological wonderland of Truitjieskraal and historical significance of the Stadsaal ("Town Hall") caves.
The Cederberg is famous for its spectacular rock formations that were sculpted by wind and water over millions of years. "If Salvador Dali and Dr.Seuss got together to make a bouldering area, it would look something like this" was American rock climbing author Cedar Wright's take on world famous Rocklands in the Pakhuis Pass area. The predominant rock types are sandstone and shale, with the sandstone mostly in hues of red (due to the oxidation of minerals such as iron) and grey, interspersed with artistic strokes of yellow and cream.
Flora
The Cederberg is recognised as one of the Cape Floral Region's 13 clusters, and is a World Heritage site. Two of the Western Cape's six biomes are found in the Cederberg: predominantly Fynbos and Succulent Karoo on the dry eastern boundary. Fynbos is recognized by the presence of Restios (reeds), Ericas and many different types of Protea. The sturdy, fire-resistant wagon tree (Protea nitida) abound on the lower slopes. In spring flowers such as blue ridderspoor and yellow Clanwilliam daisies flourish in the low-lying areas.
The Cederberg is also home to the rooibos plant (famous for its tea) and different types of buchu, known for their medicinal qualities and aromatic oils. Wild olive trees, rockwood, and rock candlewood form thickets on dry slopes and around rocky outcrops. Along stream banks one can find wild almond and lance-leaved myrtles. Exquisite disas and other orchids occur close to water on the high plateaus. Rare snow proteas can be found on the snow-line of some of the high peaks.
The undisputed king, however, is the critically endangered Clanwilliam cedar tree (Widdringtonia cedarbergensis) after which the Cederberg is named. It grows along cliffs and rocky areas between 1 000-1 700m above sea level. This striking tree, with its gnarled growth form has fragrant, durable wood which unfortunately contributed to exploitational harvesting in the 19th century, and more recently the increased frequency of fires continues to push the tree to the brink of extinction.
Fauna
Baboons and dassies (hyrax) are fairly common around rocky outcrops and on the mountainsides. Grey rheebuck, klipspringers, duiker and grysbok can occasionally be seen.
The elusive leopard is the Cederberg's largest predator, but they are much smaller than their northern cousins, with females weighing on average only 20kg and males around 35kg. They roam vast areas and are very rarely seen – count yourself lucky if you see one! Although one should obviously always be very cautious when encountering any predator, Cape leopards are generally wary of people and will readily retreat, except when threatened or cornered. There are no reports of unprovoked attacks on people in the Western Cape. However, if one were to corner a leopard, or threaten a female's cubs, they could be very dangerous. It is also advisable that children should not wander around without adult supervision.
The smaller predators include African wild cat, caracal, bat-eared fox, aardwolf, grey mongoose and striped polecat. Various interesting rodents occur, including porcupines and the acrobatic, spectacularly fluffy spectacled dormouse, aka woozel.
The Cederberg is home to more than 100 bird species, with the black (Verreaux's) eagle, rock kestrel and jackal buzzard the most common raptors.
Various agamids, skinks, plated lizards and cordylids (such as the armadillo lizard) occur in here. The most common snakes are the berg adder, puff adder, cape cobra and black spitting cobra. Snake bites are rare and occur mostly when snakes are threatened. Its best to just leave them alone if you are fortunate enough to see one.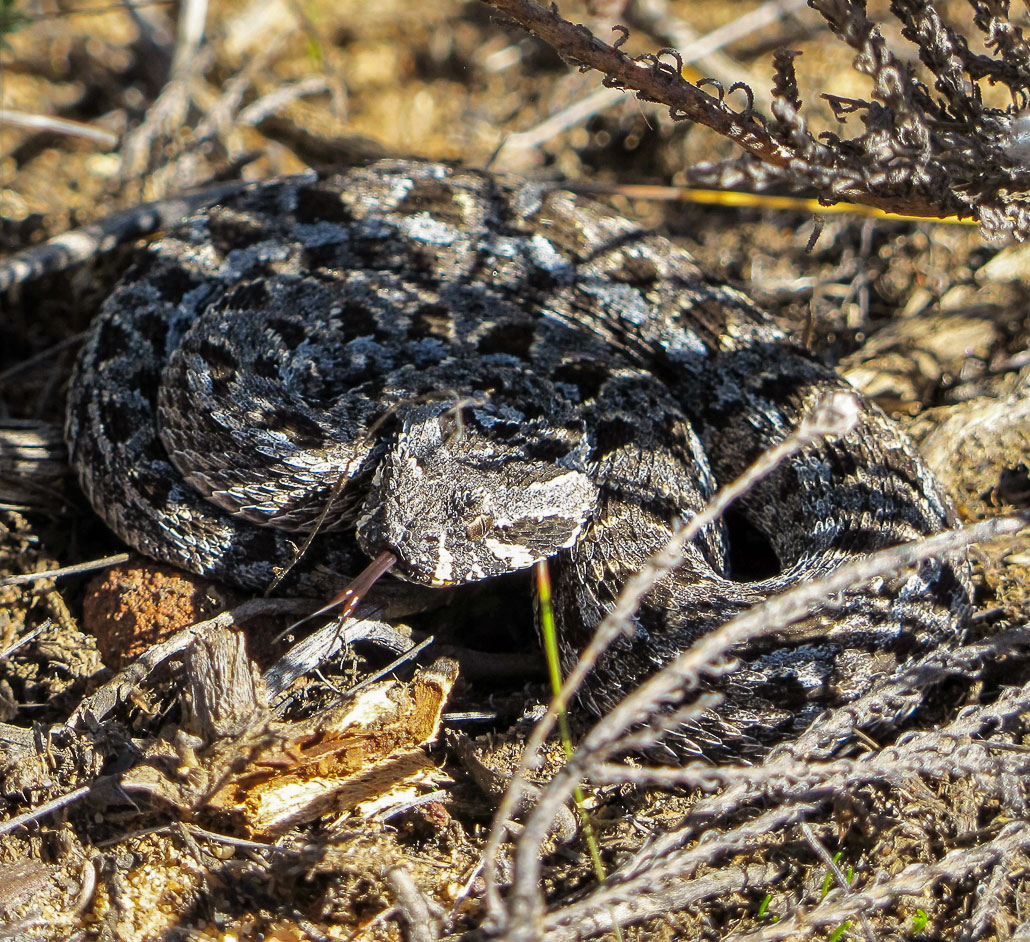 Climate
Rainfall in the Cederberg ranges from an average of 800mm per annum at Algeria (western side) to an average of less than 200mm annum around Matjiesrivier (eastern side). The most rain falls during winter between May and September and it may snow on the higher parts. Summers are very hot and dry and can reach temperatures as high as 40°Celsius.
The Cederberg covers a large elevation range, with the lower-lying areas around Algeria campsite and De Pakhuys being approximately 500m above sea-level, rising as you move into the mountains to approximately 900m at Pakhuis Pass/Rocklands, Heuningvlei, Sanddrif and Kromrivier. The highest peak in the Cederberg is Sneeuwberg at 2027m above sea level, with other notable peaks being Tafelberg (1969m), Krakadouw (1744m), Middelberg-South (1623m) and Wolfberg (1450m). Most huts are situated between (approximately) 900m and 1500m. As a rule of thumb, one can expect a drop in temperature of roughly 0,5 to 1 degree Celsius per 100m elevation gained – so be sure to factor in your expected elevation when looking at the weather forecast.
The best time to hike is from April to early December. During high summer (January to March) it can be unbearably hot and it's harder to find water. The Cederberg is a great winter hiking destination, with cool, clear days in between the occasional cold front. Check the weather forecast and be sure to be properly equipped for heavy rain and extreme cold in high lying areas should inclement weather be predicted – more than a 100mm of rain can be dumped by a single winter storm. Flooding is not a significant risk in the mountains though, but take care with river crossings in the lower valleys.
Fire
The Cederberg is prone to wildfires, which are near impossible to control in the mountains. Fires can be started by rockfall or lightning, and in more recent years the frequency of man-made fires has increased. They do incalculable damage to the ecosystems, and the endangered cedar tree in particular has fallen victim to this scourge. No open fires should be made under any circumstance and extreme caution should be exercised when cooking or lighting a flame for any reason. Please read our article on litter and fire safety here.
Safety and hiking etiquette
We recommended that you read the free booklet from Cape Nature on hiking safety and protocol, which can be downloaded here.
The most significant risks are fires and dehydration/sunstroke in summer, and hypothermia/exposure in winter. Other risks are fairly benign, but do take care on rocky sections and steep terrain. To our knowledge there have been no incidences of serious crime relating to hikers in the Cederberg – the area is vast and sparsely populated at its fringes.
For emergencies, be sure to program the following numbers in at least two cell phones in the group:
Mountain Rescue: 021 937 0300
SA Police Emergency: 10111
Also, ask the office at your access point if they have a local number which can be called in an emergency. There are however sections without cellular reception, especially in the valleys. In an emergency it is best to try and find signal on higher ground. We recommend that hikers familiarize themselves with basic emergency medical treatment since it is likely that it will take some time for help to arrive.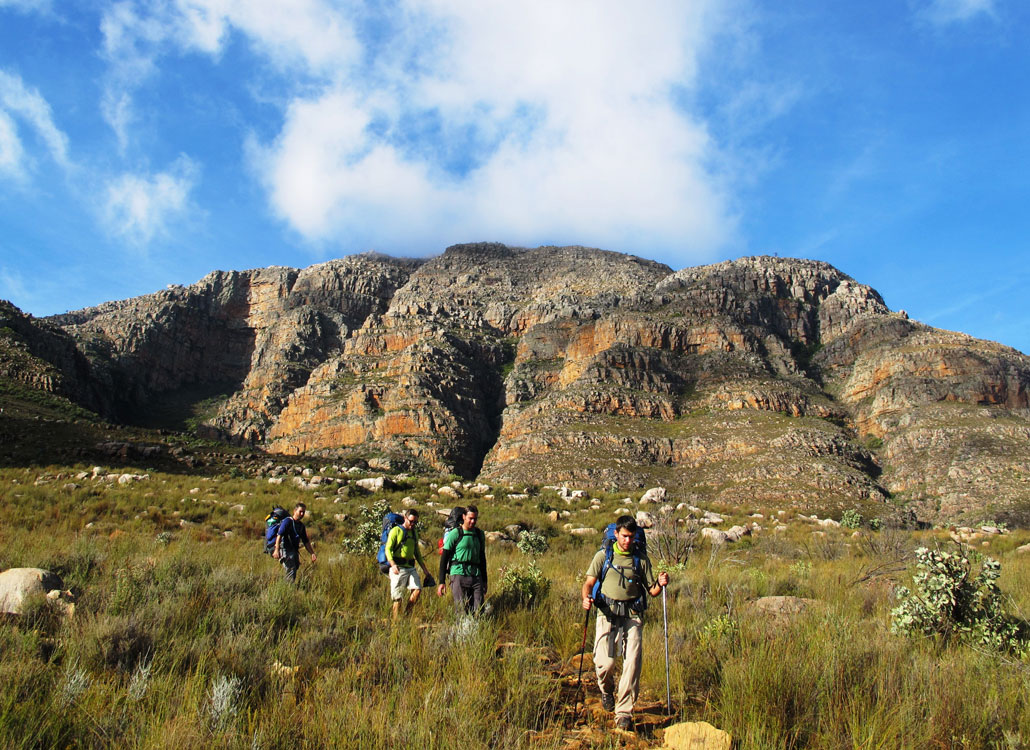 Conservation
The Wilderness area is divided into utilisation zones of about 24 000 hectares each, which help limit the impact of visitors, as well as ensuring that the area is easily managed and monitored. Numbers of visitors are limited to 50 people per block per day, while groups are limited to a minimum of three and a maximum of 12 people per day.
Due to the dry and sensitive nature of the eco-systems, we endorse the Leave No Trace principles to their full extent.
Trails and maps
The trails are mostly well kept and the day hikes are generally well marked. The trails vary from clear sandy paths on the plains, to rocky trails traversing the mountainsides, which might include boulder hopping and easy scrambles. One might have to navigate steep, faint paths marked with cairns to reach the high peaks such as Krakadouw and Sneeuwberg, and it is advisable to avoid these in wet or low-visibility conditions.
For multi-day hikes you will require a map and basic navigation skills. We recommend the Slingsby "Hike the Cederberg" maps for planning and navigation.
Due to the sensitive and vulnerable nature of the vegetation, off-trail hiking is discouraged, and when exploring the rock-features one should take care minimise your "footprint".
Experience and fitness
Day-hikes can be done without much experience or navigational skills, but a reasonable level of fitness is required for most famous hikes and some can be considered strenuous (e.g. Wolfberg Arch from Sanddrif). Consult your hiking map and Cederberg Conservancy website for an indication of how long the hike is and how much elevation is gained.
For multi-day hikes, routes can be tailored to the desired difficulty level. Seeing that it is mountainous terrain, a reasonable level of experience and fitness will generally be required and at least two people in the group have to be able to navigate with a map. Since you will most likely wander into remote areas, with a slim chance of encountering any form of assistance, your group has to be able to deal with any type of weather or other difficulties that may occur.
Routes and permits
There are no fixed multi-day hiking routes and one can plan hikes at will. The required permits must however be obtained from Cape Nature by contacting their call centre at +27 021 483 0000 or alternatively e-mail reservation.alert@capenature.co.za. In addition to permit fees, a daily conservation fee applies – this is however waived if you have a Wildcard.
There are multiple Cape Nature and privately-owned resorts from which one can access the hiking areas and leave one's vehicle – it is best to consult the Slingsby Hike the Cederberg maps to determine which access point will work best for your hike. Some of the resorts and their closest features:
Kromrivier – Truitjieskraal, Stadsaal Caves, Apollo Peak and Disa Pools
Sanddrif/Dwarsrivier – Maltese Cross, Wolfberg Cracks and Wolfberg Arch
Driehoek – Welbedacht Cave, Tafelberg and Sneeuwberg
Algeria – western and southern Cederberg
Kleinvlei – Sandrivier Canyon and eastern Cederberg
Boskloof, Bovlei and Krakadouw cottages – Krakadouw Pass
Heuningvlei – Krakadouw and eastern Cederberg
Kliphuis (De Pakhuis pass) – Rocklands and northern Cederberg
Bushman's Kloof – Bushman's Kloof
Access to most resorts will require driving on a dirt road. Road conditions vary, but expect sandy, rocky and corrugated sections. Take care to avoid tyre side-wall cuts on rocky terrain and have an inflated spare tyre handy. There are no petrol stations in the Cederberg and it is recommended to fill-up at the last town before your access point.
Permits for day hikes can be purchased at their relevant access points, or may not be required on privately-owned land. Please make the necessary enquiries at the office of the relevant reserve or search online for more information.
For a comprehensive list of day-hikes and access points in the Cederberg Conservancy, visit their website.
Water
The water in the Cederberg is of exceptional quality – known as "soetwater (sweet water)" by the Namaqualanders –  and flowing water above human settlements can be enjoyed as is. In summer the high streams dry up and one might have to rely on water collected from drips or pools – this water will mostly be clean but rather err on the safe side if there's any doubt. In general, for winter hikes, no provision for disinfecting water has to be made, whereas in summer it is advisable to take make some provision for water purification on multi-day hikes.
The Hike the Cederberg maps indicate all streams and some pools/drips. The Cederberg is a water scarce area, so if in doubt whether water can be found on sections of your hike, fill extra containers at the perennial sources.
The high streams may not flow strongly, so the ethic is to not wash or swim in the streams, to preserve the ecosystems and water quality. Be sure to only use small quantities of biodegradable soap for washing and discard the dirty water away from the stream/pool.
If in the mood for more than water, one can visit the Cederberg Cellar at Sanddrif for exceptional wines or buy locally brewed craft beer at Kromrivier.
Facilities and campsites
There are few facilities in the Cederberg – only a handful of basic, unkempt mountain huts one can use for shelter in an emergency. There are also various guest farms and resorts along the periphery of the wilderness area, which one can access to treat yourself to a warm shower. One can also re-stock some basic supplies at Sanddrif/Cederberg Cellars, Kromrivier and Mount Cedar – it is however recommended to be self-sufficient with regards to sustenance on multi-day excursions.
Within the wilderness park one can set-up camp wherever one chooses, but due care should be taken to minimise the impact on the environment. A number of established camping spots, caves and natural shelters (typically large overhanging boulders) are indicated on the maps. On clear nights one can also sleep under the magnificent Cederberg night sky.
Equipment and clothing
For multi-day hikes you will need the full complement of gear and tents to be fully self-sufficient – you can read our articles on what to pack for an overnight hike here. The shelters/huts in the mountains are rudimentary and not always waterproof and should not be relied on as your only option in bad weather. Likewise, the caves may be occupied or could get wet in a tempest.
One should always consult the weather forecast, but remember that the high mountains remain temperamental and severe conditions can arise seemingly out of nowhere. In winter, expect freezing temperatures at night and the possibility of rain – always have insulated and waterproof clothing at hand. In summer a hat and sunscreen is essential, and have a rain shell available at all times – it has snowed in December!
The terrain is generally rocky and uneven, and it is advisable to wear sturdy hiking shoes/boots when carrying a heavy backpack.
General information and other activities
For more information visit:
Cape Nature's website: www.capenature.co.za/reserves/cederberg-wilderness-area
The Cederberg Conservancy website: www.cederberg.co.za
The Cederberg Tourism website: www.cederberg.com
Or google any of the reserves and resorts in the area.