The Summit Trail is one of two 2-day overnight trails in the Magaliesberg at Kgaswane Nature Reserve, formerly the Rustenburg Nature Reserve. The other 2-day overnight trail is the Baviaanskloof Trail.
Beauty rating: 4/5
Difficulty rating: 7.5/10
Technical rating: Standard walking trail, with limited scrambling over rocky outcrops. Trail marking is not always evident.
Distance: 25km
Hike structure
The Summit Trail is a circular route. We started from Naga Hut, which is towards the far end of Kgaswane Nature Reserve. We walked the trail in an anti-clockwise direction. The alternative is to start at Witkruiskrans Hut, which is near the main entrance to Kgaswane Nature Rerserve. It may well be that the conventional way to do the Summit Trail is to start at Witkruiskrans Hut, which is at the foot of the Magaliesberg.
One day of the Summit Trail is 14km long while the other is 11km long. We believed, based on time spent walking, that we did the longer day as our first day and the shorter day as our second day, but this is speculation only because such minutiae is not indicated on either the trail map or at either of the two huts.
Kgaswane Nature Reserve
Kgaswane Nature Reserve was proclaimed in 1967. Five decades of protection later, and it is pristine highveld and bushveld. I did not see a single invasive tree, which is quite something for a hiking trail. We hiked in late February, and the veld was lush and green. It was beautiful.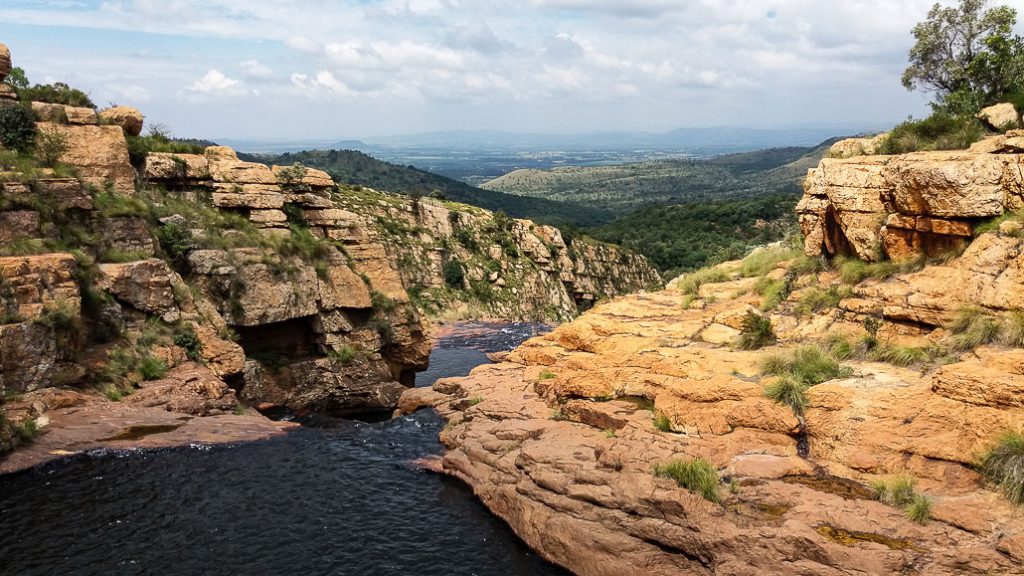 What you will see
The Magaliesberg, which for the most part comprises a single ridge which runs east to west, deviates from its usual pattern at Kgaswane Nature Reserve, forming, for a 20km stretch, two main ridges, which run parallel and about 10km apart, with a flat, high-lying valley in between. The valley remains much higher than the berg base. It forms a high-lying basin which is the centre of Kgaswane Nature Reserve, that contains a large vlei and expansive highveld-like grassland.
The Summit Trail takes you in a wide circle around this basin, and doing so it traverses a variety of veld types. At or near the berg summit there is open grassland which is exposed and where only hardy plants and animals survive. The highest point on the Summit Trail is just under 1,700 metres. At lower altitudes you will find ordinary bushveld. Indigenous forest typically grows in the many sheltered kloofs on the northern face of the berg, and around the southern cliff faces. On the whole, the veld types are wonderfully varied, making for interesting hiking.
Animal life is similarly impressive. We saw impala, kudu, eland, large numbers of zebra and red hartebeest, bleskbok, grey rhebuck, and plenty of rather noisy baboons. We also and stumbled upon two snakes, one being a python.  A squirrel entertained us at Witkruiskrans Hut and we shared our hut with a bat. We did not see any sable antelope, although Kgaswane Nature Reserve contains, apparently, the southern-most population of sable antelope.
Hikers will have wonderful views in all wind directions. Kgaswane is located at what might be called a pivot in Magaliesberg range, where the mountain changes direction from east-to-west, to north-to-south. Great views are to be had to the north to Rustenburg and the Pilanesberg, to the west towards the Marico, to the south towards Magaliesburg, and eastward along the Magaliesberg ranges.
Hiking challenges
The biggest challenge for us, hiking-wise, was the weather. Fortune gave us an unusually humid weekend, with plenty of direct and unrelenting sunshine too. Hikers are usually very exposed to the sun. We all ended up with some degree of sunburn. The terrain is also moderately challenging, and there is a lot of scrambling up and over and around the rocky surfaces of the Magaliesberg.
Constructive criticism
I do not have much to say here. If forced to, I would say that the trail, although well marked with painted footprints, is, a challenge to follow at times. Large parts of the trail are unclear to non-existent. That is not really a problem if you are happy to scout around a bit. In fact, it adds to the fun. However, it may be that inexperienced hikers will get lost occasionally. It certainly slowed us down and left us exasperated at times.
As for the huts, I am not one to complain about deficient amenities, but some people will expect more. Neither hut has proper showers or is located near a stream, and you will probably be washing using a basin of cold water, if at all. No other problems, though. The huts were clean and there was plenty of decent fire wood.
I digress a little, but what would be really great is a 4- to 5-day trail from Kgaswane Nature Reserve to Hartbeespoortdam which follows the crest of the Magaliesberg. The Summit Trail is just too short.
Conclusion
For a 2-day hike near Gauteng I liked the Summit Trail very much. In short, this trail is one of the better 2-day overnight trails in the northern part of South Africa. The landscape is interesting, varied, and attractive. At many points along the route there are great views. You will probably see more large mammals here than at most other hiking trails. It is enough of a physical challenge to leave the hiker with a feeling of accomplishment. And it is within one and a half hours driving time from both Pretoria and Johannesburg,
How to book:
Contact North West Parks Board
Kgaswane Mountain Reserve: 014 533 2050 / kgaswane@nwpb.org.za
http://www.northwestparks.org.za/
A map will be provided to hikers upon arrival.