89km, 1789m up, 1778m down, 5 days. Our adventure began at Wild coast Casino, a brilliant destination itself, at which I met the people I would be marching alongside for the next 5 days. Knowing nobody there but my dad, I felt a little uneasy joining a group that seemed to have already all met, still though, I was full of excitement for the journey ahead.
We began our walk at the parking lot, starting our first day which was comprised of a 27km walk and minimal stopping along the way. This would be the longest day of them all – a relief to me who had not even thought of hiking since the start of my studies in February earlier this year.
The day was an enjoyable one, with a range of different environments and challenges; from a 153m-long suspension bridge that bounced as you walked along it, to walking miles barefoot on beach sand, to the breath-taking red desert and the challenges of crossing a river much deeper than we had hoped for. All culminating in our arrival at Mtentu Village, our home for the first night.
The culture shock was most noticeable, having spent my life in boarding school and a relatively privileged environment, I had never really experienced any style of living other than my own. Bathing with a bucket and warm water was new to me, the use of long drops was new to me – I was in a completely different world to the one I had known thus far. It was a real eye-opener for me…
Our second day began with sunrise watching, breakfast prepared for us and a cup of coffee, as did each day thereafter – sunrise watching being an activity I would miss several times as a result of my sleep addiction.
We walked 20km on our second day, including being paddled across a river by boat, walking about 14km through the Mkhambathi nature reserve, stopping at both Strandloper and Mkhambathi Falls.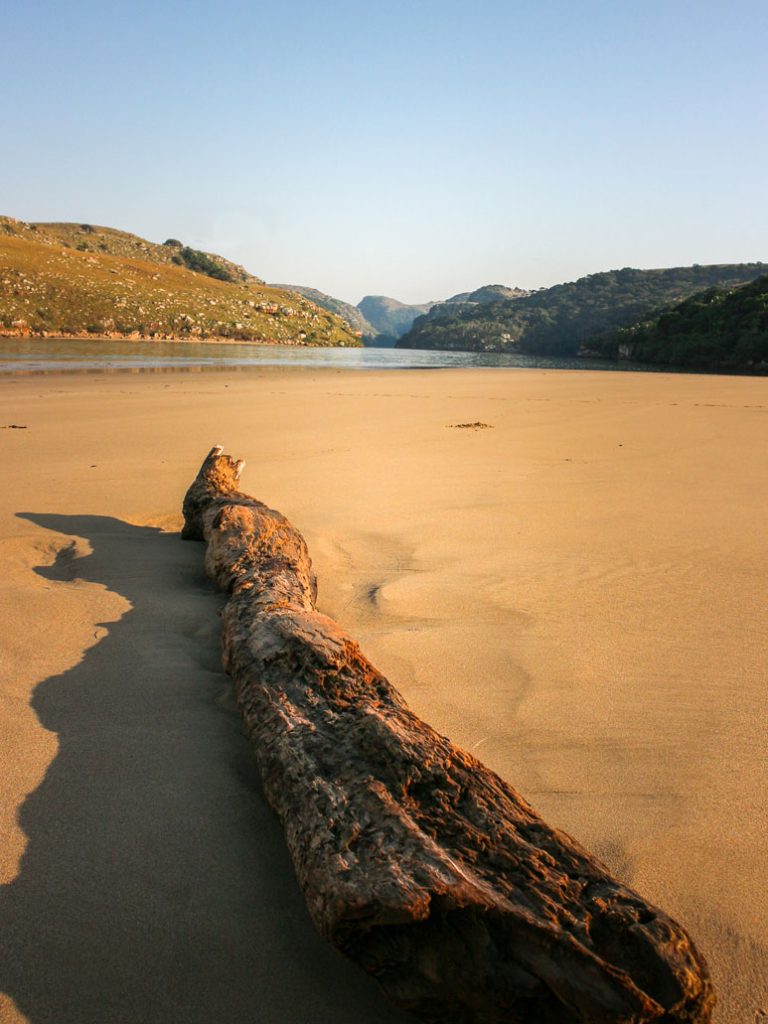 We stopped at GweGwe beach for lunch and moved on towards the Msikaba river which proved too deep to walk across. Thus, we commandeered a small 2-person paddle boat from some nearby holiday goers and made our way across, returning the boat once we were done of course.
We were soon at our destination where I was the first to sleep, as usual.
On the third day of our hike we came across an old shipwreck, as well as a truly beautiful pool at Baboon Cave, where one can find a rock ledge of sorts about 9m above the water. For those brave enough, this served as a diving board from which they plunged excitedly into the freezing waters below.
We were lucky enough to witness the sardine run, accompanied by many dolphins and wales. Later we arrived at Lambasi Bay where we had lunch and spent several hours relaxing and enjoying what the beach had to offer. It was a truly beautiful walk as we followed the coastline, able to see the waves crashing at almost every step of the way.
The most breath-taking views, however, were definitely on day 4. Walking along the coastal cliffs was a magnificent experience, with waves crashing with such force that water was sent 15m into the air and the wind then carrying the spray onto my face. The cliff faces were absolutely stunning and provided a beautiful foreground from which we could watch the dolphins swimming by.
We later ventured into a small cave opening along the cliffs which led us to the beautiful Waterfall Bluff – one of only a few waterfalls around the world that plunge straight into the ocean.
This day also took us to Mamba Pools where I, having skipped out on the prior jump, and several others went for a swim and found another ledge off which we could jump. This time only being about 5 metres in height and thus far less intimidating.
We spent our last night at Cutwini village, where we built up a bonfire and looked back on our journey thus far.
Our last day of hiking was only 9km, of which we mostly walked along the beach, taking in the beautiful sights and the fresh ocean air.
Upon our arrival at the wonderful holiday destination of Mbotyi, we were met by a Quantum taxi that drove us to the stunning Magwa Falls with a drop of 144m – another truly beautiful natural creation.
We were then brought safely back to Wild Coast Casino where we said our goodbyes and headed on our own paths home.
Conclusion
The hike was a brilliant way to enjoy my break from university life and work. I also learned a great amount about the area, the people, and the history of the shipwrecks and villages we encountered on our journey as our guide, Bongani, was a wealth of knowledge regarding these. Personally, I enjoyed it just as much, if not more, than hikes I've done in the Drakensberg with my dad. The ocean has a certain charm and now, for the first time in my life, I have an actual tan.
Info & Booking
For more information and bookings, contact Bongani Mlotywa:
Cell: 083 728 2007
Email: mlotywab@gmail.com
Facebook: https://www.facebook.com/absolutewildcoast/