The Rim of Africa, South Africa's longest mountain traverse, celebrates 10 years of incredible hiking and mountain wilderness experiences. Co-founder and trailblazer, Galeo Saintz, looks back at the past 10 years of Rim of Africa and shares his experiences.
This year's 10th anniversary hike, starts on 24 September outside Clanwilliam and follows the crests and valleys of the Cape Fold Mountain range for 650km until the hike ends in the Outeniqua Mountains outside George on 19 November. Hikers have the option of joining for one stage, a combination of stages, or all stages (known as the Thru-Hike).
"This is not any ordinary hike; it's an epic, long-distance experience of a lifetime, traversing some of the wildest parts of the Cape over eight weeks. And it's challenging – since the route was created, only a handful of hikers have completed the full Thru-Hike, most people choose to hike a few sections at a time," says co-founder Galeo Saintz.
A decade of achievements
'Our 10th anniversary is such a big milestone for us, because so many volunteers have put so much passion and work into developing South Africa's longest mountain traverse, and leading intrepid hikers on the adventure of a lifetime.'
Establishing the hike entailed obtaining permission to hike over more than 90 private properties.
"10 years of outreach, projects and engagement with incredible landowners all along this route has gone so quickly," says Saintz. "Being a non-profit organization, we are extremely proud of the projects we have supported over the years in helping people access the beauty of the Cape Mountains.
"One of our biggest achievements is the post-matric  Wild Nights Out project  that we have been running, which gives diverse groups of school-leavers the opportunity get out into nature after their exams to reflect on their future and connect with other matrics from across the country."
In celebration of its 10th anniversary, Rim of Africa is offering every traverse at 50% off the standard cost and donation amount.
The Rim of Africa Experience
Rim of Africa is hiked in Spring – the best time to be in the Cape Mountains. Good water, amazing flowers in the fynbos, cool days and views that stretch forever. The trail season is marked by an annual Thru-Hike for committed adventure hikers to take off 56 days (8 weeks) and walk the entire route in one go. Not everyone can do that and most people choose to hike one or two weeks of the route at a time.
"A large part of the route is technical, and off-trail, climbing up and hiking along ridge lines and then descending steeply into valleys – it's strenuous," adds co-founder Ivan Groenhof.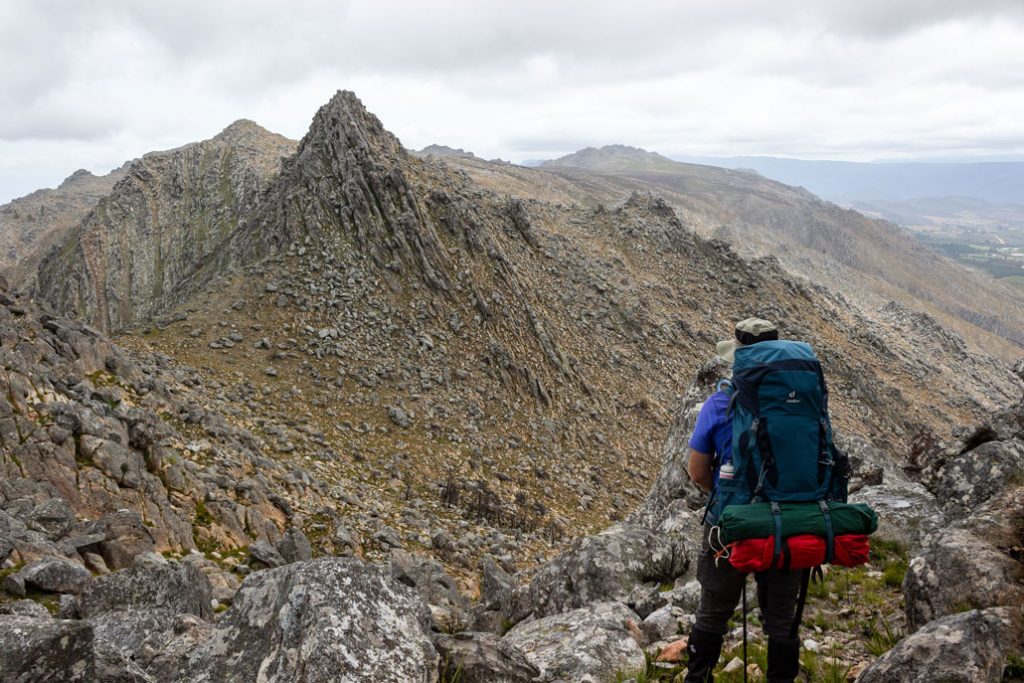 "It's a wild hike – The average week's traverse covers anywhere between 60km to 100km, depending on the difficulty of the terrain – we often hike off path and weather can be extreme.  We facilitate the hike from September to November to avoid the wet and cold of winter and the searing heat of summer in the mountains."
The 10th anniversary event
Rim of Africa will be hosting a special celebratory event on Wednesday, 4 September at 18h00 at the Vineyard Hotel and Conference Centre in Newlands, Cape Town. It offers interested hikers and nature lovers, the ideal opportunity to find out more about the hike and meet the organisers.
This special evening will be a chance for trail supporters and avid hikers to find out more about what it takes to create a long-distance hiking experience, first-hand from hikers and guides who have hiked it. There will also be the chance to win prizes from Hi-Tec and Osprey Packs and a sponsored week on the Rim of Africa.
To find out more about Rim of Africa, the Vineyard Hotel event or to book your spot:
Email: projects@rimofafrica.co.za or call: 082 888 8181 To book online: Follow this link to RSVP
Visit the Rim of Africa website: www.rimofafrica.co.za