Beauty: 5/5
Difficulty (fitness): 10+/10 (Extremely tough, both physically and mentally)
Technical rating of trail: Mostly off-trail hiking (i.e. no trail at all), involving sections of very dense fynbos, uneven, loose, rocky terrain, and steep ascents and descents.
Duration: 7 Days (6 days walking)
An overview of the terrain
Traverse 5 follows the Western Langeberg, the classic case of the extensive Cape fold mountains, with rocky ridges and fynbos-covered steep slopes down either side.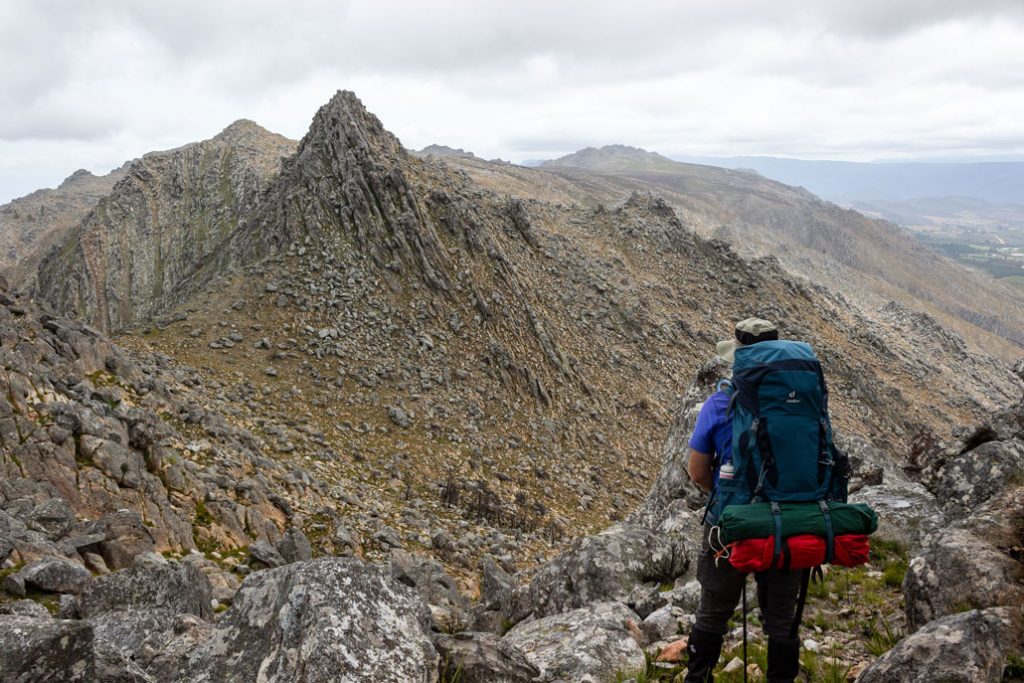 A total of ±65km in 6 hiking days does not sound like much, but Traverse 5 should not be underestimated. This section consists of technical ridge walking, light rock scrambling and grinding up steep slopes covered in Protea.
That being said, all the hard work pays off with some of the most spectacular panoramic views the Cape fold mountains have to offer.
A general overview of the section
The Rim's ultimate ridge-line hike, from Simonskloof in the Koo Valley to Montagu. You'll experience the thrill of walking in the sky, as we summit Arangieskop above the town of Robertson and navigate well vegetated ridges with views down both sides over extensive farm lands and on a clear day as far as the Indian ocean.
The traverse finishes via Bloupunt a well-known peak above Montagu, then descends along the hiking trail past inviting cooling rock pools and clear mountain streams.
An overview of a typical day
The days are a great fusion of hiking and scrambling through protea and mountain fynbos with incredible views for days on end, interchanging from on- to off-trail walking. Lunch spots are almost always high up with an awesome view or a gurgling stream next to it.
An overview of wilderness camping
Most camps are right on top of the ridge with stars on eyelevel through the door of your tent. The second night is pure mountain luxury, as we sleep in the stone hut of the famous Protea Tractor Ride high up on Arangieskop. A hot shower and roaring fire place in the hut make you quickly forget the occasional downpour of the day just past.
The following three nights are wilderness camping at its best, with the final night at De Bos campsite on the edge of the village of Montagu, offering a change to dine in style in one of the excellent restaurants of this quaint village.
A note on the difficulty of Rim of Africa
The difficulty rating Hiking South Africa gives to established trails is based on the Amatola Trail being a 10/10. Most of the Rim is much harder and more technical than the Amatola. Rim of Africa is not a "trail" but a mountain traverse, and thus it should not be underestimated. The technical ratings of Rim of Africa traverses may also vary from year to year based on weather, the route chosen and the off-trail nature of the hike.
For more information on the Rim of Africa hike, go to rimofafrica.co.za.