Brainchild of two award-winning tourism gurus with a natural gift for hospitality and an unflappable home-grown horse-whisperer with intimate knowledge of the pristine hills and valleys of the breath-taking Baviaanskloof, this remarkable trail takes riders and hikers on a guided four-day epic across three mountain ranges.
Beauty: 5/5
Difficulty (fitness): 7-8/10 (There is no mountaineering or climbing involved, but you will conquer two mountain ranges.  Total elevation 3 600m over 95km)
Technical rating of trail: Standard trail and jeep track walking with some rocky terrain underfoot.
Distance: 95km over 4 days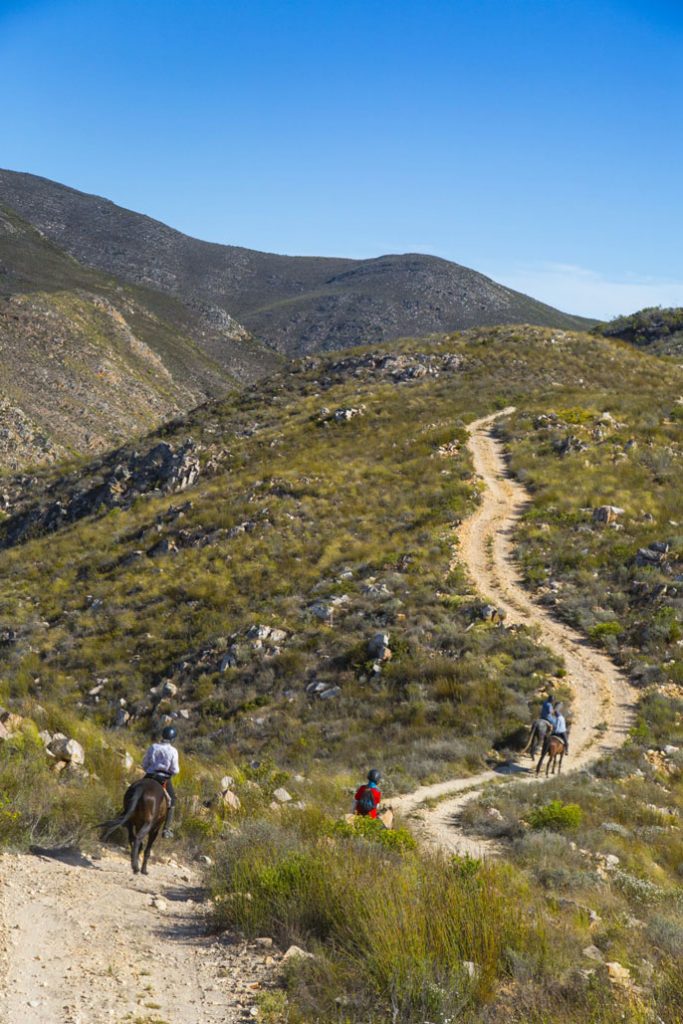 Day 1
The Foot of the Baviaanskloof to Joachimskraal Farm-House: 20 km
Scaling the northern front-face of the Baviaanskloof Mountain via an improbable Old Telkom Road is the most rewarding and taxing experience of the trail. Your lunch spot boasts unrivalled views back across the Klein Karoo, but beware of kudu, Cape sugar-birds and pin-cushioned proteas! A sharp but shady afternoon descent takes you down into the ever-warm heart of the Baviaanskloof Valley where you may well encounter baboon, small antelope and an occasional donkey-cart. Joachimskraal farm-house, deep in the valley offers hot showers, en-suite bathrooms for some, cosy beds for all and a feast of steak and roosterkoek around a wind-sheltered braai area.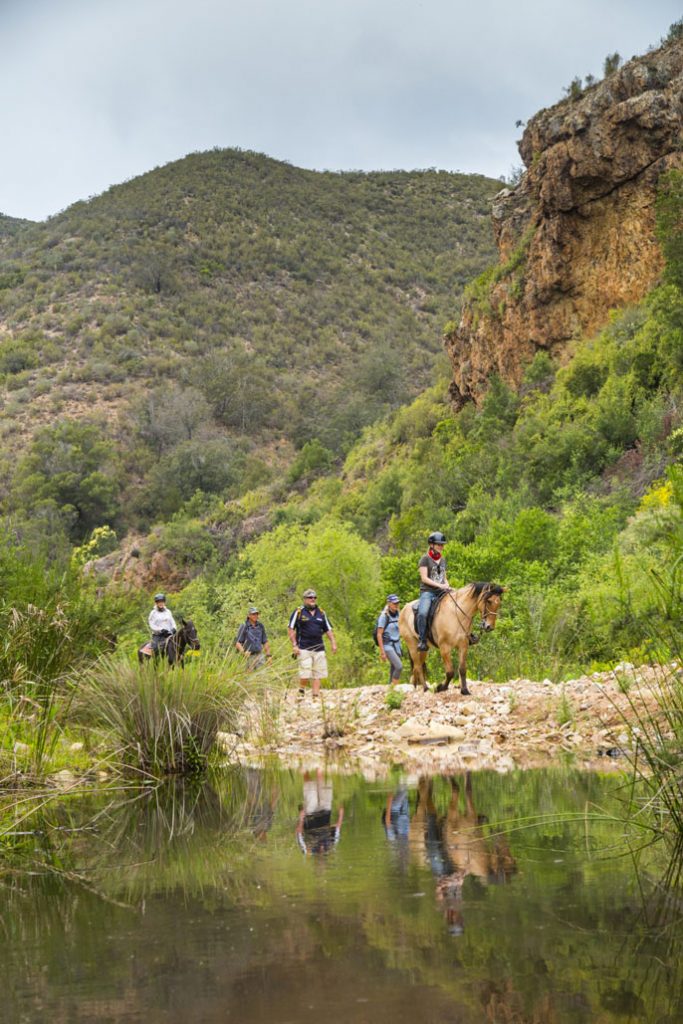 Day 2
Joachimskraal Farm-House to Entkrale Outpost: 23 km
The second morning takes you from the semi-civilised settlement to untouched natural wilderness. From the still lightly-worn tourist tracks and fringe farms of the main road through the Baviaanskloof Valley, you criss-cross up the Kouga Mountain-Range with awe-inspiring vistas and soul-searching silence. Be sure to keep warm in the face of the chill winds on the heady heights of Kouga Peak. Your secret hideaway at Entkrale is as close as you will get to the pure remote wilderness experience. A stunning star-spangled night-sky and bellyful of beef potjie will be ample compensation for the very basic shared accommodation.
Day 3
Entkrale to the Nooitgedacht Farming Community: 22 km
In a region that boasts seven different ecological biomes, the third day showcases the botanical splendour of this untouched natural wonderland. Cycads sprout from sheer rock faces. Yellowwoods stand tall and the red and purple Karoo flowers blossom right through the winter. After lunch you will descend gently into the ever-verdant Nooitgedacht Valley with black-dotted Jersey cows, black-headed sheep and fields of green. Your rest-house lies alongside a stream below a looming red cliff-face that is a defining feature of the Southern Baviaanskloof.  Dinner is served by a local farmer in the old farmhouse where oil lamps provide the only light.
Day 4
Nooitgedacht Farming Community to Nguniland, Kareedouw: 30 km
Your hosts undoubtedly save the best till last from the tough winding ascent out of the Nooitgedacht Valley via the Moordenaarskloof to the tranquil lunch-camp alongside a widened bend of the Kouga Rivier to an untrodden footpath through the Pospad. This third traverse is more staggered but often more sheer than the Kouga and Baviaanskloof Mountain ascents. The rewards are yet more vistas of untamed wildness and rolling rises across the ever-receding skyline. You arrive before sunset at Nguniland that offers your last night's rest. Dinner of steak and the famous Kareedouw boerewors with biltong as an entrée with a gin-and-tonic or Jack Daniels in hand is just reward for what is surely among the most intense and rugged wilderness experiences in sunny South Africa!!
Booking and info
Bookings: Contact Esti Stewart on info@baviaanscamino.com or 073 825 0835
More info:  www.baviaanscamino.com