The Altra Lone Peak 4 (and now 4.5) is a reasonably lightweight trail shoe with a distinctly wide toe box, zero drop, a protective mid-sole and a grippy outsole.
Key information
Price (at time of writing): R2499 (for the 4.5)
Weight: 338.5g per shoe (Size 10). 677g per pair.
Women's version: Yes
Fit
Popularised by ultra-distance trail runners, the Lone Peak has also become a favourite among through-hikers, due to its wide toe-box, allowing tired, swollen feet to relax and toes to move naturally.
If you have narrow feet, look elsewhere – you'll be swimming in these shoes – but for everyone who generally find trail shoes to be too narrow around your toes, the Lone Peak might just be a game changer!
One of Altra's taglines is "Embrace the Space" and it's arguably the main reason people buy into the brand: their focus on allowing feet to move naturally.
In addition to the "natural" fit, the Lone Peak also has a zero drop from heel to toe – meaning, one's feet are flat inside the shoe, as opposed to the usual slightly raised heel. This doesn't work for everyone, but if you don't have overly tight Achilles tendons, this also ads to a more relaxed position for one's feet.
Lacing
The lacing is precise and easy to get a snug fit. There is an additional nylon tab in the middle of the lacing system that assists in synching the body of the shoe around one's foot, as well as securing the heel. This tab is almost too effective as it can cause quite a bit of pressure over the bridge of one's foot if the laces are too tight, but other than that, it does a great job.
Grip
Another of the Lone Peak's stand-out features is its aggressive grippy sole. Altra refer to the lug style as trail claws and I think it's quite apt. The shoe performs brilliantly on loose, muddy terrain and dry rock, and the wide sole assists in sandy terrain.
Comfort
The first time I put on these shoes, it felt like I was walking on pillows. They are very comfortable out of the box and perform excellently while wearing a backpack up to about 16kg. After that the midsole does start to compress quite a bit (something that has been remedied in the Lone Peak 4.5), however, this only affects comfort to a small degree – even under heavier weights, they remain reasonably comfortable and grippy.
Durability
For standard, on-trail hiking with a medium weight pack, these shoes will serve you well, without any issues. Thousands of through-hikers swear by the Lone Peaks for their 2000+km journeys.
However, they do have a weak spot on the outside of the shoe, just behind one's little toe, where the shoes bends. On rough terrain, where the shoe might be exposed to heavy abrasion, or on heavily cambered terrain, the Lone Peaks have a tendency of developing tears in upper in the that area.
That being said, I've put close to 100km on mine and they're hardly showing signs of wear.
Features
Gaiters
The Lone Peak really shows its intent as a mountain shoe with dedicated gaiter tabs. Two side loops, one loop at the bottom of the laces and a velcro tab at the bottom of the heel hold gaiters in place to keep debris out of your shoes or spiky grass out of your socks.
Stoneguard
The stoneguard (or rockplate) is a reinforcing plastic layer in the midsole which reduces the pressure of sharp rocks underfoot, while allowing for a very cushy midsole.
Water drainage
Along the bottom of the shoe, wear the upper meats the midsole, there are a few mesh vents that allow for better water drainage – I tested these recently while hiking ankle deep in the wet stuff, and it didn't take long for the shoes to shed most of the water and remain comfortable for the rest of the hike.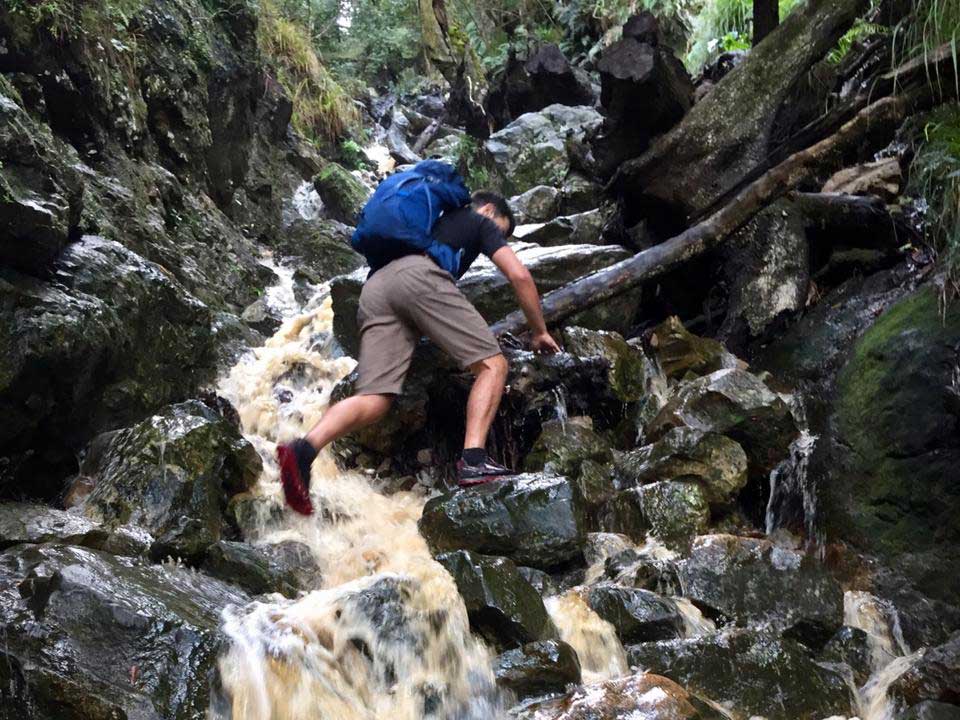 Conclusion
If you have wide feet and don't like boots, these are almost certainly the shoes for you! For any on-trail hiking with a medium-weight backpack, the Lone Peaks are hard to beat – they offer great value for money, especially if you also enjoy trail running – one shoe for everything!
These shoes were supplied by Altra Footwear South Africa for review purposes and can be purchased from their online shop and other specialist running stores.