The Vertex is arguably First Ascent's most ambitious jacket yet, with a price tag to match. In addition to all the bells and whistles, First Ascent has used a world class water-resistant membrane and a wonderfully eye-catching colour.
Key Info
Price (at time of writing): R6999
Weight: 510g for a Large
Water column rating: 20,000mm
Breathability rating: 15,000g/m2/24
Fabric: 3-Ply eVent DValpine, 40-Denier Nylon Shell
Water-resistance
In addition to a very effective DWR coating, the Vertex uses eVent's DValpine membrane to keep you as dry and comfortable as possible while hiking in adverse weather conditions.
The main zip is also protected by a double storm flap with velcro closure. As fancy as waterproof zips are, proper storm flaps on main zips give me the warm and fuzzies.
With a water-resistance rating of 20,000mm and a breathability rating of 15,000g/m2/24, the Vertex inspires confidence to keep moving comfortably when the wet stuff is coming in sideways and you're walking up a hill.
As always, these are lab results, so don't expect miracles – if you work hard enough in this jacket, there will still be some condensation build-up inside the jacket, but this applies to all jackets. That being said, I spent 3 hours hiking in driving rain and remained dry and warm.
In addition to the breathable membrane, the Vertex also has pit zips (underarm vents) which, in my opinion, is the most effective in managing body temperature and breathability inside a jacket.
The Fit
As it says in the name, the Vertex Expedition is meant for expeditions – situations with varying conditions where you might need multiple layers under your rain jacket, but also room to move over technical terrain.
Although I didn't do any ice climbing while wearing this jacket, in all other use-cases I felt comfortable and unrestricted and, with the hood off when it wasn't raining, I forgot that I was wearing a rain jacket, which is exactly what you want.
In addition to the expedition fit, the Vertex also has a bidirectional main zip, allowing easier access to a climbing harness and belay device while wearing the jacket.
Packability
First Ascent have gone with a harder wearing external fabric, anticipating the jacket to be used in adverse, off-trail conditions, but this comes at a price.
The fabric is thicker than most modern rain jackets and thus comes with a bit of a weight penalty, as well as taking up a bit more space in your pack. If your main concern is durability, then this is a small price to pay, but if you're a gram-counting fast-packer, this is not the jacket for you.
Pockets
It's always a pleasant surprise when you put on your backpack and find that your rain jacket's pockets aren't restricted by the pack's waist belt. Signs of thoughtful, practical design.
I ended up loving the internal stretch-mesh pocket a lot more than I expected. Having a sort-of catch-all pocket for things you want to keep dry, but still might need while moving is brilliant.
The Hood
Once again, gearing this jacket for expedition use, where helmets might be necessary, the hood on the Vertex is cut larger than usual. Many brands have started including this as a selling point in their more mountain-focussed jackets, but First Ascent have missed the mark on the hood's volume control when not wearing  a helmet.
The volume control system does a good job of cinching the hood down around the face and pulling the sides back for better peripheral vision, but there is no toggle or velcro tab to reduce the length of the hood over the top the head which means one has to keep pulling the hood back to keep it from sliding down over your eyes…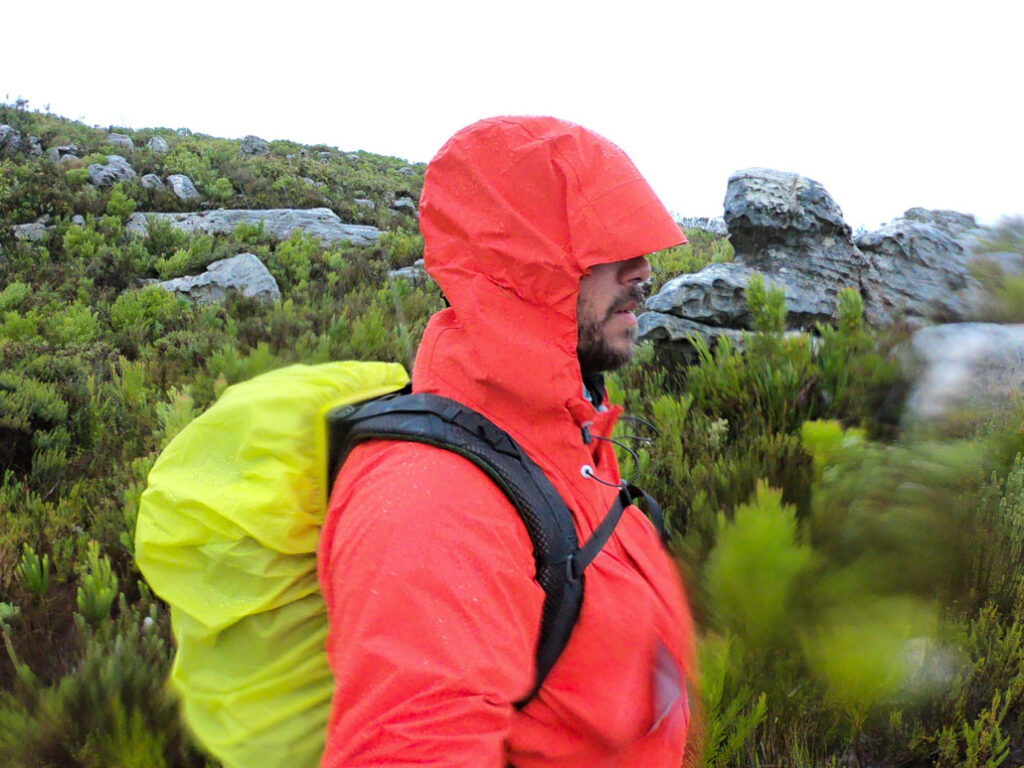 My solution to this was to wear a cap and have the front of the hood rest on that, but at this price point, the hood is a bit of a letdown. If you're buying this jacket to go skiing, no problem, but for hikers the hood needs to be a serious consideration.
Value for Money
Right… The elephant in the room. The Vertex comes with an eye-watering price tag. I assume this is due to the use of the eVent membrane, but it doesn't change the fact that a rain jacket by a local brand is charging a similar price to premium international brands like Patagonia and Arc'teryx.
Is it worth the money? If you're buying it specifically for a mountain skiing or alpine climbing trip, maybe. For the majority of hikers in South Africa? Probably not.
Conclusion
The Vertex is a premium technical rain jacket, ready for any adventure, be it ice climbing in the Berg, skiing at Tiffindell (or the Alps…), or trekking through a Cape storm. It is very exciting to see South African brands edging into the same space as international brands in the technical outdoor gear market, but in price-sensitive South Africa, the Vertex is a hard sell.
This jacket was provided for review purposes by First Ascent and can be purchased through their online shop, or First Ascent stockists.