The Vapourstretch is First Ascent's all-round hiking rain jacket, with all the features you need to stay comfortable and dry when hiking in the rain.
Key Info
Price (at time of writing): R2499
Weight: 470g (510g for a Large)
Water column rating: 10,000mm
Breathability rating: 10,000g/m2/24
Water-resistant fabric: 3-ply Vapourtex stretch-woven fabric
Water-resistance
First Ascent has done a good job in managing expectations when it comes to the Vapourstretch's water-resistance. It clearly states the water column rating inside the jacket, as well as a correlating description: "Moderate Rain".
I did two rainy hikes with the Vapourstretch where I spent at least 2 hours in either straight down or driving rain and the jacket remained dry on the inside.
The jacket does come with a DWR coating which helps with further water-resistance, but as with all DWR coatings, they eventually wear off.
The main zipper is also backed by a rain flap.
Breathability and Ventilation
This jacket offers a fair amount of breathability. On flat terrain, with low exertion, the jacket remained free of condensation, however, hiking uphill would quickly get the inside of the jacket a bit clammy. This is fairly standard and not something to be concerned about though.
In addition to the breathability, the jacket offers additional ventilation by means of pit-zips – this, more than anything else, helps to regulate the temperature inside the jacket when one has to work a bit harder. This is a big plus for the Vapourstretch.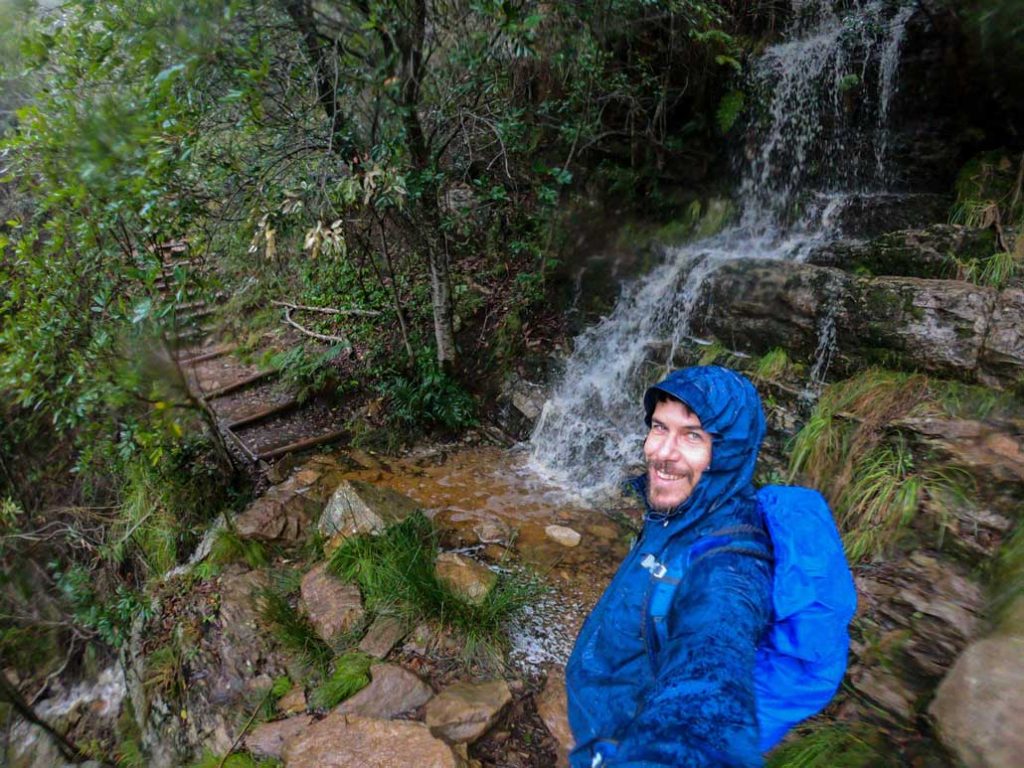 The Hood
The hood is fitted with a generous peak that does a great job at keeping the rain out of one's eyes.
There are three bungy cords that enable 3-dimensional volume control, allowing for a near perfect fit for most head sizes.
There is enough fabric around the neck area to allow for about 60° of rotation to either side before the hood starts pulling.
The Fit
The fit is roomy, with gusseted pits for added freedom of movement. The body is also long enough that you can comfortably move around and bend without the jacket riding up your back.
There is an elasticated drawcord around the waist to further keep the wind and rain out.
The cuffs are partially elasticated with an adjustable velcro tab to finetune the fit.
A Bit of a Stretch
As the name suggests, the Vapourstretch's allow for a bit of stretch. Don't think spandex – it's more like slightly less restriction, as opposed to a rigid jacket with no give.
Naming the jacket after this feature can be a little misleading and cause one to expect something more. That being said, it definitely helps make the jacket a bit more comfortable and functional.
Pockets in All the Right Places
This jacket nails it in the pocket department by placing the external "hand warmer" pockets high enough to be accessible while wearing a backpack. I've often seen otherwise excellent jackets drop the ball in this area.
Whether it's just to get your hands out of the cold, or to access an item without having to undo your waist belt, the Vapourstretch's external pockets tick the box.
There is also an internal pocket with a vertical zipper – ideal for a phone, or any other item you want accessible and dry.
Conclusion
Overall, a very well put together jacket, with all the features one needs to stay comfortable while hiking in the rain. The Vapourstretch offers reasonable value for money and would be a great upgrade from a budget rain jacket. Unfortunately, the Vapourstretch does not come in a women's version.
This jacket was supplied by First Ascent for review purposes and can be purchased from their online shop, as well as most outdoor stores.