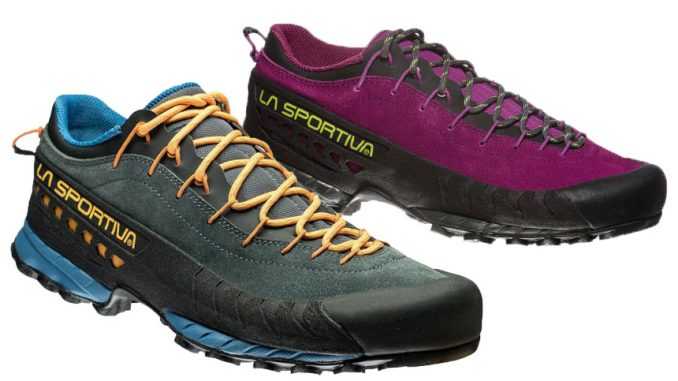 People often ask which is better – boots or low-cut approach shoes/trail runners – and the answer has always been the same: Horses for courses. However, if I had to pick one shoe for almost all situations it would be the La Sportiva TX4!
Key Information
Price (at time of writing): R3599
Weight: Roughly 400g per shoe (Size 10 UK)
Upper: Suede leather, with protective PU rand and rubber toe.
Construction
One of the major benefits of boots is the tough, durable leather uppers that offer great protection against sharp rocks, sticks and general abrasion. The TX4 solidly ticks this box with its sturdy leather uppers, full-length 1.5mm PU TechLite rand and a burly rubber toe guard.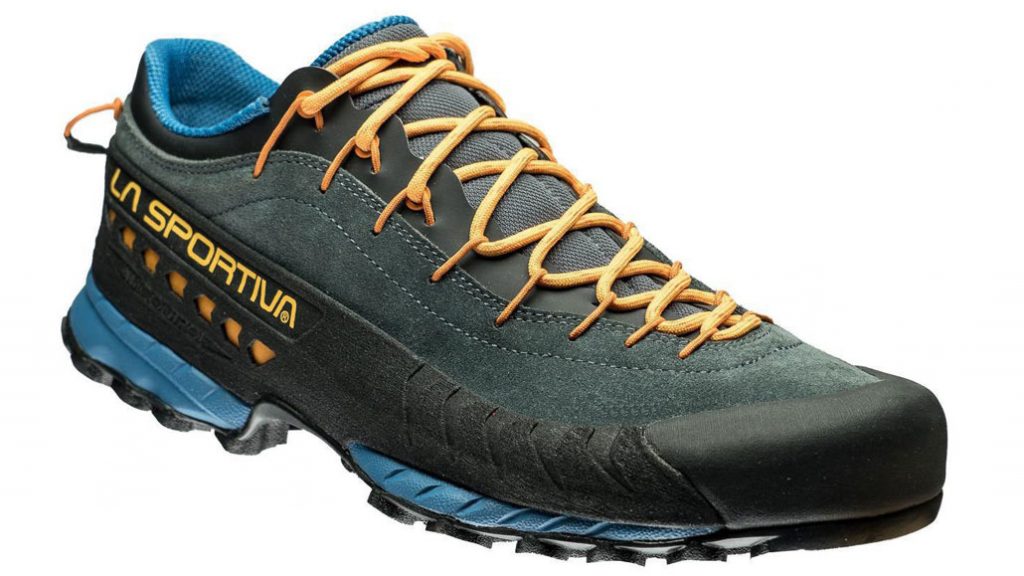 The tongue is fixed to one side of the inner wall of the shoe, preventing it from creeping to the side and limiting debris from working its way in from the top.
The heel cup and ankle collar are also cleverly designed by making use of precise construction, instead of relying on foam to determine the fit. This ensures the correct fit and excellent performance for much longer, as foam tends to compress over time, losing its shape.
Fit
The fit is snug in the heel, with a wide, roomy toe box, allowing for some swelling when you're on your feet for the whole day, as well as natural toe movement over technical terrain. The fact that my forefoot and toes were able to move naturally, meant that my feet were a lot less tired at the end of a long day.
People with narrow feet might feel like they're swimming in these shoes. Even with wide feet and a high arch, I had to tighten the laces one or two times throughout the day to lock my feet in place. For me, this is a pleasant change to having my small toe crushed, but if you have narrow feet, the Boulder X might be a better fit.
The TX4's lacing system is also worth mentioning. A loop of cord runs all along the laces and around the back of the heel which does a great job of eliminating any heel-slippage. The laces also extend down to just behind the toes, allowing for a very precise fit.
Comfort & Support
Historically, sturdy and supportive footwear has always come at the cost of a bit of comfort – not so with the TX4. Over the 6 months of wearing these shoes, I regularly got to the end of a full day of hiking over rough terrain and did not feel an urgent need to get them off my feet.
As mentioned, the wide toe box allows one's feet to behave more naturally and more efficiently, but the TX4 also strikes a perfect balance with its mid-sole – soft enough to avoid hot spots, but stiff enough to support a heavy backpack and soak up rough terrain underfoot.
I weigh 86kg and I comfortably carried a 20kg backpack for a full day in these shoes, while still maintaining reasonable sensitivity to move safely over technical terrain.
Another thing I love about these shoes is how the sole is slightly wider than the shoe and angled outward. Many approach shoes narrow where the upper joins the sole, which has a tendency of causing hotspots on the inner edge of one's foot, as well as increasing the potential of rolling your ankle. With the TX4, the sole extends out from where it joins the upper, which increases stability and spreads impact even more.
Traction
While we're talking about technical terrain, this shoe excels in scrambling, which is usually a big shortcoming in stiffer, bulkier boots. Technical routes like Table Mountain's India Venster, Ledges or Hiddingh Ascension were an absolute jol thanks to the extra-grippy "Climbing Zone" under one's big toe – the softer compound rubber makes for easy edging on smaller footholds.
The rest of the sole offers fantastic traction on all terrain, including mud. The lugs shed dirt efficiently and the sharp, in-cut section at the front of the heel ("Impact Brake System" as La Sportiva calls it), does a phenomenal job at controlling the descent on loose terrain.
Durability
The La Sportiva label is synonymous with quality craftsmanship and durability, and the TX4 is no exception. You can venture far off the beaten track without any worries of these shoes letting you down. I've done about 120km in this pair on a mix of gravel, sand and mostly rough sandstone and they hardly show any wear.
A couple of friends have had theirs for longer and used them more extensively, all with the same response: No matter what you throw at these shoes, they just keep going brilliantly. From 5-day kloofing trips, which is definitely not advised for leather shoes, to 10-day solo treks in Patagonia, to daily mountain guiding on Table Mountain, everyone who has a pair, swears by them.
Weight
At roughly 400g per shoe (800g per pair), weight is not a concern at all. Once again, comparing these with boots, you're getting away with about half the weight of most boots out there.
Best applications
With an all-rounder like the TX4, it's really hard to pick a niche, but as far as hiking shoes go, it definitely has a huge advantage on technical terrain. For the Magaliesberg, Table Mountain, Jonkershoek, or some of the rock passes in the Drakensberg, you're going to struggle to find a better shoe.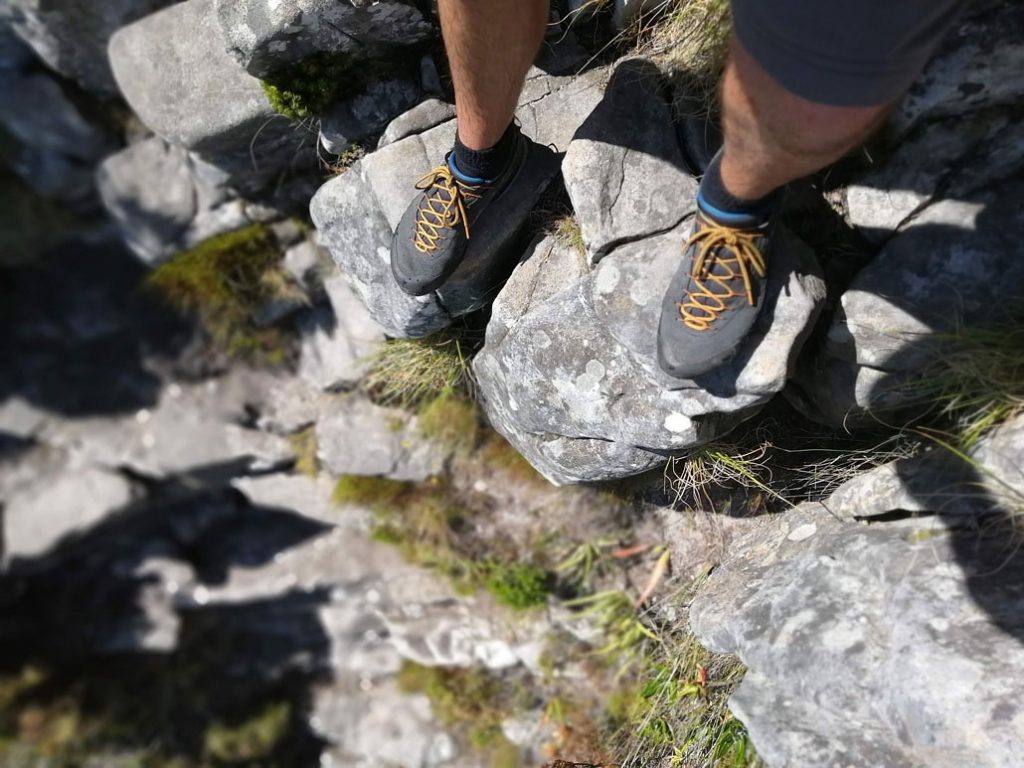 Value
At R3599, this shoe is not cheap. However, if you were to buy entry-level boots for multi-day hikes, and mid-level trail runners for day hikes, you'd end up paying a similar price in total, with neither of those performing as well as the TX4.
As expensive as they are, if they fit your feet, you will not regret buying these shoes.
Conclusion
It's hard not make a review of the TX4 sound like a fluff piece, but they are just so damn good (and they look great!). A comfortable, durable, supportive approach shoe, equally at home on technical scrambles as it is on multi-day hikes with a heavy pack – one shoe for almost every scenario.
If you hike regularly and demand a lot of your footwear, this will possibly be the best pair of hiking shoes you'll buy in a long time (maybe ever!).
These shoes were provided for review purposes by Adventure Inc. They are available from specialist outdoor retailers such as Mountain Mail Order and Drifters.