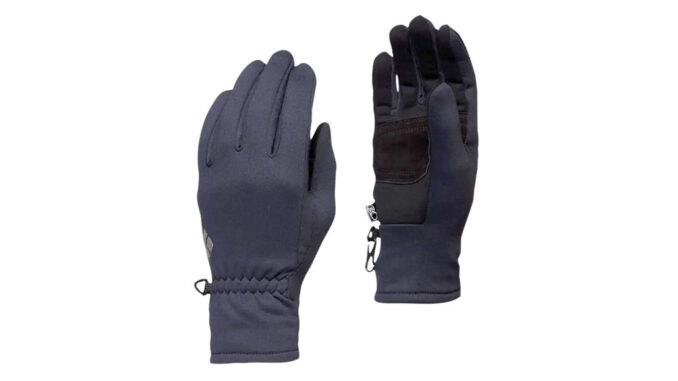 Warm, stretchy gloves with the added benefit of full touchscreen functionality, the Black Diamond Midweight ScreenTap gloves are ideal for uphill skiing, trail running or hiking with your smartphone.
Key Information
Price (at time of writing): R799
Weight: 42g per pair
Materials: 222g-weight stretch fleece; U|R Powered material; Suede goat leather.
Water resistant: No
Recommended Temperature Range: 0-4ºC
Construction
The glove consists of a warm, stretchy fleece shell, with U|R Powered conductive material covering the palm and fingers to allow for gloves-on touchscreen use. Suede goat leather palm patches offer a secure grip on trekking poles and dog leashes.
The stretch fleece is fantastic at keeping its shape and assisting in a better fit, reducing the usual "bagginess" around the fingers and on the palm that a lot of gloves suffer from.
There are clip loops on each glove and it comes with a double-sided clip to keep the gloves together in your pack. I found this helped quite a bit when having to reach for my gloves – if you find one, you find the other 👌
Touch Sensitivity
I'm not a big fan of gloves. This dislike often results in me waiting far too long before doing something about my chilled digits, at which time my fine motor skills have gone out the window and fingers are pretty useless.
My dislike of gloves is for that very reason – my hands feel useless. Opening a zip, or slightly adjusting my gas stove valve, can only be done by sight, because most gloves reduce the sensitivity of my hands to frustratingly useless levels. Not so with these BD gloves.
I was able to comfortably operate my stove while sitting in the snow and watching the sunset, and it is for that very reason that they have become my go-to gloves when there's any chance of things getting chilly.
ScreenTap Technology
With most hikers having transitioned from paper maps to mapping apps on their phones, being able to operate your phone while hiking has become a necessity, rather than a luxury. As a result, more and more glove manufacturers are including conductive materials in strategic areas of the glove, like the pad of the index finger.
Black Diamond have taken it one step further by covering the entire palm and finger area with U|R Powered conductive material, allowing you to operate your phone with your palm (who uses their palm on their phone screen?!) and all your fingers – I found being able to use my thumb particularly "handy".
Temperature Rating
The indicated temperature rating of 0-4ºC is spot-on. I was totally comfortable in 2ºC while sitting around camp.
Conclusion
As mentioned, I generally dislike gloves, but the Black Diamond Midweight ScreenTap gloves have made a convert out of me and my fingers are all the happier for it. Well priced, super comfortable, great touch sensitivity, ScreenTap tech and the perfect temp rating for most South African winter conditions… You can't go wrong with these gloves.
These gloves were provided by Ram Mountaineering for review purposes and can be purchased through Black Diamond, Mountain Mail Order, Drifters, Agear and Orca.